DOWNTOWN — Watch where you walk in Grant Park — one wrong step and you might just crush a mini-museum that popped up there.
Mia Nelson, 19, created the mini art museum for one of her finals this semester at Columbia College. Nelson's major is graphic design, but she recently began branching into different mediums and is hoping to "get more into installation art and guerilla art."
Nelson crafted small paintings — including a tiny recreation of van Gogh's "The Starry Night" — and installed the tiny art museum at the staircase by the General Logan Statue. She also set up mini figurines of people looking at the paintings.
The assignment was to create a site that "changed the outside," Nelson said. "Basically vandalizing without vandalizing."
Nelson said she's always enjoyed little fairy houses and dollhouses, so she knew what she wanted to do when the project was assigned.
The "entire intent of the piece was to force and challenge perspective," Nelson said.
Nelson used train-model-scale pieces to juxtapose them against the "enormity of Grant Park," she said.
"I wanted to make something that's not necessarily noticeable — but if you've noticed it, maybe you'd enjoy it," she said.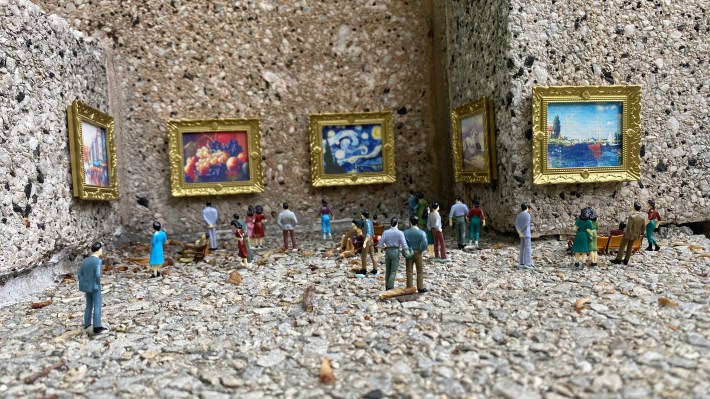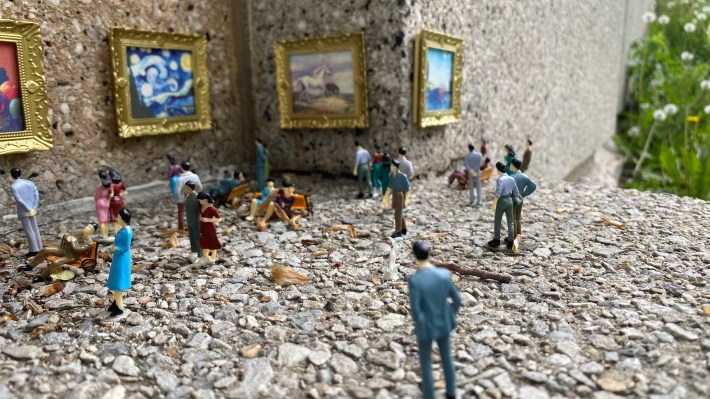 Nelson used glue, gum and putty to attach the pieces. She wanted the exhibit to be semi-permanent, so it would last long enough for parkgoers to notice it, but it could still be removed if park officials wanted. 
It took about three hours for Nelson to meticulously place the pieces to resemble a real museum, she said. But finding the figurines of people that "reflect the population" was the most challenging part of the project, she said.
"Not being able to find any people that weren't white, straight and able-bodied [was] really frustrating," Nelson said. "There were none."
After college, Nelson hopes to work with an organization or other artists to tackle the intersections of the creative world and social justice, creating spaces that are "curated for everyone," she said.
Nelson plans to continue installing mini-scenes once she's able to find the right pieces — and she hopes to do a few in her home city of Portland while she's there for the summer. 
Before the next project, Nelson is determined to find figurines that showcase diversity. She's either going to make them herself or go on a mini "manhunt," she said. 
Either way, Nelson said she hopes to "spread [minis] around everywhere" she goes.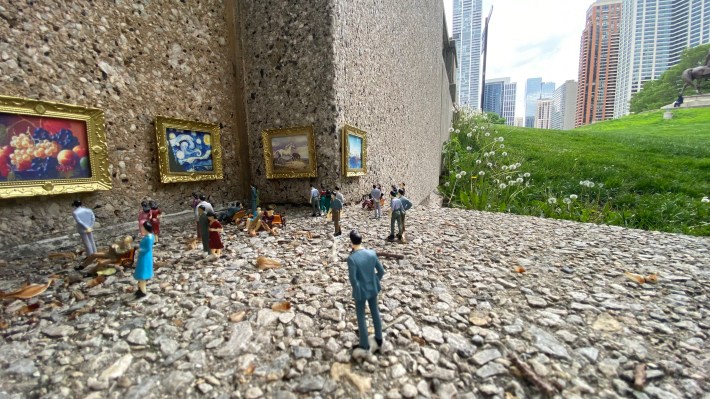 Listen to "It's All Good: A Block Club Chicago Podcast":