WEST TOWN — Two brothers have opened a streetwear pop-up in West Town, selling custom-made garments designed and screen printed right in the store.
Kone Ranger is the project of Wicker Park residents Konrad and Kevin Eiring, who have been selling "upcycled" t-shirts, pants and other apparel under the brand online since 2020.
"We take garments that we have curated, then we add hand-sewing, hand-painting, screen printing, custom patches, and basically transform garments, use dyes and paints and inks to take a garment that would have gone to a landfill … and give it a brand new life," Konrad Eiring said.
The design studio is the latest tenant at the West Town Chamber of Commerce's Pop-Up Project space, 1821 W. Chicago Ave., which gives short term leases to rotating small businesses every few months. The store has previously hosted the Chicago Makers Pop-Up Shop, Kiss The Brain gallery and The Unwaste Shop, among others.
The Eirings are selling both customized, one-of-a-kind pieces as well as their seasonal collections, which are more mass produced. The clothes often feature denim and camouflage, and what Konrad Eiring called "western flair."
"We're mixing this cowboy aesthetic with a Chicagoan tough grit," Konrad Eiring said. "I've always said that clothing is costume. It's like how we choose to ornament our bodies, and how we're doing it is we're curating pieces and then customizing them even further."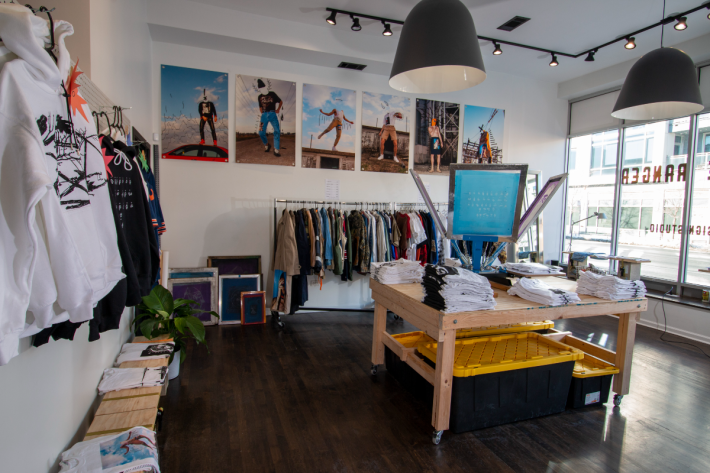 The origins of Kone Ranger date to 2019, when Konrad Eiring started designing clothes while living with his brother for the summer, and selling them at a local store. He said that was the moment he realized he could turn his passion for photography and design into a career.
"It was like alright, light bulb, this can actually be a thing if you really pour into it and you trust your process and continue to create, this can be a real thing," Konrad Eiring said.
Kevin Eiring officially got involved in the fall of 2020. He's handling more of the logistical side of the business, but is also screen printing shirts and other garments with his brother.
"It's been cool to get back into that art mindset and learn something completely new. Like, I've never screen printed before," he said. "But it's cool to challenge yourself, take yourself out of your comfort zone."
The Eirings said because they're brothers, they've been able to support each in a ways other business partners might not.
"I need someone to either say like, 'yes, this is good,' or 'no, you're crazy,' and it was helpful to have a trusted person in my life to be able to [say] we've got to keep creating, we've got to keep sharing, we've got to like stay true to this mission and we can make something happen," Konrad Eiring said.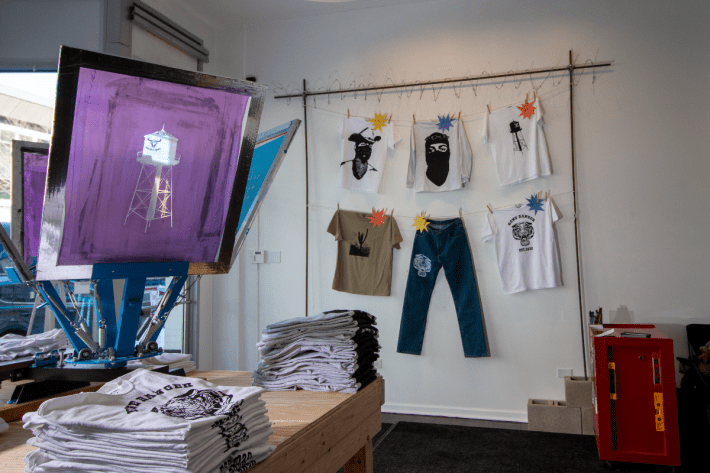 Opening a brick-and-mortar location has been a goal of the Eirings for a while, especially because of the nature of the clothes they sell.
"I wouldn't necessarily feel comfortable buying something like that, so unique, online because you want to try things on, you want to feel it, you want to see how it looks in the mirror, you want to see how it drapes on your body," Konrad Eiring said. "So having this space now, having people come in and try things on and experience the garment … has been phenomenal."
Kone Ranger will operate in the West Town pop-up space through the end of March, before moving to a permanent location in Logan Square by May.
The brothers are hoping their storefront becomes a space for artists of all kinds to collaborate and trade ideas. They recently hosted a photo shoot with a local musician, and are planning to hold classes and workshops.
"We have a very tough aesthetic. But … our mission statement is all about balance. And it's all about finding the beauty and things that are very tough and things that are very soft and safe and mixing that," Konrad Eiring said. "I want the space to be a welcoming space and a creative, positive collaborative space that is for everyone."
Kone Ranger is open 11 a.m.-7 p.m. Wednesday-Friday, and 11 a.m.- 5 p.m. on weekends.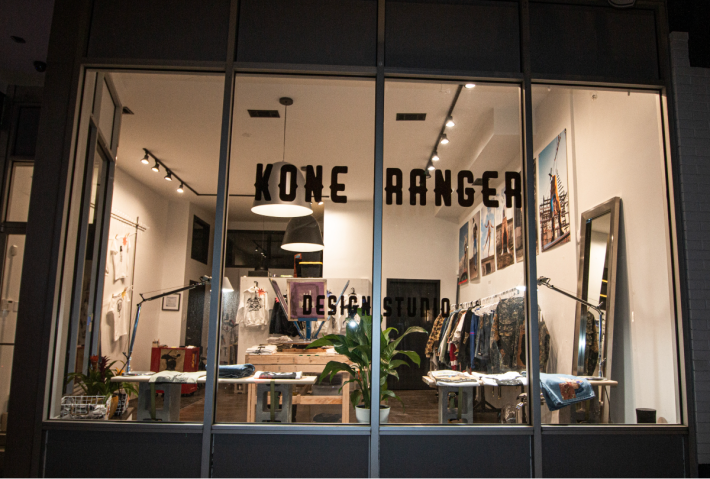 Listen to "It's All Good: A Block Club Chicago Podcast" here: