LITTLE VILLAGE — A teen and a man have been charged in the weekend murder of 8-year-old Melissa Ortega in Little Village, officials said Wednesday.
A 16-year-old boy, who is believed to be the shooter, was charged with first-degree murder and attempted murder, Police Supt. David Brown said. Officials did not release his name but he will be charged as an adult with murder, attempted murder and multiple gun charges.
Xavier Guzman, 27, who was driving, is charged with murder, attempted murder and unauthorized use of a weapon, Brown said at press conference with Mayor Lori Lightfoot, Cook County State's Attorney Kim Foxx and other city officials.
"Our city has been shaken and no one can make sense of this tragedy," Brown said.
The unnamed teen and Guzman will appear in bond court at 11 a.m. Thursday.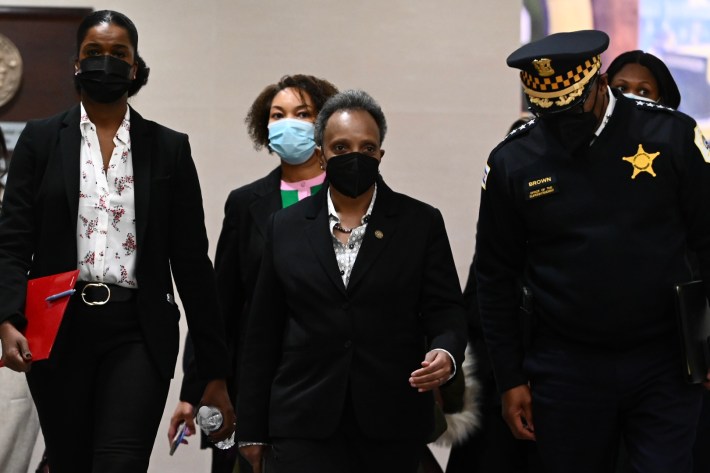 Melissa, a student at Emiliano Zapata Academy in the neighborhood, was shot and killed Saturday afternoon in Little Village while she walked down the street with her mother on the 4000 Block of West 26th Street. Police said Melissa and her mother were not the intended targets of the shooting, which was likely related to an ongoing gang conflict.
Melissa and her mother had just immigrated to Chicago from Mexico in August. A GoFundMe has raised nearly $70,000 as of Wednesday — well over the $20,000 goal — to pay for a funeral and bring her body back to her hometown of Los Sauces in Tabasco, Mexico. 
In a devastating interview Monday, Melissa's mother called for the person who killed her daughter to be brought to justice.
"You took my entire life," Leaños said in Spanish during an interview with Univision's Despierta America Monday. "You took the most beautiful thing, you took my reason for living … You have taken dreams from a marvelous girl."
In a prepared statement read at a press conference announcing the charges Wednesday, Melissa's mother, Araceli Leaños, said she planned to buy her daughter a hamburger after they ran to the bank that day.
"I wasn't able to fulfill that promise," she said, as her daughter stopped holding her hand and fell to the ground in a pool of blood.
She told the community: "Let Melissa be the last child that dies from gun violence in this neighborhood. … No mother should have to bury her own child."
Leaños also repeated comments from a previous interview, in which she told her daughter's killer she forgives them.
"You were a victim, too," Leaños said. "As a 16-year-old, the community failed you just like it failed my precious baby. Although, I do hope that in the many years you spend in prison, you get time to reflect on your actions because you took away the most valuable thing I had in my life, my princess Melissa." 
Foxx called the murder "horrific," and said she empathized with Melissa's schoolmates mourning the loss of their friend.
"I am committed to getting [Melissa's] family justice," she said.
Lightfoot thanked police, Foxx and the area's aldermen for bringing the case to charges.
"No one, no one should have to endure this kind of pain," she said of Melissa's mother.
She said mothers in Little Village are afraid to leave their homes because "the gangs have taken over" and they are preying on children.
"Little Village is a rich and vibrant community that has seen too much heartbreak," Lightfoot said. "… It's my obligation as mayor to work with the stakeholders and leaders in Little Village to bring peace there for once and for all."
Brown said police are increasing patrols in Little Village until further notice to prevent retaliatory shootings. He declined to name the gangs involved saying, "we won't give them that satisfaction," and vowed to be relentless in dismantling the neighborhood's gangs.
Lightfoot and Ald. George Cardenas (12th) called for consequences for gang leaders who put guns in teens' hands.
"We have to do something about that and prevent that from happening," Lightfoot said.
Ald. Michael Rodriguez (22nd) said the La Villita community came together to provide surveillance video to police and to wrap their arms around Melissa's grieving family.
"We will not give up hope," he said.
Other children have been injured or killed in shootings in Little Village in recent years.
In 2021, a Chicago police officer shot and killed 13-year-old Adam Toledo after a brief foot chase in Little Village. Toledo had dropped a gun and was holding up his empty hands when the officer shot him, video showed.
After Toledo was killed, Lydia Jimenez, 17, was killed a week later.
In October 2019, a 7-year-old girl was critically injured after she was shot while trick-or-treating on 26th Street.
Ald. Michael Rodriguez (22nd) said the La Villita community came together to provide surveillance video to police and to wrap their arms around Melissa's grieving family.
"We will not give up hope," he said.
Subscribe to Block Club Chicago, an independent, 501(c)(3), journalist-run newsroom. Every dime we make funds reporting from Chicago's neighborhoods.
Click here to support Block Club with a tax-deductible donation.