BUCKTOWN — Brian Mita, co-owner of Bucktown Japanese restaurant and sake bar Izakaya Mita, died Friday after having colon cancer for two and a half years. He was 43.
Mita started the restaurant in 2014 with his mother, Helen Mita, as a tribute to his father, Shiyouji, who was a manager at a suburban Japanese steakhouse for years.
Izakaya Mita, 1960 N. Damen Ave., quickly became a neighborhood staple, offering what Brian Mita called "Japanese tapas," including items such as yakitori and yaki soba.
Mita was a jack-of-all-trades at the restaurant, his family said, overseeing its extensive sake offerings, conceptualizing menu items and jumping in on the food line when necessary.
Helen Mita said her son's creative approach to cooking started when he was a child.
"I think he was about 3. And I woke up and there were three eggs in the frying pan. But at that age he didn't realize that you had to turn the stove on to cook," she said. "He always loved to cook."
Brian Mita's brother, Steve Mita, said Brian Mita started working in the service industry while attending Washington University in St. Louis, but his aspirations to open a restaurant went back even further.
"It was always his dream to be in the restaurant business. When we were kids, my dad would take us all the time [to work]… . And it was always just so exciting for us," Steve Mita said.
Like most restaurants across Illinois, Izakaya Mita shut its doors in March 2020 at the beginning of the COVID-19 pandemic. It offered takeout for a few months, but it struggled to make the shift and officially stopped to-go orders in June 2020.
It was almost a breaking point for the restaurant, and Helen Mita said she came close to shutting down.
"At the end of June, I was just gonna close," she said. But Brian Mita talked her out of it, applying for Paycheck Protection Program loans and other grants. "He found money for us to keep it open."
Reopening the restaurant became a huge priority for Brian Mita. He redid the interior decor, made menu changes and hired staff to prepare to welcome customers back.
Izakaya Mita finally reopened this October after a 19-month closure. It felt "really good," Brian Mita said at the time.
"The restaurant, it was so important to him. I just think people were very inspired by that," Steve Mita said. "Everybody thought he was just a bright light and fun. A very, very generous person. A very sweet person."
Brian Mita was diagnosed with colon cancer and almost immediately got surgery in June 2019, Steve Mita said.
But in summer 2020, Brian Mita's colon cancer metastasized from Stage 3 to Stage 4.
"I was on this really easy treatment for a while … but then the cancer started growing on me. So they switched me to a new one, which is … pretty gnarly," Brian Mita said in October.
In September, Brian Mita hired Brandon Ott to manage Izakaya Mita while he took a step back to focus on his treatment.
Ott and Mita met several years ago and bonded over mutual interests and experiences in the service industry.
"When we first met, we geeked out over certain bands and guitars and bass guitars, and just art and all that kind of cool stuff," Ott said. "He always seemed intrigued that I was so curious about Japanese culture. And he found out that I'd actually been to Japan more times than he had. We had a pretty interesting friendship."
Ott said his and Mita's temperaments and management styles were in some ways polar opposites, but they worked as a "yin-yang thing" in a high-pressure restaurant environment.
"Let's say we approached an issue with somebody, he was the more sensitive approach. And I'm a little bit more confrontational," Ott said. "We respected that and admired that and were attracted to that in one another. … He was a kind-souled person. He could get along with just about anybody."
Helen Mita and Ott said Izakaya Mita will continue unchanged at the corner of Armitage and Damen avenues, where it's stood for seven years.
"I still feel like these guys got the closest to bringing what izakaya really is to this area," Ott said. "And people love that."
A memorial service is being held for Brian Mita on Sunday at Izakaya Mita. More details will be posted on the restaurant's social media.
The Mita family has started a GoFundMe to raise money for the memorial service, and to benefit Helen Mita, who was living with her son when he died. The family is also encouraging donations to the American Cancer Society in Brian Mita's name.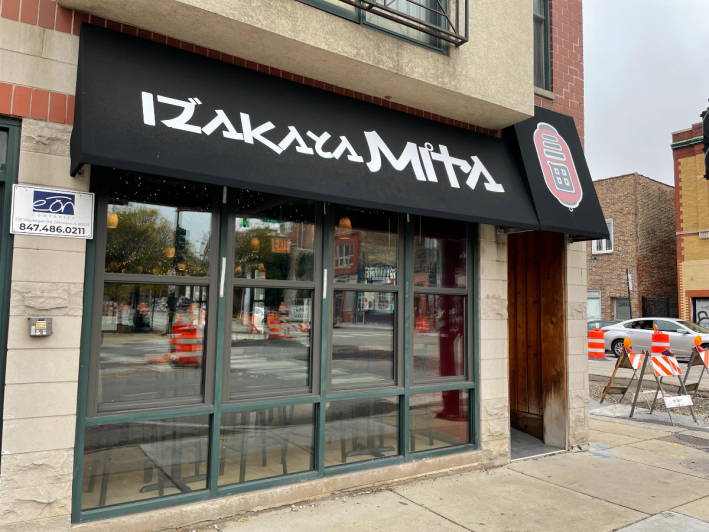 Listen to "It's All Good: A Block Club Chicago Podcast" here: