Get more in-depth, daily coverage of Chicago politics at The Daily Line.
CITY HALL — Aldermen are gearing up for a long-promised hearing on Friday that will give them a chance to grill police leaders and other city officials over their use of a widely criticized gunshot detection technology. Representatives of the tech firm will also be on hand to defend their product. 
City Council Committee on Public Safety chair Ald. Chris Taliaferro (29th) has promised to hold a hearing on ShotSpotter since September, when Ald. Carlos Ramirez-Rosa (35th) introduced an ordinance calling on city officials to consider ending the city's contract with the California-based firm. But the committee is instead scheduled during a 1 p.m. meeting on Friday to take up an earlier resolution filed by Ald. Raymond Lopez (15th) prompting a wider review of the Chicago Police Department's entire technology landscape. 
Chicago in 2018 inked a three-year, $33 million contract with ShotSpotter, which distributes acoustic sensors designed to immediately pick up on gunshots and alert police intelligence officials. The initial deal was set to expire earlier this year, but city leaders in December 2020 exercised a renewal option to extend the contract through Aug. 19, 2023.  
But two major public reports have since panned the sensor system as ineffective, kicking up a backlash among activists and some aldermen.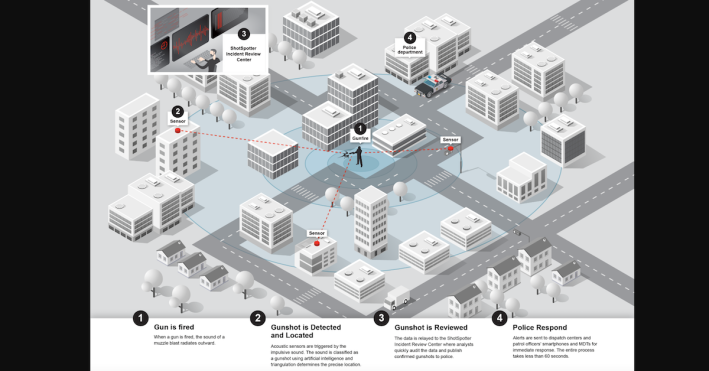 In May, the nonprofit MacArthur Justice Center released the results of a 21-month study that found nearly 90 percent of police deployments based on ShotSpotter reports did not turn up evidence of any "gun-related" crime. In all, researchers tallied "more than 40,000 dead-end ShotSpotter deployments" between July 2019 and April 2021. 
And in August, Chicago's Office of the Independent Inspector General published a 30-page report finding that ShotSpotter alerts "rarely produce documented evidence of a gun-related crime" and have even exacerbated some police interactions with residents in high-crime areas. 
Related: ShotSpotter 'seldom' detects gun-related crimes for investigation, watchdog report shows 
"The data reflects that there's a very low yield for the technology that really begs the question of whether a cost benefit analysis has been done," former Inspector General Joseph Ferguson said in an October budget hearing when asked about the report. "There are bad actors who are caught because of a ShotSpotter alert. But are enough of them caught to offset the harms that come from aggressive policing from false positives?" 
Chicago Police Department leaders did not explicitly vouch for ShotSpotter during their budget hearing last month. But department Supt. David Brown said he and his team are "advocates for gunshot detection technology," which he said has "saved lives." And another department official said the department has credited ShotSpotter for 18 "live-saving events" when an officer was dispatched with enough time to prevent a gunshot victim from bleeding to death.    
Related: ShotSpotter contract, officer shortages come under microscope during 9-hour CPD budget hearing 
A spokesperson Mayor Lori Lightfoot did not respond to a request for comment on the technology on Thursday. But the mayor defended ShotSpotter during a news conference last month, saying the tool has been "extraordinarily helpful" and "an incredibly important crime-fighting tool" since its 2019 deployment. 
But Ramirez-Rosa told The Daily Line when he introduced his resolution in September that in light of the two critical reports released this year, city leaders "owe it to the public" to "figure out if [ShotSpotter] is a wise use of our dollars." 
The measure was also sponsored by Ald. Rossana Rodriguez-Sanchez (33rd) and Ald. Maria Hadden (49th), and as of Thursday it listed 13 aldermanic co-sponsors. 
They aimed to kick the resolution into a joint meeting of the public safety committee and the Committee on Budget and Government Operations, where they hoped to enlist police leaders as well as researchers from the MacArthur Justice Center and the Office of the Inspector General to answer questions from aldermen. Ald. Anthony Napolitano (41st) immediately sidetracked Ramirez-Rosa's resolution by sending it to the council's Committee on Committees and Rules, but the rules committee moved to rescue the measure in October. 
Budget committee chair Ald. Pat Dowell (3rd) discouraged aldermen from asking city public safety officials about ShotSpotter during last month's budget hearings, pointing to an Oct. 13 public safety committee hearing Taliaferro had scheduled to take up the topic. But Taliaferro pulled the item from that day's meeting agenda, saying police leaders needed more time to prepare. 
Taliaferro scheduled a follow-up meeting for Friday to discuss ShotSpotter. But instead of Ramirez-Rosa's measure, the agenda includes Lopez's resolution, which calls for a hearing to "examine the success of technologies" broadly used by police to fight crime. 
Taliaferro told The Daily Line on Thursday that he and Dowell "have to coordinate" over a separate hearing to call up Ramirez-Rosa's resolution. But because Lopez's measure is sitting in only his committee, Taliaferro has discretion to call it up immediately.  
"Tomorrow's conversation may be enough that Alderman Ramirez-Rosa is satisfied with the inquiry and ability to ask questions," Taliaferro said. "We don't want to duplicate our efforts." 
Taliaferro said leaders of the police department and Chicago Office of Public Safety Administration will be on hand to answer questions Friday. He also invited representatives of the Inspector General's Office and the MacArthur Justice Center to participate, he said. 
Dowell is listed as a co-sponsor of Ramirez-Rosa's resolution. Taliaferro said he "has no personal agenda" on the ShotSpotter contract but wants to make sure its defenders "have an opportunity to respond to criticism" raised by aldermen. 
Ramirez-Rosa did not respond to a request for comment on Thursday.  
ShotSpotter has shored up its defenses against the recent backlash, hiring the public relations firm Trident DMG to firm up its reputation. A member of the firm, acting as a spokesperson for ShotSpotter, wrote in a statement to The Daily Line last month that the technology is "highly accurate," saying it has "been independently audited at 97 percent based on feedback from more than 120 customers" in different cities across the country. 
"ShotSpotter has been in operation for 25 years, serves more than 120 cities, and has earned trust and high renewal rates from many police departments because the system is effective in helping to save lives, reduce gun violence, and make communities safer," the spokesperson wrote, adding that the inspector general's August report "did not specifically suggest that ShotSpotter alerts are not indicative of actual gunfire whether or not a police report is filed or physical evidence is recovered." 
The spokesperson followed up in an email to The Daily Line on Thursday to confirm that representatives of the firm will participate in Friday's meeting, adding that the company "looks forward to the opportunity to discuss how ShotSpotter saves lives and makes Chicago neighborhoods safer." 
In addition to ShotSpotter, Lopez's resolution called out nine high-tech tools used by police: license plate readers; body-worn cameras furnished by Arizona-based Axon; the Clearnet overtime reporting system; the CLEARMap crime reporting and mapping database; dashboard cameras furnished by Coban Technologies; the Citigraf data-mapping software, from the firm Genetec; HunchLab's "predictive police technology; computer-aided 911 dispatch systems; and "Operation Virtual Shield," the city's network of surveillance cameras. 
Lopez's resolution calls for "representatives from each company" to be present for the meeting, plus those of "all other internal gathering applications not herein mentioned specifically." The measure also demands the director of the Chicago Office of Emergency Management and Communications and the city's deputy mayor for public safety to participate in the meeting.
Listen to "It's All Good: A Block Club Chicago Podcast" here: