UPTOWN — Uptown residents can pick up free groceries and hygiene supplies every other Tuesday at Argyle Mutual Aid.
The Vietnamese Association of Illinois is having a mutual aid event 1 p.m. on alternating Tuesdays at its offices, 5110 N. Broadway. The next mutual aid event will be Nov. 23. 
No more than 10 people are allowed inside at one time, and priority will be given to older people and people with disabilities, according to an information sheet. 
Organizers held the season's first mutual aid event Tuesday after a short hiatus following the summer.
"It was a great turnout and a lot of traffic," said Brittanii' "Tanae" Batts, mutual aid coordinator for the Vietnamese Association of Illinois. "With it being indoors, we really didn't know what to expect, but there were a lot of people."
Fruits, vegetables, canned goods, socks, toothpaste, soap, hot meals made by a volunteer and more were given for free to residents, Batts said.  
Argyle Mutual Aid is made possible through the Vietnamese Association of Illinois' partnerships with the Pilsen Food Pantry and the Illinois Coalition for Immigrant and Refugee Rights, but the events also rely on donations and volunteers, Batts said.
The organization is looking for reusable grocery bags and winter clothes, as well as donations to cover the costs of transportation to deliver groceries to people, something Batts said they hope to do next. 
To register to volunteer, click here. Neighbors can also call the Vietnamese Association of Illinois at 773-728-3700 for questions or donations.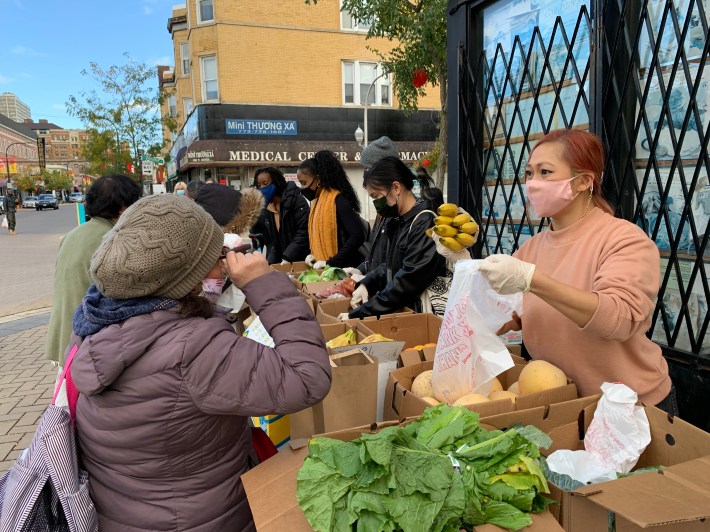 Argyle Mutual Aid is a continuation of popular Boost the Block events — a partnership between the Vietnamese Association of Illinois and Axis Lab — which provided free food and community art projects every Tuesday in July and August.
"Axis Lab is taking a break, but we're still continuing the initiative through the wintertime," said Batts, who said the event will go on for as long as they can support it. 
Batts hopes mutual aid eventually creates an open community forum.
"Uptown is historically Black and has Asian residents and refugees," she said. "We hope to promote open dialogue and shed a positive light between the Black and Asian communities in the neighborhood."
Listen to "It's All Good: A Block Club Chicago Podcast" here: