ANDERSONVILLE — A pop-up gift shop in Andersonville is giving neighbors an opportunity to buy holiday presents that are 100 percent fair-trade products from local businesses.
The Chicago Fair Trade Holiday Pop-Up Shop has opened at 5228 N. Clark St., exclusively selling products that are ethically sourced and produced.
Operated by the nonprofit Chicago Fair Trade, the pop-up promotes fair-trade shopping during the holidays and gives member businesses a venue to boost business, Executive Director Katherine Bissell Cordova said. It is the only 100-pecent fair trade holiday pop-up shop in the country, she said.
"Sadly, there is not a permanent fair trade shop in the city. People are seeking it out and want it," Bissell Cordova said. "We're trying to hold up the businesses. There's nothing else like this."
The pop-up opened in the former Akira space after the clothing store closed earlier this year. It will remain open through Dec. 24.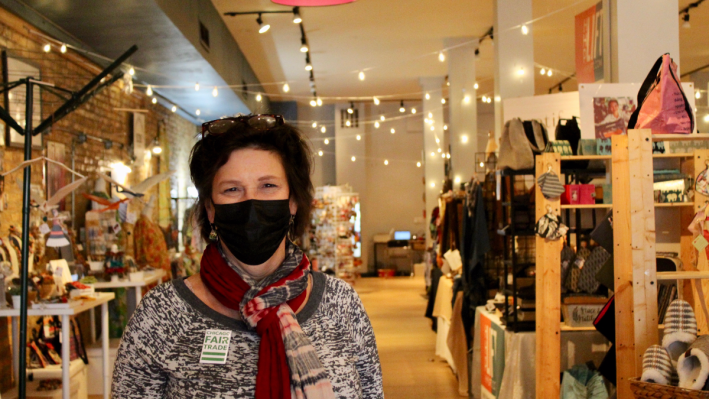 Fair Trade is a business model that seeks to do the most social good, including providing fair wages for workers, using sustainable practices and having transparent supply chains.
Chicago has among the highest concentration of fair trade vendors and businesses in the country, Bissell Cordova said. Fair Trade Chicago is a nonprofit that advocates for the adoption of such practices while helping local fair trade businesses to thrive.
One of the ways to do so is its annual holiday pop-up shop.
The more-than-5,000-square-foot store includes 25 fair trade vendors selling a range of goods, including clothing, toys, household goods, food items and holiday gifts. The shop is set up like a craft fair, with areas of the sales floor rented to vendors to set up their own displays.
One of the vendors is Indie-Pendant, a jewelry business owned by Anjali Hansoty. The business got its start when Hansoty was living in Hong Kong and joined a fair trade cooperative.
Hansoty began to learn more about fair trade and how it relates to the jewelry business, including the unethical sourcing of diamonds and jewels that has led to violence and exploitative labor. She said she wanted her business to address this problem.
"It's nice to know my jewelry … is produced in a facility where manufacturers are providing safe environments," Hansoty said. "The fair trade aspect helps with sending people the money they really do need."
The fair trade pop-up is open 11 a.m.-6 p.m. Tuesday-Thursday, 11 a.m.-7 p.m. Friday-Saturday and 11 a.m.-6 p.m. Sundays.
Listen to "It's All Good: A Block Club Chicago Podcast" here: