WEST TOWN — Neighborhood groups around the greater West Town area are pleading with City Council to not split their community into as many as six wards.
As a battle between the City Council's Latino and Black caucuses heats up to decide Chicago's political boundaries for the next decade, neighborhood leaders of the West Town area are pushing back against the Latino Caucus' proposal.
Seeking to increase the number of Latino-majority wards to better reflect the city's growing Latino population, the caucus released its proposed ward map last month, boosting the number of Latino-majority wards from 13 to 15. 
The area is currently primarily served by four aldermen and would be served by six under the Latino Caucus' map.
Under the Latino Caucus' proposal, the area would be represented by wards 1, 27, 28, 32, 34 and 37. The 34th Ward is currently the Far South Side home of Ald. Carrie Austin, but it would be shifted north to account for population growth Downtown.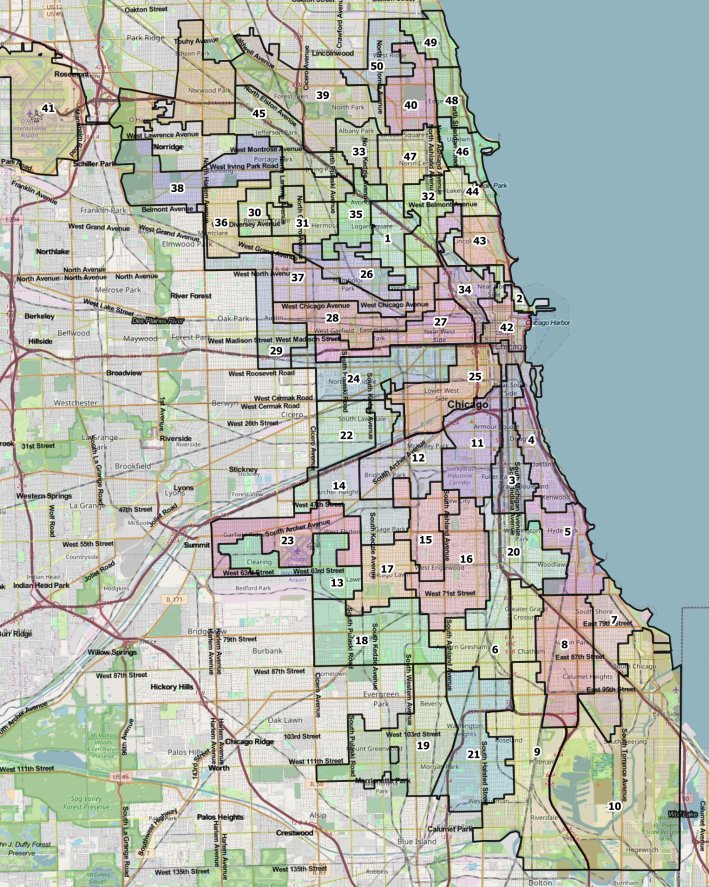 Sam Royko, who created the Greater West Town Community Coalition in response to a surge of carjackings in the area, said it's imperative the area be served by as few wards as possible.
"Public safety is of significant concern in our area, and the idea of having to advocate with six different aldermen to get things done sounds daunting, even more daunting, and we're already struggling to get those things," he said. "Having the ward officers and the alderman having a specific interest in those neighborhoods, I think the closer they are to the neighborhoods, the more interested they are in representing them and representing their neighbors."
The neighborhoods that make up West Town "seem to be an afterthought," said Kimberly Shannon, president of the Ukrainian Village Neighborhood Association.
"We're just kind of jury-rigged in with other aldermen who we do not believe will have the best interest of our neighborhoods in mind," Shannon said. "Their focus is going to be elsewhere because we're going to be such a small piece of each one of those" wards.
RELATED: One Neighborhood, 6 Aldermen: Why Englewood Residents Are Pushing For A More Unified Ward Map
Shannon is represented by Ald. Brian Hopkins (2nd), who she said does a good job of responding to neighborhood concerns. Hopkins' ward would shift completely east of the Chicago River under the Latino Caucus' proposal.
Royko, Shannon and other neighborhood association leaders in the area sent a letter to all 50 alderpeople, Mayor Lori Lightfoot's office and the council's various caucuses. It was signed by eight local groups, including the East Village Association, Wicker Park Committee, Wicker Park Advisory Council and the Chicago Grand Neighbors Association.
The neighborhood groups define the West Town boundaries as Grand Avenue to Bloomingdale Avenue and Western Avenue to the expressway. One small section in the heart of West Town, from Grand to Division, would be represented by four wards.
Residents in other areas of the city have shared similar concerns over their communities having too many representatives. Englewood neighbors are organizing to reduce the aldermen representing the South Side neighborhood, which has been carved into six wards. 
Shannon said she supports an independent map put forward by the Chicago Advisory Redistricting Commission, a group of residents who want a "people's map" outside the influence of politicians. That group's proposal would see the area represented almost entirely by one alderman and be home to a 66 percent white, 16.7 percent Latino, 8.3 percent Asian and 6.9 percent Black population.
The final version of the independent map includes 15 majority Black wards, 14 majority Latino, 14 majority white wards and one majority Asian ward. Four wards would have a plurality of white residents, with two a plurality of Latino residents.
But it's uncertain if the independent map will get support from City Council. Members of the Black Caucus, led by Ald. Jason Ervin (28th), have held firm that any new map must maintain 18 majority Black wards, despite a decrease in the city's Black population.
The six wards that would represent the West Town area under the Latino Caucus map would likely be more diverse, with several spanning farther into the West and Northwest sides, which are home to a larger percentage of Black and Latino residents.
Ald. Gilbert Villegas (36th), chairman of the Latino Caucus, said the Latino Caucus' map was crafted by "strictly using the data" of Chicago's changing demographics, and it could be amended as negotiations heat up to craft a map that can garner 41 votes in City Council.
"It's not the final result; it's just a version of a map," Villegas said. "But the reality is, there's 77 communities, but there's not 77 aldermen. They'll be multiple aldermen that are representing a portion of a community."
The new map must divide Chicago's 2,746,388 residents into 50 roughly equal wards of about 55,000 residents. The wards must also adhere to laws that protect the representation rights of minorities to avoid being overturned by a legal challenge.
City Council's Rules Committee is set to kick off the first of three public hearings on the remapping process on Tuesday. To avoid a special election where Chicago voters would decide between competing maps in a referendum, City Council must approve a new map with at least 41 votes by Dec. 1.
Listen to "It's All Good: A Block Club Chicago Podcast" here: