LAKEVIEW — A year and a half ago, Maria Guasso was furloughed from her job as a retail store manager because of the pandemic. Now, she's opened a plant shop in Lakeview — and is finding ways to give back to the community.
The Plant Stand Collective has made a permanent home at 3247 N. Broadway a year after opening there during what was supposed to be a pop-up.
Guasso's journey to starting the store came after she was furloughed. She moved to Wisconsin, and the former art teacher took the opportunity to start creating again.
Guasso took to painting plant pots, and her friends suggested she sell them. She set up at farmers markets to sell her pieces and her friends' work, and the Plant Stand Collective was born.
Once Guasso moved back to Chicago, she set up pop-ups in restaurants and empty retail stores. As time went on, the pop-ups became more popular, and she connected with more vendors, she said.
"It was always about supporting as many artists and giving as many people a platform as I could," Guasso said.
One of the vendors Guasso began working with was her cousin, Jessica Guasso, who owns Jammin'J Studio. She creates handmade paper flowers for events and as home decor.
"It feels amazing to be part of a team who all appreciate and respect each other's crafts," Jessica Guasso said. "And it's really rewarding to see people appreciate something that's handmade."
During an October 2020 pop-up with Diane Tanios, Guasso asked Tanios about the empty storefront they were using. Tanios, the building's owner, told Guasso she could set up there as a four-week pop-up — but the spot at 3247 N. Broadway ended up becoming a permanent residence for the Plant Stand Collective.
A year after she first set up, Guasso has now signed the lease on the storefront. The Plant Stand Collective carries up to 38 vendors at a time, with a waitlist for vendors to be added.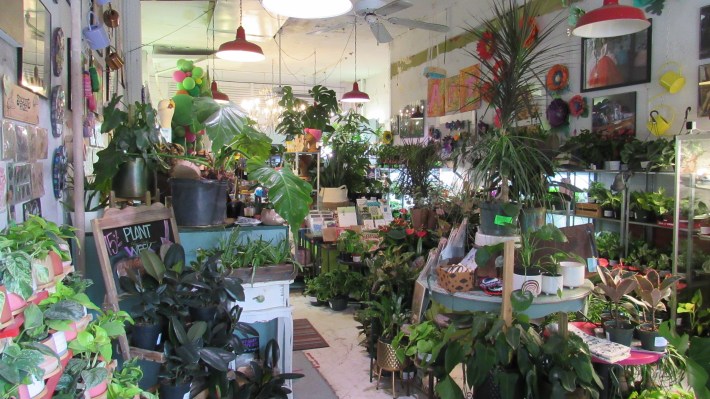 Guasso said the Lakeview community has been welcoming and supportive of the Plant Stand Collective. Guasso is Latina and works to support as many Latinx businesses and artists as she can.
Irais Elizarraraz, who started Sin Título with her two sisters in August 2020, said she met Guasso as a customer at a pop-up. What makes the Plant Stand Collective stand out is how Guasso pushes the business as a collective and puts as much work into selling vendors' products as she does her own, Elizarraraz said.
The Plant Stand Collective has also partnered with Feeding People Through Plants, a group that raises money for the Greater Chicago Food Depository. Its Instagram page features a Plant of the Week that is sold at a 15 percent discount, with part of the proceeds going toward Feeding People Through Plants.
"I don't do anything without thinking, 'How is this going to give back or impact the community where I'm currently creating an event or paying rent?'" Guasso said.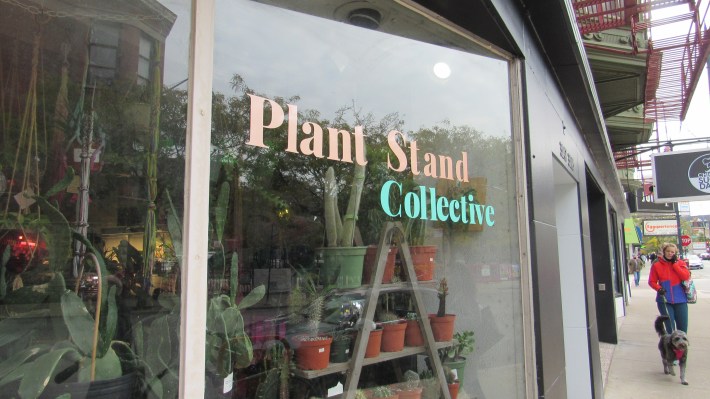 Mitch Kanan, a co-owner of Custom Bonsai, said Guasso is a "rare find" in business. He said the work Guasso puts back into the community is impressive.
"The additional benefits of knowing that we're contributing to a business like hers, which extraordinarily contributes back to the community, is just an additional win for us," Kanan said.
Guasso said the pandemic plant boom was very real, with many people in lockdown turning to plants to stay occupied.
"I feel like when you bring plants into your house, it just gives your space so much life," she said. "And I think that the lockdown made people realize that."
The Plant Stand Collective is open noon-6 p.m. Monday-Thursday, 11 a.m.-6 p.m. Saturdays and 11 a.m.-5 p.m. Sundays.
Guasso said she looks forward to working in the community and hopes to showcase as many artists and small businesses as possible.
"None of this would have happened without any of these vendors, any of the artists," she said. "I would not be able to say I was a collective without all of the support of the vendors."
Listen to "It's All Good: A Block Club Chicago Podcast" here: