LINCOLN SQUARE — When Northern Darkness Grooming Co. owner Ricky Petrov decided to open a business, he wanted to combine his skills as a hairstylist with his love of death metal. 
As a teenager, Petrov had an interest in grooming products and would drop by a store's hair care and grooming section to study what was on the shelves. He'd read the ingredients label and buy a few to try out. 
"I'd buy various beard oils, shampoos or body washes — candles, even," he said. "I'd see which one I liked the most and test the smells out to see which beard oil had the best consistency." 
As an adult, Petrov became a stylist and worked at Esquire Barber Shop in Andersonville for about two and a half years. 
One night in 2019, while struggling to sleep, Petrov had the idea to create a hair care business named after one of his favorite band's albums, "Sons of Northern Darkness," by Norwegian black metal band Immortal. 
"I always thought that was kind of badass," he said. "I've always loved extreme music: hardcore, death metal, black metal. And I wanted to start something unique where I could combine both my passions, hair and music."
After doing research into what he'd need to do to start a business, Petrov launched Northern Darkness Grooming Co.  At first, the business only sold grooming and bath products, such as his Deathbomb bath bomb and Rigor Mortis pomade.
Petrov continued to cut hair at Esquire, but he wanted to branch out on his own and develop Northern Darkness into a brick-and-mortar business where he could cut and style hair while selling his unique take on grooming products. 
In September, Petrov had the opportunity to move into one of the Salon Lofts, 4740 N. Lincoln Ave., in Lincoln Square, so he decided to open Northern Darkness' first location. 
Petrov dislikes the "men only" concept around most barbershop culture and wants Northern Darkness' first physical location to be welcoming to anyone who wants to stop by for a haircut, especially if they're fans of hardcore music, he said.
"I always feel good after I get a haircut," Petrov said. "I wanted to pass on that good feeling to others."
The frosted glass of Petrov's door at the lofts has Northern Darkness's name in a death metal-style typeface.
Inside, customers are greeted by a small coffin display case with some of Northern Darkness' grooming products. It's next to a framed photo of horror icon Vincent Price and an illustration of Gaahl — former frontman of Norwegian black metal band Gorgoroth — created by Chicago artist Alexandre De Meyer. 
Petrov's long-term plans are to expand into a larger location where he can add more black metal and horror-themed decor as well as feature more work by local artists.
Petrov also hopes to open a joint barbershop and tattoo studio with a friend of his from Moscow.
Petrov will be one of the 14 vendors at the Nov. 23 Krampus Karnival at Old Irving Brewing, 4419 W. Montrose Ave.
The event was put together by "another awesome local small business called White City Devil," he said.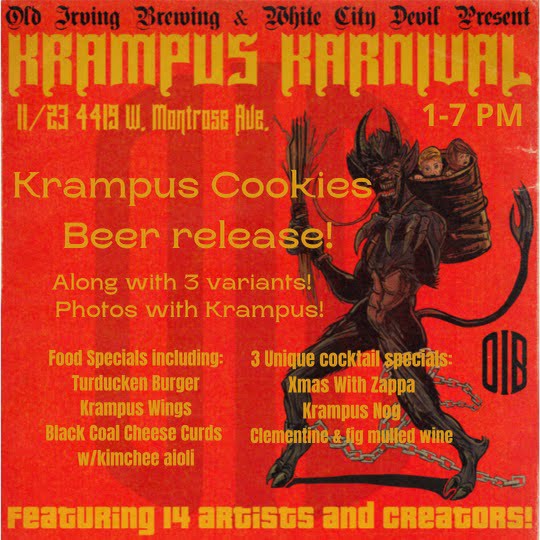 Listen to "It's All Good: A Block Club Chicago Podcast" here: