CHICAGO — Firefighter Chase Olson hadn't slept in 24 hours when he lined up to climb 105 flights of stairs to the top of Willis Tower on Sunday. 
Olson's shift at the Glenview firehouse started at 7 a.m. — the day before. But he felt wide awake Sunday.
Just a year and a half ago, Olson fell 30 feet onto concrete. The father of two fractured his skull in six spots. The accident required Olson to learn how to talk and walk again.
But on Sunday, Olson was ready to walk up the 2,109 stairs of Chicago's tallest building. His training: "Stairmasters, weighted vests and carrying my kids around."
About 500 people took the long way up Willis Tower for the SkyRise Chicago fundraiser for Shirley Ryan AbilityLab. Many of the athletes are forever connected: patients and graduates of AbilityLab like Olson recovering from traumatic brain injury.
"We'll get up there fine," Olson said. "The goal was to get here and give back to all the people that have done good by us." 
Olson graduated from AbilityLab and returned to work full-time in September 2020. The firefighter — who was joined by his wife, Katianne Olson; firefighter best friend, Zac Beatty; and Beatty's girlfriend, Amanda Wiley — planned to conquer the stairs somewhere in the average finishing time: 30 minutes to an hour. 
The tall feat is Olson's latest act of healing. 
"Reality first set in when I was doing some tests at Shirley Ryan, and I couldn't say certain animal names that I knew what they were. They just wouldn't come out," Olson said. "It was frustrating. You kind of had to learn patience. Nothing happens on your timetable. 
"It's just a day at a time, a step at a time." 
On Sunday, Olson turned toward the stairs and took off.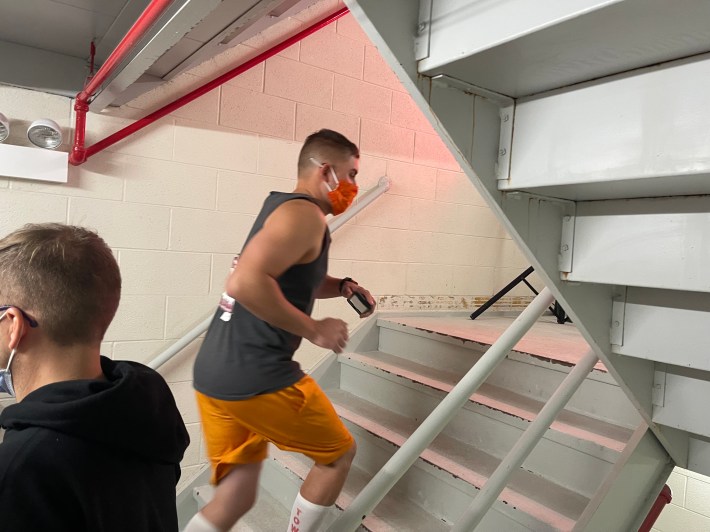 66th Floor: 'I Just Wish We Didn't Have To Look At The Floor Numbers'
After 66 floors of firsthand experience, Olson noted the stairs of Willis Tower vary — some a little taller, some a little shorter.
Olson and Zac Beatty grabbed water at the 66th floor and caught their breath. They had started to feel the pain around 40. Olson nursed a shaky ankle but was in good spirits. 
"It's a good tired. I feel just great," Olson said, huffing and puffing. "I just wish we didn't have to look at the floor numbers." 
Olson and Beatty waited as their significant others caught up. It was Katianne Olson who brought her husband to AbilityLab, standing by his side as he worked through an intense schedule of occupational therapy, speech therapy and rehabilitation.
"They got me through that whole process," Chase Olson said. "Everybody at Shirley Ryan, friends, family, guys at [the] firehouse, all came together and did unthinkable things to get me back to where I'm at."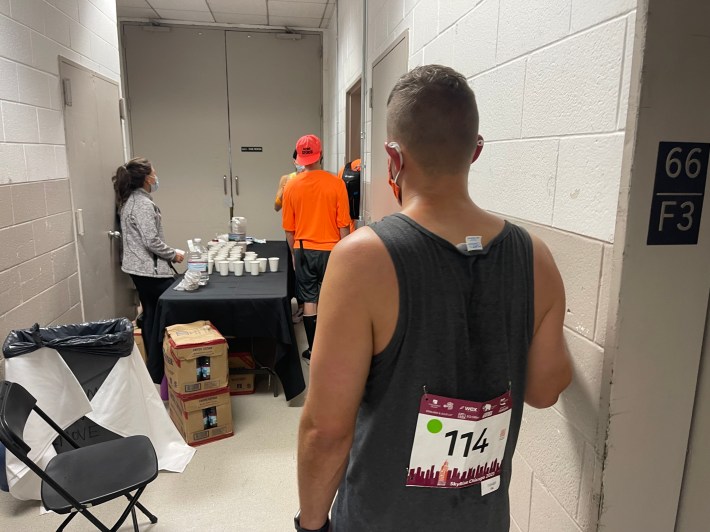 Firefighter Dale Emmerich, of Dane County, Wisconsin, met Olson on the 66th floor. Emmerich grabbed a second cup of water. He wears his full firefighter uniform every time he participates in a stair climb. 
Emmerich, known as "Cancerfighter Dale," painted his helmet pink in 2013 and participates in stair climbs across the Midwest to raise cancer awareness and fundraise for a cure.
"The sacrifice to wear the gear and do these events is nothing compared to the people I'm hoping to inspire and what they endure," Emmerich said. "Folks have entrusted me with carrying their energy, their hope, giving them extra juju so they can get healthier and get to living life the way we all take it for granted." 
Olson told Emmerich he's still getting back into the rhythm of working full-time. The Cancerfighter had a pep talk: "This is how you show them you're ready." 
Their significant others showed up. It was time for everyone to get moving again. 
"See you at the top," Olson said.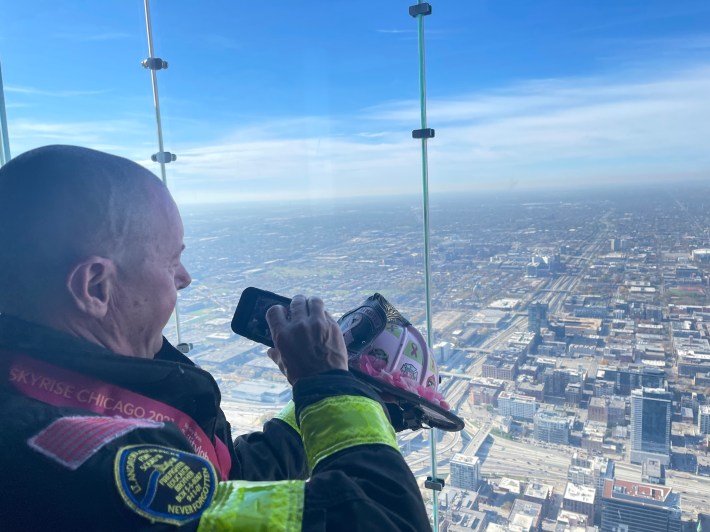 103rd Floor: 'I  Think The Elevator Is A Good Idea'
It was a party on the Skydeck as stair climbers emerged from the cramped staircase and into the light.
The 500-plus participants Sunday had no problem making it to the top of Willis Tower, raising more than $850,000 for AbilityLab. The fastest climber finished in about 12 minutes, but Olson was just happy to get the job done. His crew was among the last wave to complete the climb around 11 a.m., in about 45 minutes. 
Olson accepted his medal and embraced his wife. 
"Great to be done. No more pains. It certainly took a lot of lunges to get back here," Chase Olson said. "It's beautiful up here. But I think the elevator is a good idea."
Katianne Olson agreed. 
"It's pretty remarkable to be up here. When you look at your journey, and you look how far you come, you go back to those raw moments of being at Shirley Lab, and those early moments of the accident and rehabilitation," she said. "It's a proud moment to be here doing it with him."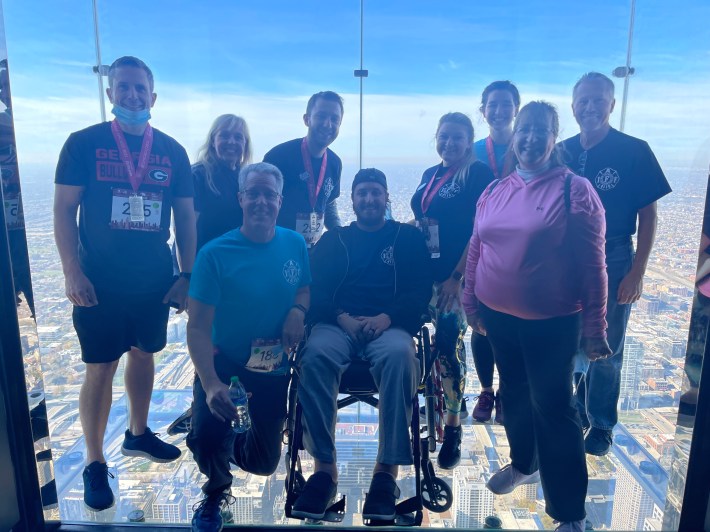 At the top, the Olsons embraced Mitchell Winkleman, a firefighter in Mount Prospect who suffered a spinal injury from a crash in the Fox River in August. Winkleman graduated from AbilityLab on Friday, the day he had once planned to get married.
Winkleman now uses a wheelchair. On Sunday, Winkleman's friends and family completed the stair climb to honor of his resiliency. Mount Prospect fire chief John Dolan wore bib No. 188 — Winkleman's number at the firehouse. 
"That number just showed up in my package. It sent a chill down my spine," Dolan said. "I'm very proud to wear it. And we cling to all the positive steps Mitch takes." 
Winkleman felt inspired by his loved ones and firefighters who made the journey — one he hopes to complete in years to come. 
"It shows that there's always hope to get better," Winkleman said. "And there's always going to be people there waiting for me and supporting me." 
The last time Olson had visited Willis Tower was 20 years ago, long before he knew he'd be forever connected to the AbilityLab community. 
"It's always great to see other people doing the same things, similar paths in their life that they had to go through too. You're not alone," Olson said. "It's OK to ask for help from others. Just be patient, stay positive and take it a step at a time." 
Listen to "It's All Good: A Block Club Chicago Podcast" here: