JEFFERSON PARK — Virginia can easily count all of the places she can use the restroom around the Jefferson Park transit center — because there are so few.
The longtime Jefferson Park resident, who is experiencing homelessness and sometimes hangs around the transit center, often commutes on the Blue Line in the early hours of the morning for work. Having limited public restrooms near the station has made it difficult to find places to relieve herself, said Virginia, who did not want to share her last name.
"I have a bad bladder … when you gotta go, you gotta go," the 37-year-old said.
Virginia said she's seen people urinate and defecate near the station, which has made the area dirtier. She often uses a nearby McDonald's bathroom if she really needs to go, but it's not clean. She also doesn't feel safe using that bathroom.
"The only public space that has a bathroom is McDonald's — I went there at 5 a.m. and one guy was flunked down on the toilet," she said. "You know how many times I had to miss my train because I had to walk to McDonald's?"
Limited access to public restrooms, especially near transportation stations, is particularly detrimental to people who don't have access to a private bathroom because they are experiencing homelessness. And some businesses refuse service to people who don't buy anything or who appear to be homeless.
For more than a year, a group of neighbors from the Jefferson Park Working Group on Homelessness have been trying to get the CTA and other transit agencies who operate the Northwest Side hub to install public restrooms or portable toilets for commuters and unhoused neighbors.
So when the CTA added four portable toilets and hand-washing stations outside of the station recently, they were thrilled — only to see them vanish a week later. The CTA set them up for employees while fixing a plumbing issue, a CTA spokesperson said.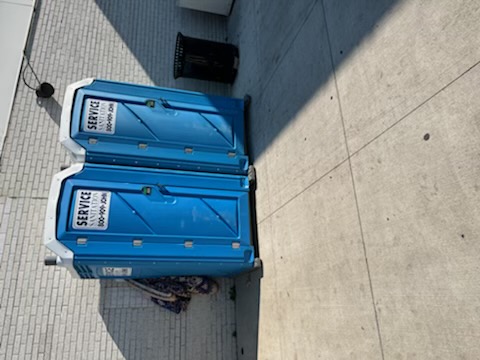 During that brief time, folks like David, who has been experiencing homelessness for a few months, used the toilets and reported the area was cleaner and there was less human waste.
"I was happy when they had them, but then they took them out," said David, 41.
A recent Chicago Tribune investigation found the city offers few public restrooms and no efforts are underway to improve the access.
In Jefferson Park, there are public restrooms at the Jefferson Memorial Park Fieldhouse, 4822 N. Long Ave., that are open from 9 a.m.-9 p.m., and bathrooms at the Jefferson Park library branch, 5363 W. Lawrence Ave. But at night and the early morning, when those facilities are closed, David and Virginia said they're out of luck.
Maggie Daly Skogsbakken, a founding member of the Jefferson Park Working Group on Homelessness and a longtime resident, said people have resorted to using the alleys and vacant lots near the transit station, which has upset local business owners. While the issue around homelessness in the area is complex, having portable toilets and hand-washing stations would be an important first step in terms of bathroom access, she said.
"We understand that operators need a safe and clean place to go to the washroom while working … but we know there is water access and a way to have a bathroom here," Daly Skogsbakken said. "We realize it's a complicated process with maintenance and cost, but we are still beating the drum. There's gotta be a solution."
During the week the portable toilets were at the station, Daly Skogsbakken said the group received positive feedback from commuting neighbors and those experiencing homelessness.
"It shows there is a need, especially for people who do not have easy access to bathrooms — people with medical conditions, people who are experiencing homelessness, people who are experiencing two-hour long commutes," she said.
Public restrooms are available 24/7 at police stations, but some people experiencing homelessness don't feel comfortable using them, Daly Skogsbakken said.
A CTA spokesperson said the agency has not offered public restrooms in more than 40 years and the portable toilets were temporary and for personnel only. There are public restrooms at the end of the rail lines, such as at O'Hare and Midway, and some stations connected to accessible public buildings.
"Rapid transit trips, by their nature, are shorter trips covering shorter distances. Additionally, most CTA stations are located near commercial, retail and public buildings offering public restrooms," the CTA spokesperson said in a statement. "The CTA has had discussions with local leaders about issues surrounding the unhoused, and will continue to work collaboratively to address issues."
Metra spokesperson Michael Gillis said there are no plans to add bathrooms to the transit center and they haven't heard complaints from neighbors.
'Port-A-Potties Are Absolutely Necessary'
The need for toilets not only impacts people who are unhoused — but homeowners and businesses, too, some neighbors said.
Nick Davis, owner of Westons Coffee near the station at 4872 N. Milwaukee Ave., said he's been cleaning urine and feces from his alley for the past two years. Fed up, he reached out to local officials and the Jefferson Park Working Group on Homelessness to figure out a solution. He said he was considering buying a portable toilet himself when he found out other neighbors were strategizing on the issue, too.
Davis said he was happy to see portable toilets at the station in October, but he was disappointed that they were short-lived.
"Since they are not going to add bathrooms, port-a-potties are absolutely necessary," he said. "It's a small investment, and they can service it every week. At least it would eliminate people going to the bathroom in my alley."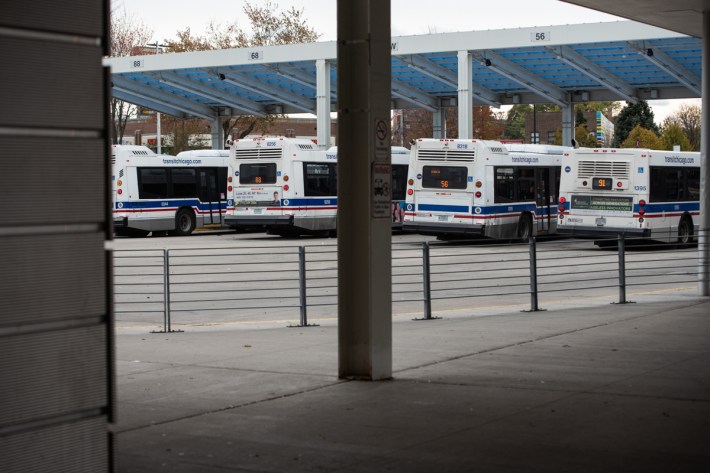 State Rep. Lindsey LaPointe, an active member of the volunteer group, said they have offered to pay for and maintain portable toilets at the station on a trial basis.
"We understand that access to a portajohn is not business as usual for the CTA, but we believe that the unprecedented impact of the pandemic, such as decreased access to regular human services and limited access to private business bathrooms, calls for collaborative and innovative approaches," LaPointe said in a statement to Block Club.
The volunteer group has partnered with the CTA and the Chicago Department of Family and Support Services for regular outreach regarding homelessness. But it's disappointing the transit agency, which operates a majority of the transit center, has not partnered with neighbors on bathrooms, the group said in a statement.
"The temporary portajohns that appeared in late October showed the community that everyone benefits when we provide for this basic human need," LaPointe said.
Virginia and David agreed. Having better access to bathrooms would create a cleaner environment at the transit station and help destigmatize people experiencing homelessness, they said.
At a community meeting with the 16th Police District last month, officers said the district wants to increase its outreach to people experiencing homelessness — including helping them access public restrooms.
"Moving forward, that will be a priority," said Sgt. Jeff Aaron. "It's a heavy lift but a lift worth doing."
In the meantime, the Jefferson Park Working Group on Homelessness encourages people to report public urination and defecation that needs to be cleaned up to these agencies to maintain cleanliness:
If it's on the sidewalk in front of the transit center or any other sidewalk, report it to the Chicago Department of Transportation via Ald. Jim Gardiner (45th) at ward45@cityofchicago.org or 773-853-0799.
If it's on the property outside the main tunnel and the property beyond the turnstiles, people can reach the CTA via webmaster@transitchicago.com or 1-888-968-7282.
If it's on any property in the main tunnel up until the turnstiles or up on the Metra platform — including stairs and ramp leading up to Metra platforms — people can report to Union Pacific and Metra via Arsenio Pomales at apomales@metrarr.com.
Listen to "It's All Good: A Block Club Chicago Podcast" here: