UPTOWN — Double Door is working toward a debut next year in its Uptown home, more than four years after the beloved rock club was evicted from its longtime Wicker Park location.
The goal is to open "within the year," and work is underway transforming the historical Wilson Theater building at 1050 W. Wilson Ave. into a music venue, Double Door co-owner Pete Bruce said.
While work is being done, some lucky music fans and neighbors have gotten a sneak peek. The club has hosted Sunday Jams twice a month since September, allowing fans to check out the 1908 building that will soon open as Double Door.
"I've been sitting in there, and I thought, 'I should get some bands in here to rehearse while I'm working,'" Bruce said of the Sunday Jams. Double Door founder Sean Mulroney told him, "'Let's take it to a new level.' Everybody coming in has been really enthusiastic."
Mulroney and Bruce are working to reopen Double Door, which in 2017 was booted from its home of 23 years in Wicker Park. The eviction followed a lengthy court case. The former club is now home to upscale cooler brand Yeti.
Double Door's move to Uptown was announced in 2019, but prolonged negotiations over the location — and the pandemic — stalled the project, Mulroney and Bruce detail in a new podcast.
With the deal solidified, plans for the new Double Door are coming into focus.
Double Door will have a capacity of about 750 people, whereas the original club maxed out at about 500 people, Bruce said.
There will be two mezzanine levels around the main floor, plus a balcony. Some VIP seating is planned.
Because Double Door's building most recently served as a bank, a downstairs vault is being transformed into a "mini venue lounge" that will host smaller acts and be open daily, Bruce said.
The basement vault has been excavated to reveal terra cotta believed to be from the 1920s, which will be restored, Bruce said. After demolishing walls in the basement, two staircases leading to the main floor were found. Those will also be restored, he said.
One change coming to Double Door is its famous marquee will likely include some branding. That would be similar to how the Aragon Ballroom owner Live Nation sold its naming rights to Byline Bank.
"We'll sell out to some extent on the name to get funds for the buildout," Bruce said. "We don't want to give up equity."
Excavation work has been ongoing this year at the Wilson Avenue building. The Double Door team is waiting on a final structural engineering report before its architects can draft final plans for the club, Bruce said. Only then can the buildout begin.
The hope is to be open by this time next year.
"We're just creeping along," he said.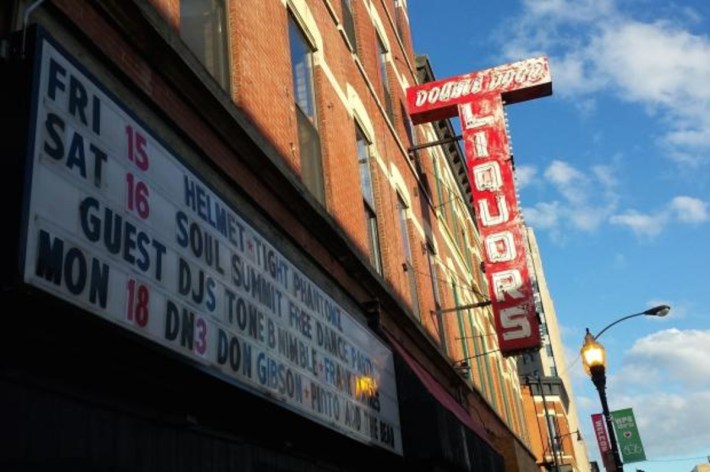 The work to reopen Double Door is being chronicled in a podcast from Mulroney and Bruce.
The podcast tells the story of Double Door, which Mulroney opened with Metro owner Joe Shanahan in 1994. It also tells the story of how Mulroney and Bruce partnered to launch Double Door's second act in Uptown.
Mulroney and Bruce met long ago at a show. More recently, a motorcycle club moved into a headquarters across the street from one of Bruce's buildings. Bruce, a property investor who used to coordinate warehouse parties on the Near West Side, said he noticed Mulroney hanging out at the biker club, and the two began to talk.
"Sean said, 'You're the dude. You got to partner with me on the Double Door,'" Bruce said.
"That was my life coming full circle."
Bruce came on and helped close the deal with Cedar Street, buying the Wilson Theater from the prolific development firm this year for $750,000, records show. Cedar Street, which bought the theater for $625,000 in 2013, is developing the parking lot neighboring the Wilson Theater into a 62-unit apartment complex.
The Wilson Theater, built in 1908, was constructed to host vaudeville performers. Most recently, it was a TCF bank until 2011. It has sat vacant since then.
"Every part of this deal has been working with people we like," Bruce said. "The energy around this has been really cool. Everybody is excited and really into it."
Listen to "It's All Good: A Block Club Chicago Podcast" here: