WEST LOOP — Charles Bledsoe is a robot in plaid. 
As a beat echoes from a white speaker under a train station in the West Loop, Bledsoe moves, his feet barely leaving the ground. His arms and wrists, encased in bracelets with large, silver hoops, are in constant motion, jingling.
Bledsoe has left the room. "Poppin' Chuck," his stage name, is here to dance.
He's practicing what street dancers might best know as popping, a style of choreography where the dancer tenses and relaxes their muscles to create a jerking or "popping" effect. When Bledsoe pretends to zip and unzip his jacket, he's doing the robot, another dance style.
For nearly 50 years, Bledsoe, an artist, has made this style of dancing his passion. 
Now, thanks to a grant award from 3Arts — a nonprofit that supports Chicago's women artists, artists of color and artists who are deaf or have disabilities — the Chatham native has $30,000 to practice and teach his craft across the city. 
"I'm not used to being rewarded for what I do," Bledsoe said. "I just do it for the community, the fun and the passion. … I'm honored that people recognized I put in work doing what I do."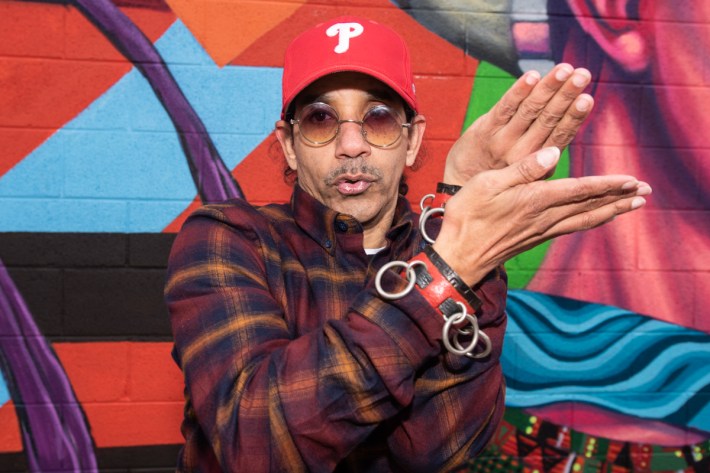 Bledsoe's love of dance began in 1973. He was 5 years old, living in Los Angeles.
"The Carol Burnett Show" was on CBS, and a group called The Campbellock Dancers, a dance crew that helped popularize locking, was on the screen, he said. Don "Campbellock" Campbell, a founding member of the group, was getting down. 
But it was Adolfo "Shabba Doo" Quiñones, a Chicago native from Cabrini Green, who stuck out to Bledsoe. He wanted to dance just like him.
"I was like, 'Oh, look at that,' and started mimicking what I saw on the TV," Bledsoe said. "Nobody ever taught me. I could see something, I could mimic it and then I could actually do it. Ever since then, I've been dancing. I started practicing locking. Then I started doing the robot and popping." 
While tuning in to "Soul Train," Bledsoe mimicked guests like Michael Jackson, who famously did the robot during The Jackson 5's "Dancing Machine."
Bledsoe eventually took the moves he practiced at home and brought them to school.
In elementary school, students were impressed by his ability to do the robot. By the time he was in high school, he was being challenged to do dance battles.
"People were like, 'I heard you can get down. Let's see what you can do,'" Bledsoe said. "Occasionally, somebody would have a boom box, and we'd start dancing right there. That's how you got your street cred. You literally danced on the street."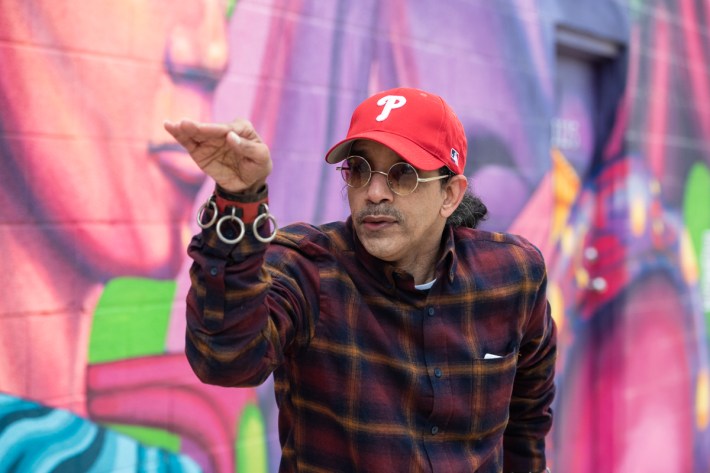 And as the style of songs on the radio evolved from disco to funk to electro-funk and hip hop, so did Bledsoe's dancing persona. 
In the '70s, he went by "Sir Leo" after his astrological sign. After that was "Prince," for the iconic singer-songwriter.
By the time Bledsoe was in college, he felt the need to settle on an identity that captured who he wanted to be. 
People started calling him Chuck, Bledsoe said. He added "Poppin'" in front, and a stage name was born.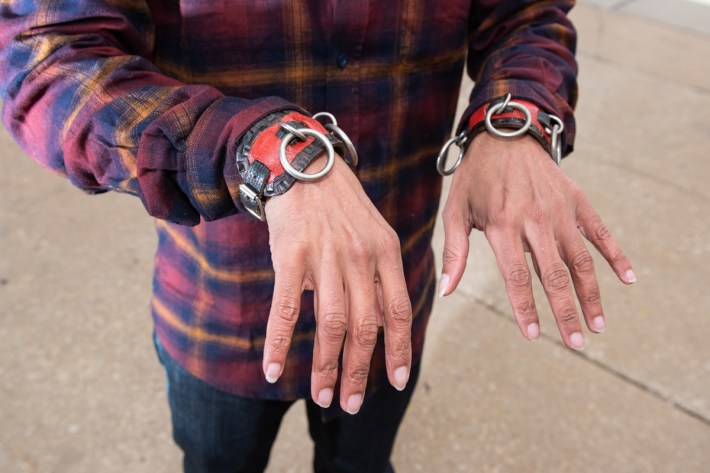 By 2005, Bledsoe was ready for a new scene in a new city, he said. He set his sights on Chicago.
He settled in Humboldt Park, but eventually made his way to Chatham.
In Los Angeles, he'd danced with a group called The World Famous L.A. Breakers. Now a Chicago South Sider, he searched for a similar community of dancers online, he said.
Bledsoe found his crew on a website called B-Boy and, later, on MySpace. Together, he and a few other friends, including hip hop instructor Torrence "Tea-Buggz" Griffin, formed a dance crew called Robot M.A.F.I.A. 
Bledsoe still dances with the crew.
"The elders are still getting down and showing the kids how to do it," Bledsoe said. "We're showing the younger people that you can be 50 years old and still dance. It's an expression. It's not just a trend."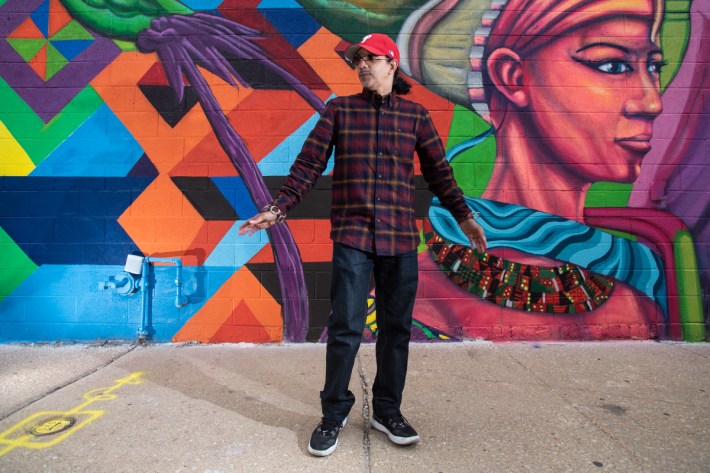 For the past 16 years, Bledsoe, 54, has dedicated his time to dancing and teaching. 
Before the pandemic, he hosted workshops at the University of Chicago and Kuumba Lynx and taught students at the After School Matters Program. 
When a friend told Bledsoe to check his email and he saw he'd been nominated for a 3Arts Award, he was shocked, he said. He'd been dancing for a long time, but he'd never been rewarded for his skills, he said. 
"After I saw the email, I went to my friend's house and immediately wrote out an essay and sent my footage in to 3Arts," Bledsoe said. "3Arts called me on the phone a few months later. They told me I was a recipient of the 2021 3Arts Award. At first, I couldn't believe it. It's still surreal." 
Bledsoe was one of 10 artists to receive the 3Arts Award. Each artist received a $30,000 grant to build momentum and continue their careers in the arts. Bledsoe accepted his award Monday.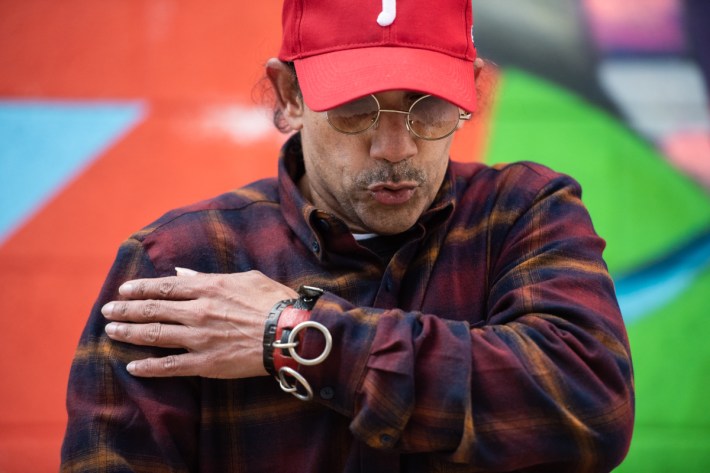 The dancer plans to use the grant money to teach youth-driven programs and host live performances.
"I want to take it up a level. I want to do some theatrical performances and bring the dance to the theater," Bledsoe said. "I want to grow as an artist and give back more to the community."
Above all, he hopes to share the rich history and culture behind popping, he said. 
Dancing changed his life, he said, and he wants that to happen for others.
"The art of dance is really about spreading love, peace and discipline," Bledsoe said. "It's about empowerment and expression. I'm still doing this because it's part of my expression of who I am. When they bury me, they'll have a picture of me in my dance pose. They'll say, 'That's Poppin' Chuck. He used to dance.'"
Listen to "It's All Good: A Block Club Chicago Podcast" here: