AUBURN GRESHAM — After months of often heated community discussions, Auburn Gresham residents learned Wednesday that developers could break ground on a $20 million affordable housing development in their neighborhood as soon as next summer.
Nearly three dozen community members joined what planner Patrick Brutus called the 14th community roundtable to hear long-awaited updates on the future of Auburn Gardens, the multi-million retail and residential project designed for vacant land at 838-58. W. 79th St.
David Block, director of development at Evergreen Imagine, said the developments are still on track. They hope to begin construction as soon as the summer, he said.
The project must still wind its way through the city approval process, including multiple layers of aldermanic approval next spring, he said.
"And the goal is that we will get to have all the steps finished and be in a position to start construction on the project probably around July of next year," he said.
The affordable housing complex is part of the INVEST South/West initiative created by Mayor Lori Lightfoot to bring new developments to West and South Side neighborhoods.
Evergreen Imagine JV, a joint venture between the Imagine Group and Evergreen Redevelopment, was the only bidder for the Auburn Gresham site and got the green light to move forward in March.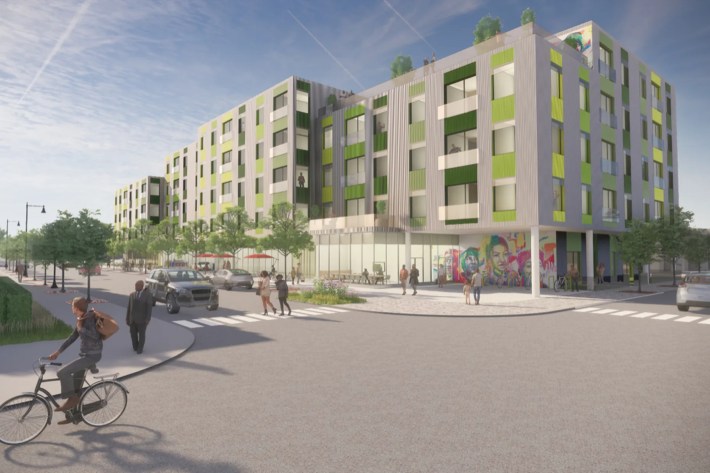 For months, some neighbors pushed back against the affordable housing project. While city officials like Lightfoot pleaded the city's case, emphasizing the need for high-density housing to create a boon in the community, community members felt neighborhood essentials, like a grocery store or pharmacy, should have been introduced into the community first. One neighbor went as far as to call Auburn Gresham the "donut hole" of the city.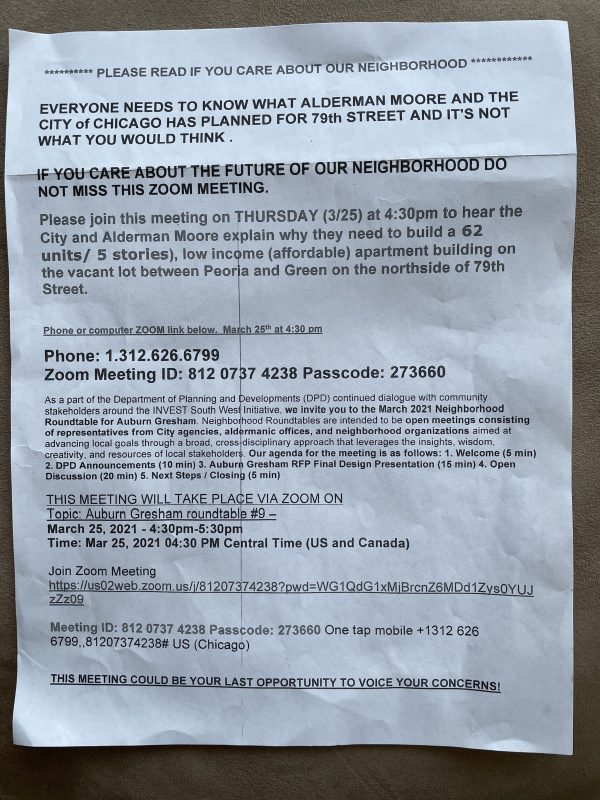 Other neighbors questioned the density of the housing. Originally slated as a 62-unit development, some neighbors said the heavily-populated building would be too much for the community to handle on an already crowded street. 
In July, officials from Evergreen Imagine and Ross Barney Architects, the lead architects in charge of the development, announced that, following community feedback, the building would be redesigned.  
Rather than build one affordable housing complex along 79th Street, developers split the project in two. One building is slated for 79th and Green, and the other on 79th and Halsted. 
The building on 79th and Green will have 8 one-bedroom apartments, 14 two-bedroom apartments and four three-bedroom apartments. And in addition to 27 residential parking spaces, 13 additional parking spaces will be available to the public. Retail space will also be on the first floor of the apartment.  
The building on 79th and Halsted will have 24 units, including 6 one-bedroom apartments, 15 two-bedroom apartments and 3 three-bedroom apartments. Retail space will live on the first floor of the building. Tenants will have 16 parking spaces. 
Torrey Barrett, principal of Evergreen Imagine, said The Park Supper Club, a restaurant, and the Sports Shed, a non-profit organization that gives athletic equipment to students at a discounted price, are interested in taking up retail space in the buildings. 
Two new potential additions to the buildings could also be a community kitchen and food incubator created by South Side native Jasmin Cook, and a photography and production space created by Magen Coleman. Barrett said he plans to help the two entrepreneurs apply for Neighborhood Opportunity Fund grants to open their businesses in the buildings.
But with talks of an athletic store, community kitchen and production space in the works, some neighbors questioned why room for a grocery store, their top demand, couldn't be created.
Brutus said the Department of Development and Planning is "continuing to examine at a very high level" how to bring a grocery store to the community.
"We are continuing to look at how best to locate a grocer in the heart of Auburn Gresham," Brutus said. "As you all remember, it is very easy to build a store. We have to find an operator. We continue to work to do that. I don't want anyone here to think that we're not talking about a grocery store."
Barrett said opening a grocery in the community is also a top priority for the development team.
"We heard the community loud and clear throughout their process, and we are doing everything we can to find an operator," he said.
Ald. David Moore (17th) said the goal going forward is to bring the community together in the planning process for the building and the future of 79th Street. He encouraged neighbors to shop locally to help businesses, both old and new, in the community.
"We are going to continue to work to make sure that we're more inclusive and making sure we get more residents involved," Moore said.
Listen to "It's All Good: A Block Club Chicago Podcast" here: