FOREST GLEN — For more than three decades, Roger Mangio smiled, waved and chatted up neighbors daily as he delivered mail on the Far Northwest Side.
After 31 years as a mail carrier out of the Jefferson Park branch, Mangio hung up his blue uniform for the last time in October, prompting some of the Forest Glen residents he served to send him letters, signs, pictures and even a certificate of excellence as a tribute.
"He was friendly and knew us by our first names, which was very unusual — it takes a matter of skill," said Francine O'Connor, a longtime Forest Glen resident who's known Mangio his entire career. "Respect was his middle name."
On his last day, O'Connor presented Mangio with a certificate from the Forest Glen Community Club to honor his work and dedication to the neighborhood.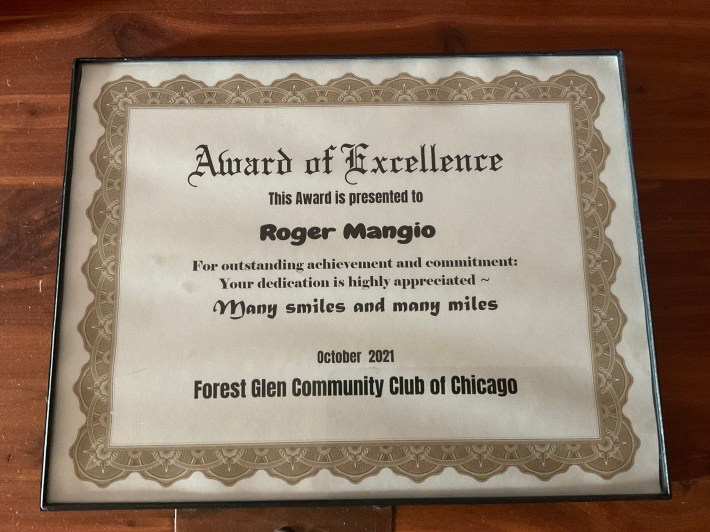 Mangio said he was shocked by the honor and didn't expect any farewell from the neighbors. He said he hung up the certificate in his Mayfair home and shared the news with his family.
"I felt happy about that because [the neighbors] were all very nice to me and just like family," Mangio said. "I have been there a long time. Every time I drove around, I waved at them."
The father of three came from the Philippines in 1982 and began working as a Chicago postal worker in 1990. Despite knee pain from an injury, he loved his job and is excited about retirement — though he will miss serving the Far Northwest Side.
"It's hard to leave the community because everyone is so nice," he said. "I [was] lucky to be their mailman."
O'Connor and several other neighbors in the community decorated their windows with signs that read, "Forest Glen Loves Roger," and, "Roger, Farewell." Some plastered notes to their mailboxes, while children posed with Mangio as he delivered mail for the last time.
"He was very kind, and you could tell he had a special inner warmth for other people," O'Connor said. "He would take a minute to say 'hello' and have a little chat with you, even though he had a big route."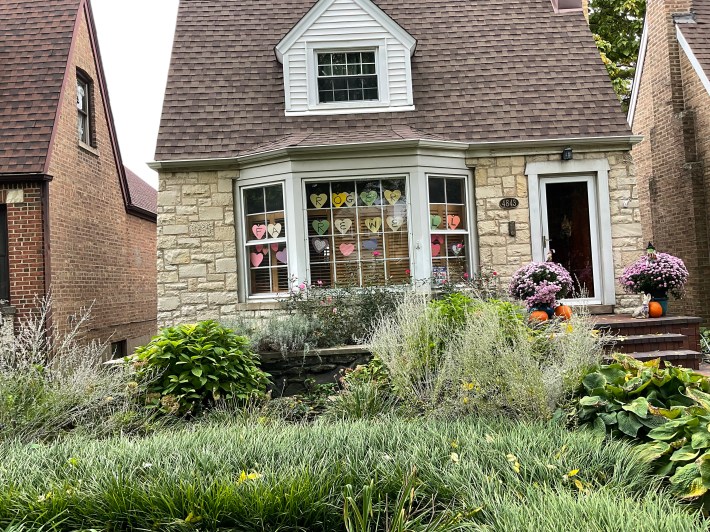 Other neighbors applauded Mangio's professionalism, kindness and dedication to his job. Steve McVeigh, who has lived in Forest Glen for 40 years, remembered the way Mangio wrapped up his mail with rubber bands so it stayed together — a small gesture but one that showed his character, he said.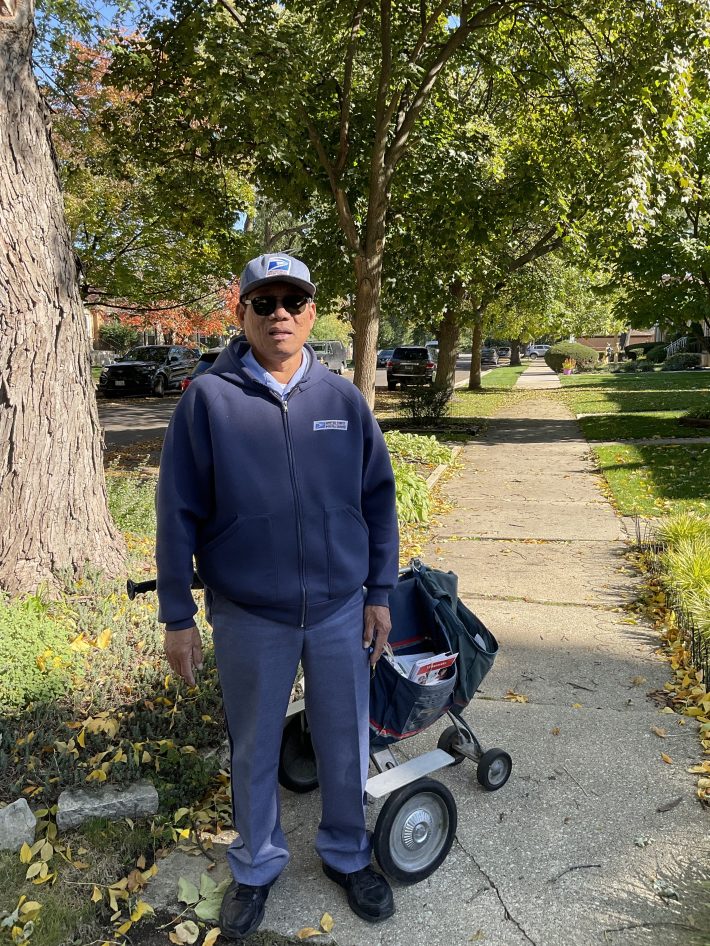 "It's the little thing but those little things add up," said McVeigh, who called Mangio a good friend. "It keeps the community intact."
Mangio exemplified empathy and enthusiasm for life and all residents, despite working long hours and being outside during Chicago winters, McVeigh said. His window message to Mangio read, "Roger, enjoy your new route."
While the neighborhood won't see Mangio delivering their mail anymore, they might meet another member of the family: Mangio's youngest son recently applied to be a postal worker.
Mangio said he gave his mail cart — which he bought himself — and his uniform to his son as a passing of the torch.
O'Connor said she will miss Mangio but will wait to see his son on the Forest Glen route. In the meantime, she will keep spreading the friendliness Mangio carried with him to her community.
"It doesn't take much in the world to say 'hello' to somebody," O'Connor said of Mangio. "He epitomizes all the wonderful qualities of a human being."
Listen to "It's All Good: A Block Club Chicago Podcast" here: