LOGAN SQUARE — Paulie Gee's is serving up a special pizza developed by a home cook who was diagnosed with a rare form of muscular dystrophy earlier this year.
Tripping Billy, a pizza made with shishito pepper cream sauce and topped with corn, pickled jalapeños, scallions and cheddar and mozzarella cheeses, is available through November at the Logan Square pizza joint, 2451 N. Milwaukee Ave. Two dollars from every pizza sold will benefit the Muscular Dystrophy Association.
Logan Square resident Billy Zureikat is behind the special pizza. Zureikat, a serious home cook since 2017, created the recipe last summer after bringing home too many shishito peppers from the Logan Square Farmers Market.
Impressed by Zureikat's creation, Derrick Tung, the owner of Paulie Gee's Logan Square, featured the pie at the restaurant's Slice of Summer charity event last year, which benefitted No Kids Hungry and Feeding America.
Zureikat said he left the event feeling energized and motivated to get his food in front of a larger audience. But this year, cooking has taken on an even greater meaning.
After years of struggling with physical problems, Zureikat was diagnosed in March with limb-girdle muscular dystrophy, a rare disease that causes weakness and atrophied muscles in the legs and arms.
The disease dramatically altered Zureikat's life: Before the illness took hold, Zureikat was an active person and an avid athlete; now, he has trouble getting up the stairs. There is no treatment or cure.
"My life has changed. I need a railing to go up the stairs. If I bend down, I have to really brace myself. I don't have the leg strength," Zureikat said. "It's frustrating because things I used to do I can't do anymore. Cooking has become my new sport. That's what my new passion is.
"That's why this pizza means so much to me. It was invented … because of a necessity, a new need for a creative outlet."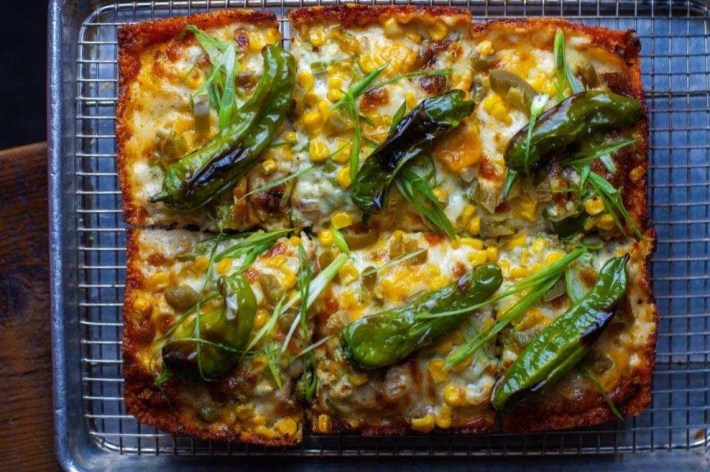 In light of Zureikat's diagnosis, and building on the success of last year's event, Tung asked Zureikat if he wanted to bring the shishito pepper pizza back to Paulie Gee's this fall for a month-long special.
This time, Zureikat requested a portion of the proceeds go to the Muscular Dystrophy Association to raise awareness about the disease, and to help others who have it.
Zureikat named the pie Tripping Billy because the disease often causes him to trip and fall.
"I lose my balance a lot. I thought Tripping Billy would be kinda funny. It gives the pizza more meaning," he said.
Tung said he was thrilled to team up with Zureikat, a talented home cook who has been a big supporter of restaurants like his. The partnership is a natural fit for Paulie Gee's, which regularly partners with home cooks and other local restaurants on specials and events, Tung said.
Zureikat's "pizza was just so well-received that we were like, 'Let's get him on the menu,'" Tung said. "It's been a dream for him, and it's been a dream for us to work with really great people."
Zureikat said he hopes the collaboration with Paulie Gee's is a jumping-off point and will lead to more pop-ups and partnerships with local restaurants. His goal is to be an ambassador for limb-girdle muscular dystrophy.
"I just want to show people that you can get handed something that's heavy, but change isn't the worst thing in the world; you can reinvent yourself," he said.
Listen to "It's All Good: A Block Club Chicago Podcast" here: