EDGEWATER — A builder is taking a second crack at developing a vacant used car lot in Edgewater, this time looking to build 20 apartments on the site.
Developer Joe Lyons is asking for a zoning change to turn the former Rea Motors lot at 5828 N. Broadway into a five-story building with a ground-floor art gallery, according to plans discussed at a community meeting Tuesday.
It is the second time Lyons is trying to redevelop the lot after a previous effort fell through. In 2019, Lyons and his firm, J&P Contractors, sought to buy the lot and the neighboring building that houses Ardmore Glass & Mirror, 5826 N. Broadway.
But the glass shop wasn't interested in leaving, and the project was abandoned, Lyons said at Tuesday's meeting. Now, the developer is moving forward with plans for just the auto lot.
Plans call for a five-story building with ground-floor parking for 11 cars and 12 bikes. There would be 12 one-bedroom apartments and eight two-bedrooms, with rents that could range $1,300-$2,100.
"I've always liked the area and the direction it's going," Lyons said. "We devised this plan to see if we could get something to fit on this [property], fit in with the neighborhood. In many ways it's going to be a step up from what's there."
Because a zoning change is required for the plan, the building would need to meet the city's requirement for affordable units on site. J&P Contractors' plan would include four affordable units marketed at $900 for a one-bedroom and $1,100 for a two-bedroom, the development team said at a meeting hosted by Ald. Harry Osterman's (48th) office.
The ground floor would not have retail space, which is a sticking point for some neighbors. Instead, it is planning a "storefront gallery" that would include art from local students and artists that would be visible from the street, the team said.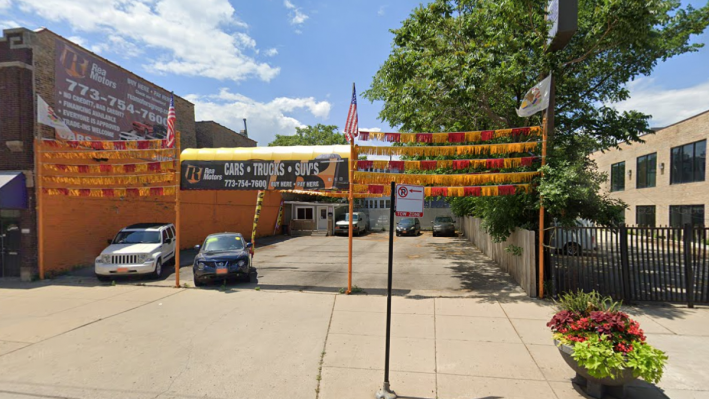 The brick building would have a balcony for each unit. There would be no windows on its north and south facades because, under city code, buildings built to the lot lines cannot have windows on those sides, the team said.
Some bedrooms in the development would have "borrowed light," or interior walls that do not extend to the ceiling to allow for light to come in from adjacent rooms, said Chris Payne, architect at SGW Architecture & Design.
Not all neighbors are on board with the plan. Some at Tuesday's meeting said the project should include ground-floor retail, while others said the project is too tall.
The neighborhood association BARGE — which stands for Broadway-Ardmore-Ridge-Glenwood-Early — has been "very strongly and vocally against the proposal given the lack of ground-floor retail," member Scott Curcio said. The project could set a precedent for development lacking retail space, he said. Other neighbor groups also oppose the project, neighbor Mike Anderson said.
Others said the development is a better alternative than the existing used car lot that is no longer in business.
"The building seems a vast improvement over the surface lot it seeks to replace," Jeff Odenweller said.
Osterman said he has heard concerns about retail space and other issues and is taking them under advisement before deciding if he will support the zoning change. Those wanting to weigh in on the project can email their thoughts to harry@48thward.org with the subject line "5828 N. Broadway." The deadline to submit feedback is Tuesday.
"I'm going to take the concerns of BARGE and all the other block clubs and all the residents on this call tonight and those that have reached out to me and make what I think is the best decision for the neighborhood," Osterman said.
Listen to "It's All Good: A Block Club Chicago Podcast" here: