WICKER PARK — Minutes before gunfire erupted outside Jose de Diego Community Academy in Wicker Park last week, a longtime neighborhood resident stepped outside his home to make sure his granddaughter got home from school safely.
That's when he saw three people beating someone with a baseball bat outside the campus, 1313 N. Claremont Ave.
He quickly tried to get out of the way. Security footage reviewed by Block Club shows him crouching between cars and holding an umbrella in a defensive position while a man runs past him, firing a gun. Seconds later, another man fleeing the incident violently knocks the resident to the ground.
No one was shot, but the resident, who has a bad knee, diabetes and heart problems, said he could have been seriously hurt or killed had he fallen on his left side instead of his right.
"The doctor says, 'You almost died on me,'" said the resident, who asked to remain anonymous.
Though gunfire outside his granddaughter's elementary school is rare, he said there are regularly fights about traffic due to the school's pick-up and drop-off policy, which causes tempers to flare on a daily basis.
"And then the fight starts, right there, and it always keep happening," he said. "But everybody's acting like it's okay."
Though there was no evidence the fight last week had anything to do with the policy, some neighbors and parents say the school and the area's alderman need to do something to fix the increasingly tense situation.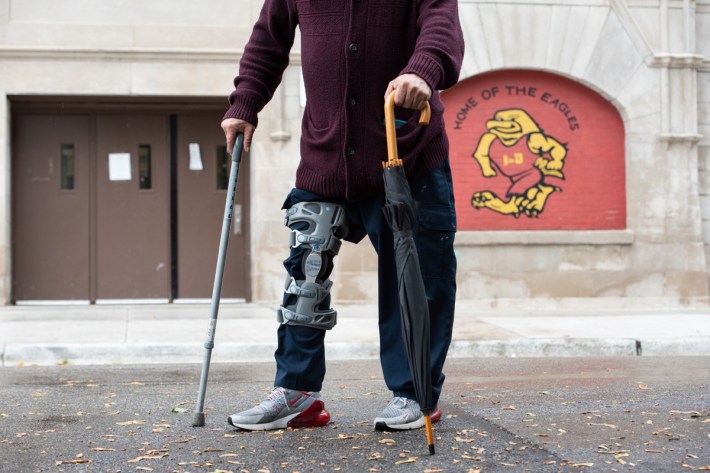 Police said Monday detectives are still investigating the incident, and provided no other updates.
"Every morning and every night this street is filled, as in most schools, only in this case, we have very angry, verbal screaming families at each other. Some of them stop in the middle of the street and get out of the car and walk in and get their child, blocking the whole street," said Doug Wood, who also lives across from the school and is a board member of the Wicker Park Advisory Council.
Wood was outside his home just moments before last week's shooting. He said the traffic backups and ensuing conflicts have been going on for years, and nothing's been done about it. 
"It's total disorganized chaos," Wood said. "We asked the alderman to get it organized, and it isn't."
Earlier this year, Wood and other neighbors on Claremont pushed back against a proposed zoning change that would have allowed a 38-unit residential building to be constructed at 1317-1335 N. Western Ave., just west of Claremont.
Residents were chiefly concerned about the development's impact on traffic congestion on their street, and wanted to the developer to make several changes to the plan.
In response, Ald. Daniel La Spata (1st) said he commissioned a traffic study from the Chicago Department of Transportation for the area.
"We actually commissioned a traffic study from CDOT that we're waiting to hear the results from, to make sure that traffic is being handled appropriately," La Spata said last week. "We've also talked to the principal at the school and we'll continue to work with them to make sure that pick-up and drop-off is happening as orderly as possible."
La Spata had no information on the shots fired or the subsequent fight, and didn't say what exactly was being done to fix the pick-up and drop-off issue.
In an email Monday, CDOT spokesperson Michael Claffey confirmed that the department is working on a traffic study, and hopes "to be able to get it to the Alderman in the coming weeks."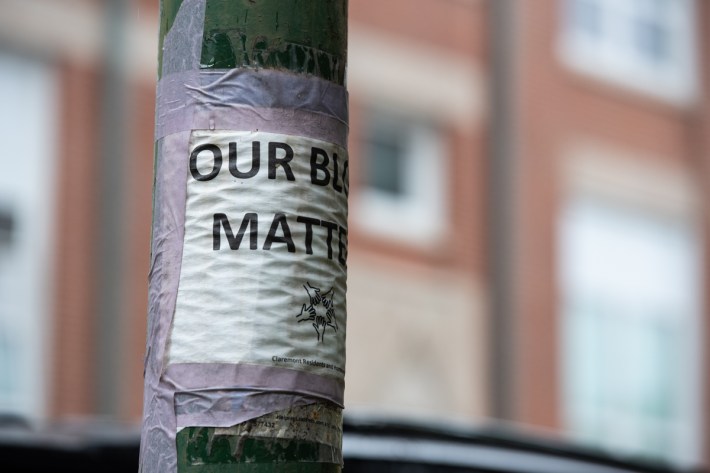 Esther Nieves, who has lived on the block since the mid-1990s, said the traffic backups have consistently "impacted the quality of life" on Claremont across from the school.
"There's not a coordinated plan to ease the process in the morning, knowing full well that between this time and this time, there's going to be a huge amount of people congregating on one small street and space," she said.
Nieves said the backups have led to ongoing tension and verbal altercations on Claremont.
"I can't claim to have seen any physical spats. But I certainly have heard parents, you know, [use] four letter words that don't start with love, that kind of stuff," she said.
Nieves, who also organized against the zoning change for the development on Western, said she's requested a meeting multiple times with Jose de Diego principal Dr. Jackie Menoni to discuss the traffic situation, but hasn't heard back.
When reached by Block Club, Menoni said she could not comment.
"Chicago Public Schools takes the safety of all students seriously and all schools have strong dismissal plans in place to promote a calm and safe dismissal process," a CPS spokesperson said in an emailed statement Monday. "During this incident, the school followed all safety protocols in accordance with District guidelines."
There's no indication the incident was related to the school, the spokesperson said.
"In the scheme of the world, our little small issue is not a significant concern. I'm more worried about the pandemic, people dying and what have you. Nonetheless, it does impact people's quality of life," Nieves said. "This goes beyond the parking, I think that's just a symptom of what's happened in the neighborhood. And that is that we have a high level of density and congestion."
The resident who was pushed the ground during last week said he wants concrete action taken by the school to ease congestion and tensions on Claremont.
"We know how the ball bounces, we've been here so many years. They need to lock down the corner and stop letting all the cars come in because … everybody wants to stop their car in the middle of the street," he said. "And everybody's blowing the horn at each other because they're in a hurry to get out of there. And that's where the fight comes."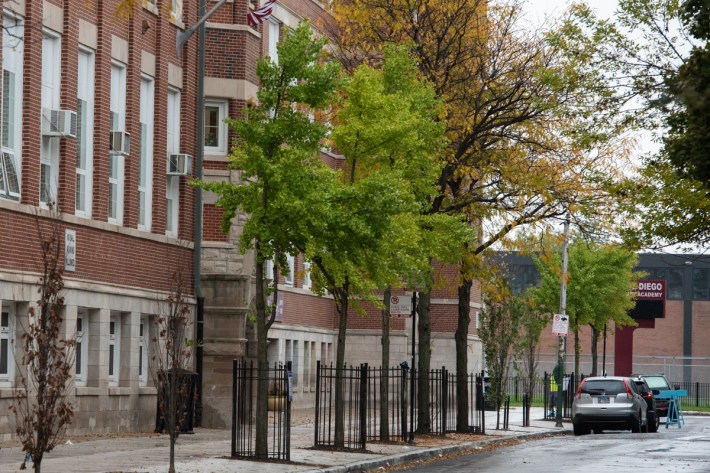 La Spata said overall, he's not aware of any other assaults that have happened outside Diego beyond last week's shooting, and has full faith in the school's leadership.
"I'm really proud of what is happening at De Diego. It's a great school…I know Principal Menoni is 100 percent committed to making sure that De Diego is a welcoming environment," he said.
Subscribe to Block Club Chicago, an independent, 501(c)(3), journalist-run newsroom. Every dime we make funds reporting from Chicago's neighborhoods.
Click here to support Block Club with a tax-deductible donation.