GLADSTONE PARK — More Far Northwest Side residents can get free hygiene essentials thanks to a donation program launched this year to help neighbors.
The Treasure Box Project, created by Portage Park resident Jaclyn Crawford, put in a box filled with toilet paper, soap, sanitizing wipes and other items at 5720 N. Mason Ave. in Gladstone Park.
Taking her cue from Crawford, resident Caitlin Hall set up the Gladstone Park box and restocks it daily. The lifelong Northwest Sider, who has lived in the area for nearly eight years, said she wanted to show her two young children how neighbors can take care of each other.
RELATED: Portage Park Woman Provides Free Items To People In Need With Her Treasure Box Program
"We are teaching our children that they can't wait for someone else to make their world a better place," Hall said. "Our neighbors make up our community, and community is so important to who we all are."
Hall's family is responsible for maintaining the box daily, but neighbors are encouraged to donate. The box has been around only a few days, but already neighbors have contributed and retrieved supplies.
The box is the fifth on the Far Northwest Side, and it is a perfect example of the community participation that has helped the project grow, Crawford said.
Crawford set up the first box in the 5700 block of West Pensacola Avenue at the beginning of the year. Other volunteers stepped up to start three more Portage Park treasure boxes at Dickinson Park, 4143 N. Dickinson Ave.; West Eddy Street and North Marmora Avenue; and in Harwood Heights at North Newland and West Montrose avenues.
"The community has responded in a big way — bigger than I could ever imagine," Crawford said. "The volunteers are now my friends. I got to know my community better and meet more people. It's really great to see this small idea and empower our neighbors. That was our vision."
Crawford stocks feminine products, body wash, toilet paper and soap — things that are always getting picked up, she said. She now regularly sees neighbors take items they need while others are quick to donate.
"The idea of some of these items, like pads and feminine products, come with a stigma," she said. "I feel like I've broken that stigma. I would leave the box at nighttime and it would be empty in the morning. … Now, people are not ashamed anymore to stop by during the day if they need something."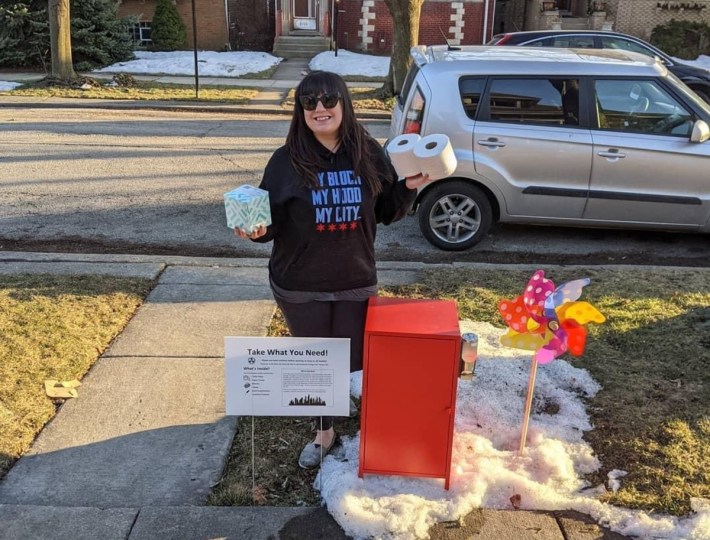 Crawford's goal was to provide essentials while protecting people's anonymity and dignity.
She was inspired by Jahmal Cole, founder of My Block, My Hood, My City, who asked people to think about one thing they could do for their block that could make a difference. Shortly after launching the project, she received a grant from Cole's non-profit, which helped start her group's delivery program. Volunteers deliver requested items to homebound folks in need.
Hall said being part of the Treasure Box family has made her feel closer to her community and join the other neighbors "just trying to do our part."
 "Just getting to share ideas and resources with the other hosts has been great," she said.
Crawford said she is beyond pleased with the way the community has stepped up to help her vision expand. She is looking for more neighbors who want to start a box on their block.
"I don't plan on stopping this," Crawford said. "I [want to] encourage people that they, too, can make difference on their block."
Listen to "It's All Good: A Block Club Chicago Podcast" here: