LINCOLN SQUARE — Neighbors are eager to solve a murky mystery along the north branch of the Chicago River.
An apparently abandoned power boat tied up on the river bank near the Lawrence Avenue bridge sank after heavy rains. Local officials are trying to figure out who owns the boat — and who is responsible for the fees to fish it out.
A homeowner in the 2800 block of West Giddings Street, who asked to remain anonymous, called 311 in September after discovering the boat in the water just beyond his backyard. It was tied up and in fair condition, he said.
"Boats go through here every day. But mostly they keep going," the homeowner said. "It wasn't a big deal to me. It was just sitting there. I wasn't thinking about it until it flipped over. And then I was like, 'Well, that's not great.'"
Nobody followed up after his initial call. After the boat started slowly sinking into the water, he tried "a little harder to find the right number" for an agency that could help.
After he contacted the the Metropolitan Water Reclamation District of Greater Chicago on Oct. 25, the U.S. Environmental Protection Agency, the U.S. Coast Guard and other agencies showed up to investigate.
Paul Ruesch, an on-scene coordinator with the Environmental Protection Agency, was one of those sent to investigate the scene. With boats, "it's always tough to get to the bottom of" who owns it, he said.
"Whenever you get one of these, it's always 'All right, here we go, finding out who owns it.' It's always a challenge. It never seems to be the guy or the gal that's on paper," Ruesch said. "There's always a story. There's always something weird with boats." 
Ruesch started investigating by running the state ID on the boat's hull and tracking down two previous owners. The first owner provided a credible proof of sale and a number for the second. The second owner said he had sold it, too. It had been more than a year since either used the boat, Ruesch said.
Ruesch investigated on-site and noticed the boat — a 1989 Sea Ray which seats up to six people — had an empty gas tank and was likely abandoned after running out of gas. The oil sheen was "minor" and not enough to pose a contamination risk, he said.
Ruesch, who has been with the Environmental Protection Agency for 30 years, said he responds to about six abandoned boat cases each year. If the boat owner can be quickly found, that person is responsible for the property and its removal, he said.
Since Ruesch was unable to find the owner of this boat in this case, the Illinois Department of Natural Resources will move the boat to a marina or Goose Island this week if all goes well, Ruesch said. An officer with Illinois Department of Natural Resources confirmed the removal is pending approval but would not answer additional questions.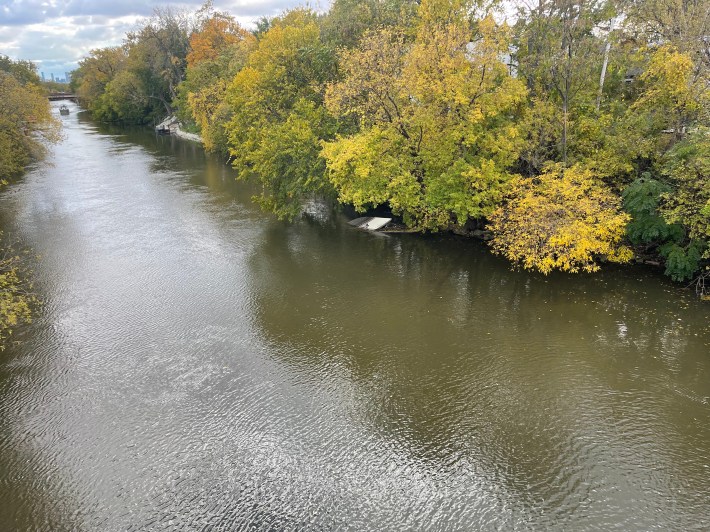 When a boat's owner can't be found, which agency or company removes it can be a game of hot potato. The U.S. Coast Guard typically handles boats that are abandoned at marinas or by the lake, Ruesch said. Bigger boats are usually insured and can be traced to the company, which covers the removal costs to avoid accident liability. 
Smaller abandoned boats by the side of rivers are technically inland and fall to the Environmental Protection Agency to tackle, even though the agency has little oversight of maritime issues. The Environmental Protection Agency can't legally move boats without it becoming their property, he said.
"You can't just grab someone else's property and walk off with it. Even though it is impaired," Ruesch said. "If you move an abandoned vessel, in a sense you're taking legal responsibility for it." 
In these cases, Ruesch has often called upon the Illinois Department on Natural Resources, which has a procedure to remove boats if there's proof that it's "impeding traffic or navigation." A marine salvaging company must be contracted for the job. It requires a diver to fasten the boat with "gigantic inflatable pillows," which pump air into the boat to raise it back up above water, Ruesch said.
Removing the abandoned boat will likely cost taxpayers $6,000-$8,000, Ruesch said. Owners on the hook for the bills are often not found, he said.
At this point, "it doesn't really matter" who owns the boat, Ruesch said.
"The thing is up there. It's flipped over now. It's in the channel," he said. "And we need to get it out there." 
While Ruesch said removing the boat is likely and preferable, the last-resort option would be for the Environmental Protection Agency to drain the boat, check it for potential contaminants, patch it up and tie it more securely to a nearby tree without moving it.
If that were to happen, the power boat would join other abandoned, partially sinking boats that dot the old docks in Ravenswood.
Abandoned boats aren't common, but they're not an oddity, Ruesch said.
"In general, there is a disrespect for the waterways," he said.
And it's not just abandoned boats that cause problems. Emerys Murray, an Albany Park neighbor who regularly walks his dog, Angus, on the river trail, said he's seen all sorts of objects in the river during his walks.
The nearby water treatment plant's combined sewer overflows causes rainwater runoff, domestic sewage and industrial wastewater to mix together and be dumped in the river after rainfall, said Murray, who has a degree in environmental studies. Rising water levels can lead to odd objects being caught up, displaced and deteriorated.
Government could do a better job fishing those problems out of the river, Murray said.
"I've seen an entire mattress. I've seen … construction cones," he said.
Listen to "It's All Good: A Block Club Chicago Podcast" here: