UKRAINIAN VILLAGE — Ukrainian Village resident Scott McKenna didn't bargain on living next to a gas station when he moved to the neighborhood. 
McKenna owned his building on Western Avenue for about six years before moving in a few months ago.
But just days after he arrived, he got a notice in the mail that alarmed him. 
"We received a postcard in the mailbox that said all residents within 250 feet of the proposed site had to be notified," McKenna said. 
The notice alerted residents that a company called Cubby Mart Inc. hopes to build a gas station on a vacant lot at the southwest corner of Grand and Western avenues. 
McKenna and his partner, Michelle, who asked not to be identified by her full name, immediately had a host of concerns, from the gas station's impact on air quality to a spike in traffic. They started a petition and began reaching out to neighbors.
"It's just development," Michelle said. "It doesn't do anything for the community."
To build the gas station, Cubby Mart needs permission from the city's Zoning Board of Appeals.  
According to a public notice shared with Block Club, the company is pursuing "a special use to locate and establish a gas station with an accessory one-story convenience store at the subject property."
Chicago's zoning code requires special use approval for new gas stations. But Cubby Mart is also seeking a variation because of the lot's size. 
"The minimum lot area for a gas station is 20,000 square feet," according to city zoning laws. The lot at Grand and Western is only 11,240 square feet.
McKenna said the small property size should have immediately disqualified the proposal, which is situated on a busy corner at the Western and Grand intersection. 
The lot's "almost a 50 percent reduction of what the requirement is," he said. "I don't understand how this even got to where it is. It should have been a flat no, and it should have been done. There's not room for it."
In an email, Victor Resa, Zoning Board of Appeals manager, said Cubby Mart's application has not yet been assigned a hearing date. 
Attorney Nicholas Ftikas, who represents Cubby Mart, did not return requests for comment.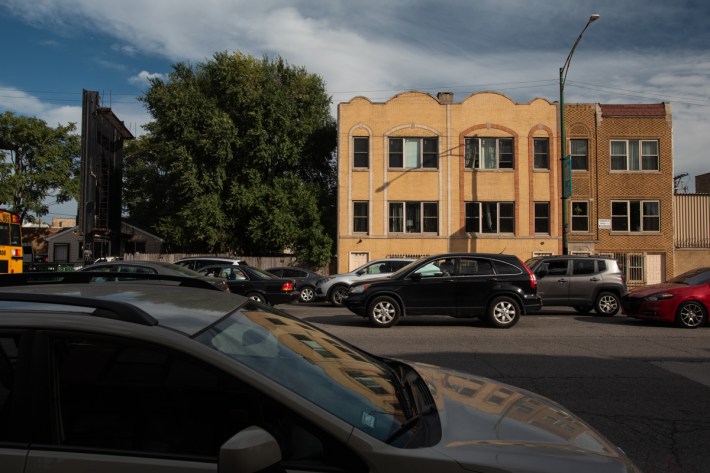 McKenna and other neighbors also have concerns over the gas station's potential environmental impact on the area. 
The proposed site is two blocks from Smith Park and about four blocks from Mitchell Elementary School.
"The holding tanks have to be vented periodically. And that means benzene in the immediate area, in the air," McKenna said.
The Centers for Disease Control and Prevention says the "major effect" of benzene from long-term exposure of at least a year is on the blood. It harms bone marrow and red blood cells and can affect the immune system.
Benzene has caused irregular menstrual cycles in some women and decreased the size of their ovaries, according to the CDC. In animals, it has caused low birth weights, delayed bone formation and bone marrow damage.
"And when you think about the part of the school right here, it's like, 'Are you crazy?'" McKenna said.  
The neighborhood surrounding Grand and Western is largely industrial, home to many manufacturers, wholesalers and a large rail yard. There are several strips of residential properties in the immediate area.
"Grand and Western, people think, 'Oh, it's just two main streets crossing.' Well sure, but there are houses, residential dwelling units directly to the south of this," said Julie Sawicki, a neighbor and member of the West Town Neighbors Association's planning and development committee.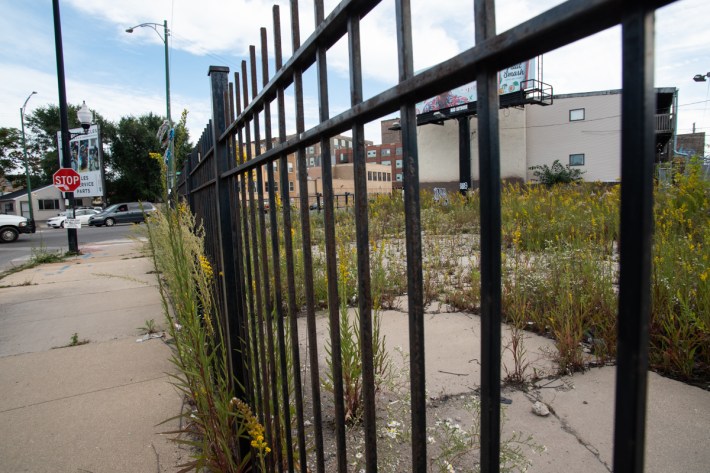 McKenna's petition calling for the development to be stopped has garnered almost 150 signatures.
McKenna and Michelle have also requested a meeting with Ald. Walter Burnett (27th), whose ward the gas station would fall in, but they haven't heard back. 
Burnett told Block Club he's asked the site's developer to hold a community meeting next month for neighbors to review the proposal and give feedback. He said, depending on how the meeting goes, he could voice opposition to the gas station in front of the Zoning Board of Appeals.
"If people are still against it when it goes to the ZBA, if folks are against it for legitimate reasons, I'll express that to the ZBA," Burnett said.
When asked if he considered concerns over air quality and traffic "legitimate," Burnett said he was waiting to hear more from neighbors at the meeting next month.
"I think those are potentially legitimate. I haven't heard any of that. Only thing I've heard is people are against it. They haven't given a reason. I haven't heard any reason," he said. "Hopefully, at this meeting, I will [hear] that."
At Grand and Western, McKenna and Michelle said they would welcome a project in the vacant lot that "actually drives development in the neighborhood."
But a gas station won't accomplish that, they said.
"It's not like, here's this big boon to the community, that there's a trade-off, where there's a plus/minus," Michelle said. "It's just sure, let's throw a business in that adds nothing to the community, that's a significant detriment, like a very real day-to-day detriment to the people who live here."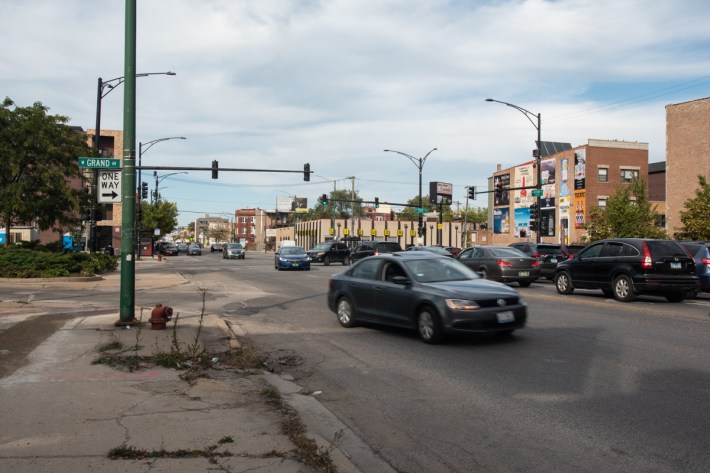 Listen to "It's All Good: A Block Club Chicago Podcast" here: