ROGERS PARK — A city grant is helping the Rogers Park Business Alliance bring decorative crosswalks to the area in hopes of drawing more foot traffic to Clark Street.
The business alliance's Art on Clark effort received a $15,000 grant from the city's Equitable Transit-Oriented Development pilot program, which has granted $160,000 to 11 projects seeking to improve areas near public transit hubs.
The grant will support Art on Clark's plan to add six colorful, decorative crosswalks near the Rogers Park Metra station just west of Clark Street. The crosswalks will be at three corners of Ravenswood and Lunt avenues and Ravenswood and Greenleaf avenues, where Metra riders frequently travel, said Sandi Price, executive director of the Rogers Park Business Alliance.
"We want to encourage people to get off the Metra and walk east to Clark Street rather than walk west to their homes," she said. "Clark Street has so much to offer."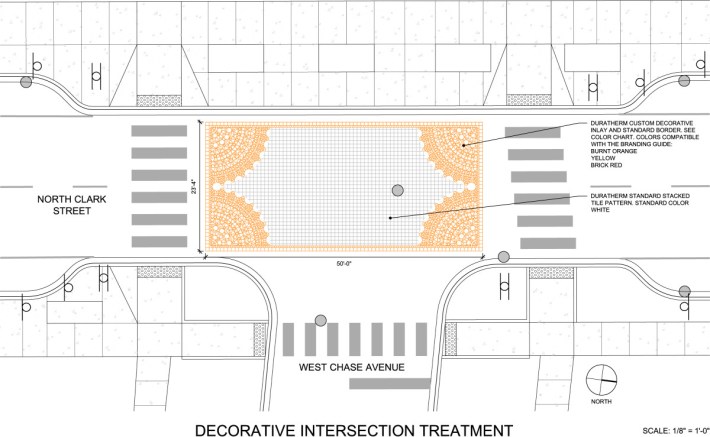 The $30,000 Art on Clark effort is also being funded by a $10,000 grant from AARP.
The decorative crosswalks are part of the Clark Street Master Plan, which was released in 2017 to boost the local business corridor. That includes a massive overhaul of the Clark Street and Devon Avenue intersection. Planning is underway for that project, and decorative crosswalks will come to that intersection, too, Price said.
The design of the crosswalks is ongoing, but they will tie into a theme and color palette for the Clark rebranding, Price said.
Work is likely to begin next year, she said.
"Rogers Park has always been a haven for artists," Price said. "Public art has always been a big part of our economic development plans. We're really excited to get started."
Listen to "It's All Good: A Block Club Chicago Podcast" here: