PORTAGE PARK — Lifelong gardener Ruta Lietuvninkas is known for inspiring one person at a time through her work beautifying her block and creating a safe haven for monarch butterflies. Now, she has been recognized by Cook County and the state.
Lietuvninkas, who began the Berteau Butterfly Garden project last year to bring the community together, save endangered species and help the environment, was honored Saturday by Cook County Commissioner Bridget Degnen and state Sen. Robert Martwick.
Degnen passed a resolution last month at the county board to recognize Lietuvninkas and neighbor Lilliam Narvaez for creating the garden and maintaining natural habitats for monarch butterflies and other important pollinators. Degnen represents the 12th District, which includes Portage Park.
Block Club reported on the garden and its impact on the neighborhood this summer.
Degnen joined Martwick and state Rep. Lindsey LaPointe at a recognition ceremony at the Berteau Butterfly Garden, which sits at West Berteau and North Lawler avenues.
Lietuvninkas received a copy of the resolution. It also honors Narvaez, who helped grow monarch butterflies and hosted show-and-tell tours for children in the summer.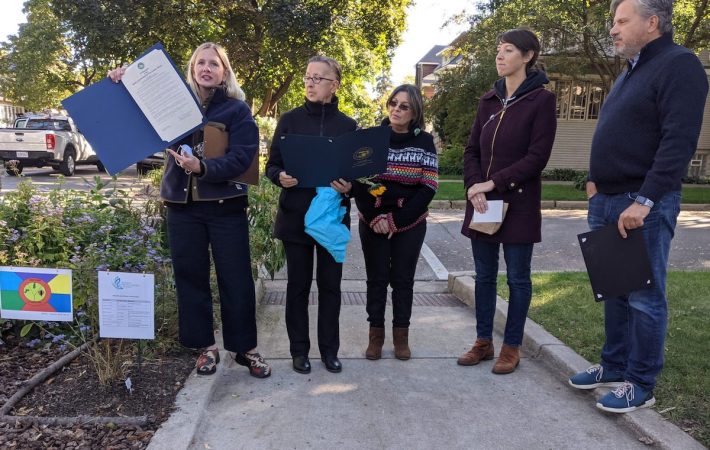 "Having these things in the public view is only going to lead to more and better," Lietuvninkas said. "And keeping these environmental concerns on the forefront is important. I was pleased, and the [recognition] felt good."
Lietuvninkas said she at first felt awkward about being recognized because the garden plots are small and the project is localized, but her work has motivated neighbors to start their own pollinator gardens. Those efforts go a long way, Degnen said.
"So many people say, 'What can I do to help the environment?'" Degnen said. "But if everybody got together and did that kind of work, it could make a huge difference for climate change and stormwater management and even the feel-good that comes with getting your block out to see something communal."
RELATED: This Portage Park Block Has Become A Sanctuary For Rare Butterflies — Thanks To One Gardener's Influence
Degnen, who served in the Peace Corps after college before going to work as an environmental engineer, wants neighbors to see the impact one block can have on the environment and be inspired by that.
The garden features perennial and annual native plants beloved by bumblebees, butterflies, caterpillars and other insects. Each plant has its own marker so people can learn its name and what insect it serves.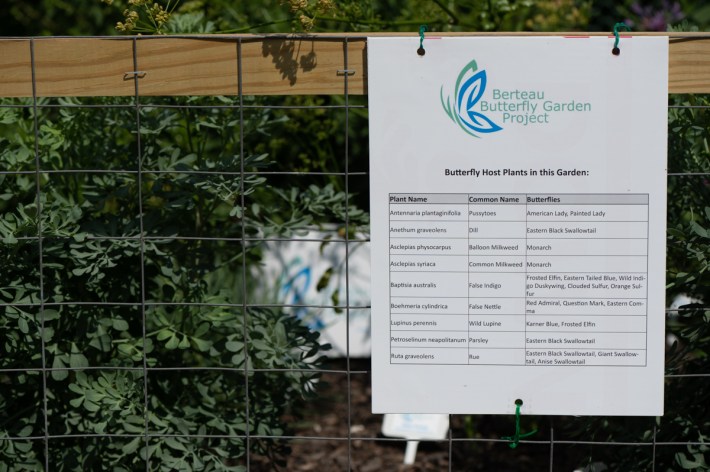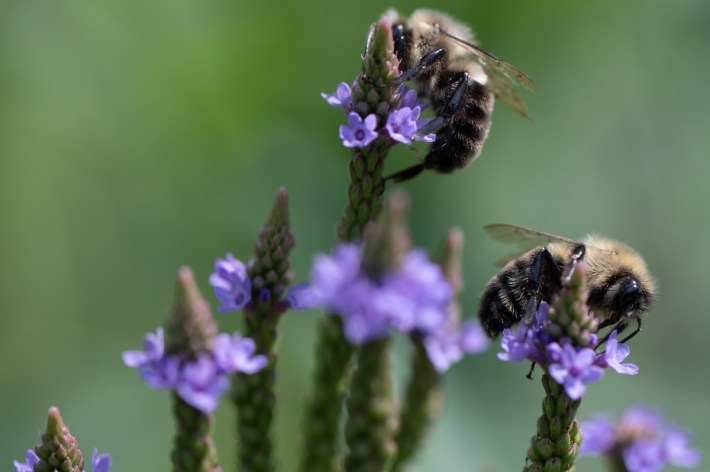 "Gardens replacing lawns is an idea that is starting to catch fire," Degnen said. "The gold standard is now creating gardens where milkweed, plants for pollinators and plants that pull in more carbon and release more oxygen — that's the transition we are all looking for in the environmental space. The more that we can get the information out there and encourage people to switch from green lawns to a native landscape, the better."
Degnen called Lietuvninkas' commitment to the garden a "positive change anybody can start," and one that has a noticeable ripple effect. She plans to work with her neighbors in North Center to create a raised bed on her block next spring and keep paying it forward.
Lietuvninkas "has these really big milkweeds, and she gave me some seeds, so I am going to plant them at my house," Degnen said. "Maybe I get some of those seeds and give them to someone else."
Lietuvninkas said she appreciates the support from the commissioner and other elected officials.
"She is aware of the ripple effect," Lietuvninkas said of Degnen. "She has seen it… from something small, something bigger can grow."
Listen to "It's All Good: A Block Club Chicago Podcast" here: