WASHINGTON PARK — After several painted hearts in a public art installation were vandalized and dislodged, a local nonprofit is asking volunteers to help keep watch.
The Love, Unity and Values Institute's Parade of Hearts installation, a series of 12 fiberglass hearts painted by local artists, was unveiled Sept. 8 at a ceremony attended by Mayor Lori Lightfoot and Alds. Sophia King (4th) and Jeanette Taylor (20th).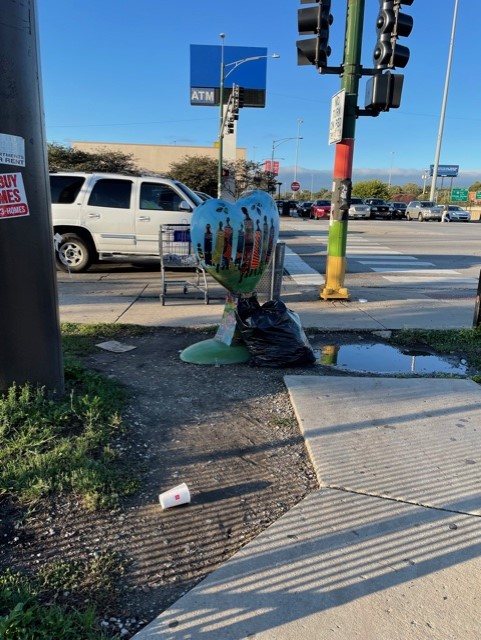 The hearts were created with community input and are intended to reflect South Side neighborhoods' "values and vision of a new normal" amid the coronavirus pandemic and demands for social justice.
Within 10 days of their installation, one of the hearts at 35th and King Drive in Douglas was vandalized, LUV Institute founder Cosette Nazon-Wilburn said. During the next few weeks, decals were placed without permission on the neighborhood's other heart, at 35th Street and Michigan Avenue.
The Washington Park heart at Garfield Boulevard and King Drive was removed from its stakes in an apparent attempt to "uproot and steal" it, Nazon-Wilburn said. Signs near at least two hearts with information about the artworks have been damaged, though their paper inserts have since been replaced.
Artist Patricia Stewart, who painted the Chatham heart at 87th Street and Lafayette Avenue, also found a large garbage bag resting against her piece.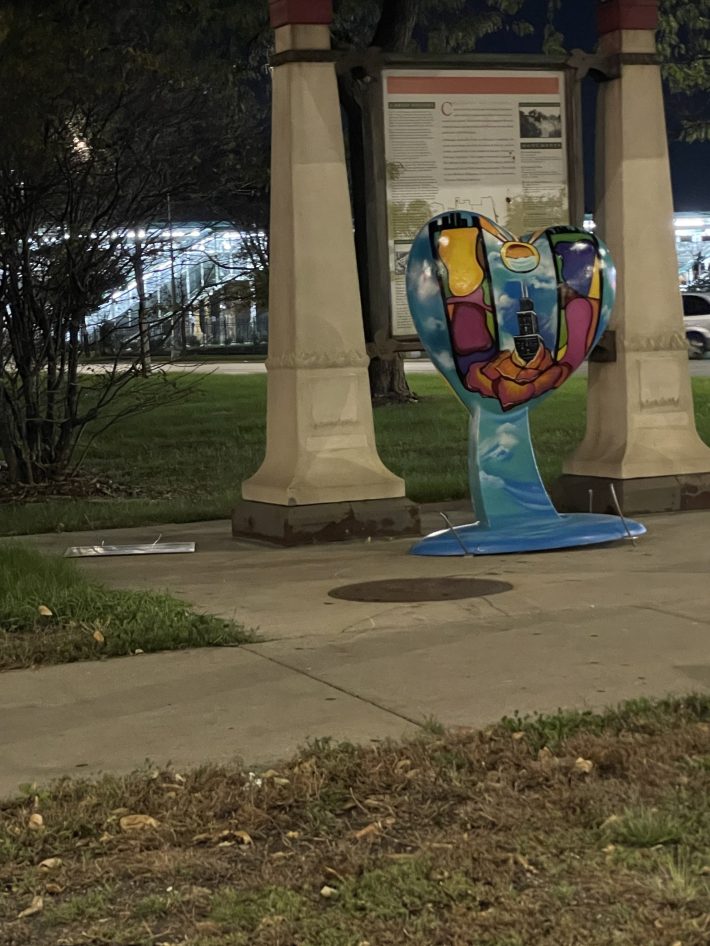 "I was heartbroken when I saw people were trying to take the hearts," Nazon-Wilburn said. "We need someone to check on the hearts and alert our staff."
In response, the LUV Institute is kicking off a Heart Keeper program for community members to regularly inspect the hearts and report damage or tampering.
The nonprofit is looking for 24 volunteers to check in on a heart in their community at least once weekly. The volunteers will contact LUV Institute staffers if "something negative is happening with the hearts, [and] we'll send someone out to repair it," Nazon-Wilburn said.
"What we're trying to do is prevent vandalism, and the goal is to have the hearts up throughout the entire year as opposed to just a couple of months," she said. "We need to have people who know about the hearts and committed to keeping them safe."
To volunteer as a Heart Keeper, fill out the Parade of Hearts survey and mention the program in the "additional comments" section on the third page.
Two of the 12 hearts are in Douglas, with the others in Back of the Yards, Chatham, Grand Boulevard, Greater Grand Crossing, Hyde Park, Kenwood, Oakland, South Shore, Washington Park and Woodlawn. For a detailed list of locations, click here.
Parade of Hearts lead artist Damon Lamar Reed painted the Hyde Park heart at 53rd Street and Kimbark Avenue, in front of Nichols Park. A list of all participating artists with links to their websites is available here.
The LUV Institute is also preparing to kick off its Wreaths of LUV program, a paid internship program where participants create holiday decorations for sale and display across the South Side, Nazon-Wilburn said. The program has run annually since 2013.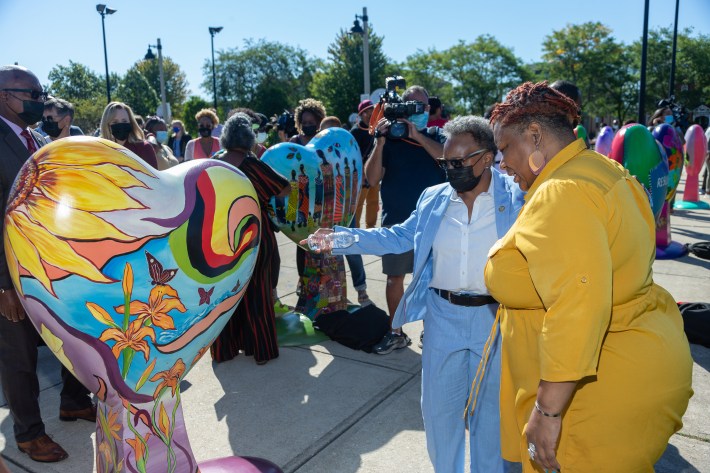 Listen to "It's All Good: A Block Club Chicago Podcast" here: