EAST GARFIELD PARK — Activist McKinley Nelson, 24, lost two friends to violence when he was in college — but he turned his grief into an effort to protect other young people in Chicago.
It started three years ago when the former basketball player at Whitney Young High School launched Project sWish. The nonprofit organizes community basketball games to promote peace in neighborhoods hit hard by gun violence. 
Nelson came up Project sWish while taking a break from college as he grappled with the loss of his friends. During that time, he scribbled in a notebook a plan to stop the violence and get young men off the streets and on the court.
The success of that work has now led Nelson to expand operations to gyms across Chicago, share his message in a viral Nike ad campaign and launch a mental health program that uplifts kids who navigate trauma similar to his own. 
During the pandemic, Nelson was featured on billboards around the city as part of Cook County's My Shot campaign to encourage vaccinations in Black and Latino communities.
Nelson said he owes the success to basketball. 
"Sports is the universal language. I didn't think when I started this off I'd be launching a mental health campaign. I didn't think I'd be talking about vaccines," Nelson said. "Basketball is the foundation."
On Saturday, Nelson attended Homecoming at Chicago Hope Academy Fieldhouse, 2641 W. Harrison St. It was a basketball tourney of local celebrities, rappers and actors organized by him and his childhood friends. Nelson said the event had a "bring-the-city-together kinda vibe."
Rappers Rockie Fresh and Stunt Taylor (decked out in full Chicago Sky gear), actor Bentley Green, radio personality Rodney "Hot Rod" Washington and the cast of "The Chi" showed up.
"If you live in Chicago, everybody is just down to Earth. Everyone is accessible here. Chicago is home," Nelson said. "Growing up here, you get roasted a lot. You kind of get humbled before you even become somebody."
Mike Charles II, 26, grew up playing basketball with Nelson at camps around the city. The two undersized point guards were talented high school players but couldn't quite fulfill their NBA dreams. So Nelson started his own non-profit, and Charles II graduated college and took a job as a community marketing manager at Foot Locker. 
The two teamed up to put on Homecoming and enlisted the help of Hot Rod's organization, Pep Rally Takeover, which hosts pep rallies for high school students around the homecoming season. 
Charles is proud of the opportunity to invest in Chicago communities. The back of the jerseys on Saturday read "#4ChiByChi". 
"It just means everything to me to give back to my city. Because without all the support and love that the city gave me, I wouldn't be here," Charles said. "Chicago is a tough city. There's a lot of things we have to deal with from poverty and violence. When we get a chance to see each other around basketball, it's such a good feeling. It's a joy."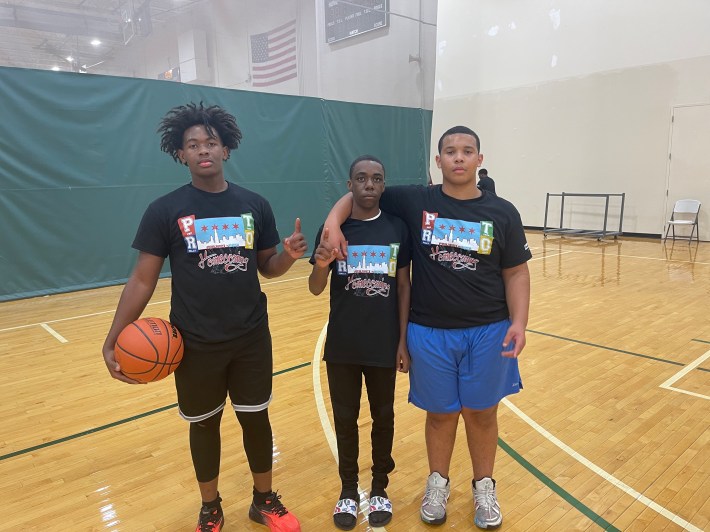 Homecoming opened up with a free basketball clinic for local kids, led by coach Chuck Neely and his son, assistant Simeon coach Jaleni Neely. 
The older Neely said young guys like Charles and Nelson are needed to support community basketball programs while Chicago's latest NBA players, like Jabari Parker, Kendrick Nunn and Talen Horton-Tucker, are away at work.
"Them two always have their nose to the city," Neely said. "To see what they're doing now under their umbrellas, it's really great to see. Because it takes those guys from the community to give back to the community."
The first celebrity game between Nelson's Project sWish squad and Hot Rod's Pep Rally Takeover team went back-and-forth. Actor Bentley Green set the tone by throwing down a dunk in the layup line. Miles Reynolds, a former player at Oklahoma and founder of Coco5 fitness drink, opened up the game with a barrage of 3-pointers. Mike Cox, founder of the SoGo ("So Chicago") clothing line, coached the Pep Rally Takeover.
Nelson was on the bench as Hot Rod knocked down clutch jumpers to put Pep Rally Takeover ahead.
Bentley Green, who is filming FX show "Snowfall" in Chicago, muscled his way to the basket, putting Pep Rally Takeover up for good. 
"I had to let them know. Just because when actors say they hoop, people be thinking 'Aight, he just talking.' But we really get busy," Green said. "We're not too big or too Hollywood to come out."
Green leaned on his acting skills to sell calls to the refs, and Hot Rod channeled the steady jumpshot he mastered way before the mic. Hot Rod was glad to take the win from Nelson — but thankful that the city's future is in good hands. 
"I love what McKinley and Mike is doing with the younger generation, and it's going to pave the way for younger people to look up to them," Hot Rod said. "They was the little people that looked up to us. It's just a cycle. And that's the energy we need." 
Nelson hopes to finish his college degree and open a Project sWish home base facility in the city. In the meantime, he'll keep working on his game, whenever he finds the time. 
"I put my minutes in. I put my shots up," Nelson said. "I'm just happy to still be here."
Listen to "It's All Good: A Block Club Chicago Podcast" here: