LINCOLN SQUARE — Youth baseball and softball teams may not be able to play at Welles Park for much of next year thanks to thousands of grubs that have infested and partially destroyed the park's ball fields.
The bugs, about the size of a ring finger, chewed up about one-third of the popular park's 15 acres this month, laying waste to what was once an expanse of vibrant grass between five baseball diamonds on the the eastern half of the park. The infestation at Montrose and Western avenues was first reported by WTTW.
RELATED: Nightmare On Montrose: Grub Infestation Leaves Welles Park Stinking Of Rot And One-Third Destroyed
The Chicago Park District also confirmed the grubs have infested sections of Winnemac Park but the damage there isn't on the same scale, according to neighbors. 
In a letter to parents Tuesday, the Welles Park Parents Association said infestation treatments are expected to start at Welles Park Wednesday and at Winnemac sometime next week. Asked about the letter, park district spokeswoman Michele Lemons told Block Club the treatments at Welles Park will begin this week. A timeline for treatments at Winnemac is still being finalized.
The infected parts of those parks will be "shut down" while the fields are treated, according to the association's letter, meaning all activities will be prohibited for months and no sports can take place until at least July 2022.
The association's spring/summer baseball and softball leagues typically play from late April through early July.
"We are exploring every alternative possible to provide our families with as close to a 'normal' Spring 2022 season as possible," Ross Kerr, the association's president, wrote in the letter. "However, at this time, we don't have all the answers."
Lemons previously told Block Club the grub treatments would not begin until Nov. 1, after Welles Park football wrapped for the season. It's unclear what will happen to the football programs now that treatments are scheduled for this week. Lemons did not answer further questions on the matter.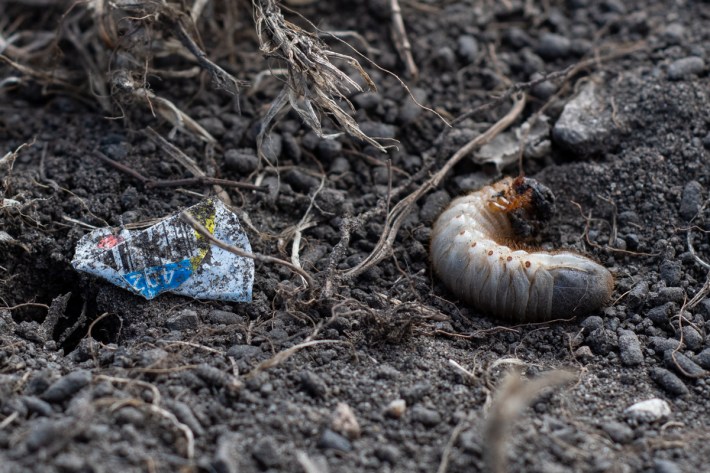 The Welles Park association serves more than 1,600 kids and teens ages 5-19. The group also uses diamonds at Winnemac Park, Legion Park, Green Briar Park, Mather Park, Hollywood Park and River Park to host softball and baseball games.
Earlier this year, the association proposed plans to add lights to Welles Park's ball fields, hoping to host night games to accommodate a growing wait list of young players. That plan is still in the works.
RELATED: Plan To Install Lights At Welles Park Baseball Diamonds Could Be Cut In Half After Some Neighbors Oppose It
The group is talking to the park district about how to work around the closure of the two ball fields during the 2022 season, Kerr said. They're encouraging parents to register children for the upcoming season and vowed to keep them informed as the situation develops. 
"We are in active discussions with the Chicago Park District and also private facilities where we can hold our games and practices," Kerr told Block Club. "(There's) some work ahead of us to make it come back together, but we are committed to doing all we can."
Aaron Durnbaugh, the Welles Park Advisory Council's president, previously told Block Club the council is awaiting word from the district on next steps. The council launched a fundraiser Sunday to help the Park District treat and restore the areas damaged by the grubs.
"In general, we'd ask that [the district] use the least toxic solution to this issue to keep our families and pets safe when using the park but understand if limited chemical application is required given the issue," Durnbaugh previously said.
How the infestation occurred is still being evaluated.
Christopher Dietrich, the state's official entomologist, told Block Club that this summer's weather was pretty dry compared to other years on record, so the beetles would be looking for an extra moist patch of grass to lay their eggs.
If the ball field were overwatered to compensate for the drought, that would make that grassy area more lush, and thus, more attractive to female beetles looking to lay eggs, Dietrich said. This is why he recommends people don't overwater lawns during the summer.
For example, a combination of warm weather, rainy skies and excess trash earlier this summer led to what some critter specialists are calling an "explosion of pests" like flies. 
"We have all these weird weather events, with these fluctuations between drought and wet. These are the kinds of things that can cause these types of outbreaks in an insect population," Dietrich said.
Experts the park district spoke to also pointed to unusual weather patterns to help explain the infestation. Lemons confirmed park staff water the baseball field grass but said they only do so "as needed when new grass is being established."
Subscribe to Block Club Chicago. Every dime we make funds reporting from Chicago's neighborhoods.
Already subscribe? Click here to support Block Club with a tax-deductible donation.
Listen to "It's All Good: A Block Club Chicago Podcast" here: