ROGERS PARK — Rogers Park's Dead on Damen display is bigger than ever this year and planning a Halloween trick-or-treating event to raise money for a good cause.
Dead on Damen has once again taken over the eastern half of the 7500 block of North Damen Avenue, where Jessica Bernardi and Jacob Smith have turned their condo building's front lawn into a sprawling and terrifying Halloween display.
The display has themed sections, including a haunted doll house, a graveyard, a haunted farm, an evil doctor's operating table and a grove of spiders.
Neighbors can visit Dead on Damen all week, and there will be a trick-or-treat event open to the public 3-8 p.m. Sunday for Halloween. There will be free candy, chili, hot dogs, juice drinks for the kids and spiked hot cider for adults, Bernardi and Smith said.
Bernardi is also selling Halloween wreaths for $30, with $5 of each purchase going to the Epilepsy Foundation of America. Neighbors will be able to buy one at Sunday's event. To check out the wreaths, visit Dead on Damen's Facebook page here.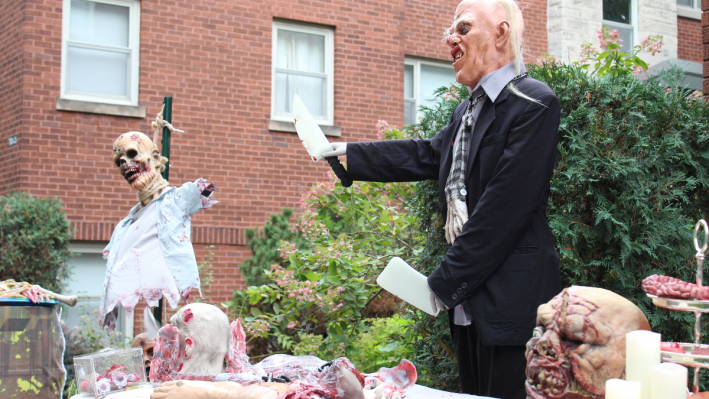 It is the second year for the Dead on Damen display, though the condo building has had Halloween decorations since the couple moved in nine years ago.
Neighbors and other Halloween decoration aficionados have added pieces every year until the condo building became known as a premier Halloween destination in the area.
Many decorations are donated, salvaged or homemade, Bernardi said. Some of the branches on display — including the ones holding up a witch's cauldron — were sourced from neighboring streets following the Rogers Park tornado of 2020.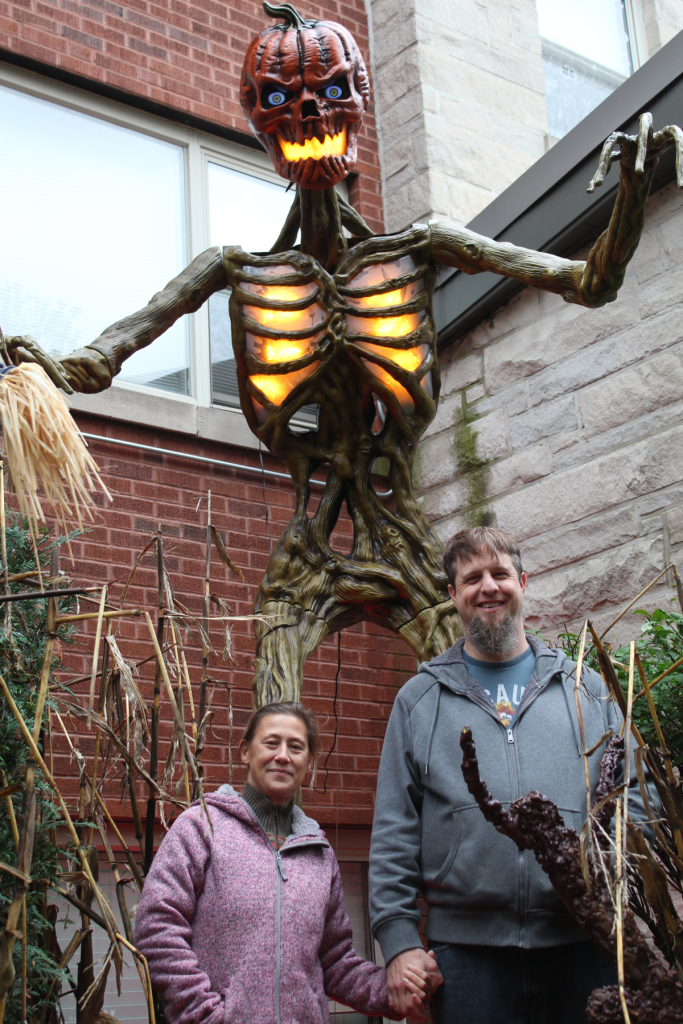 "It started with just some dollar store tombstones," she said. "It's just gotten a lot bigger. Everybody loves it now."
New this year is a demented doll house, adorned with charred and dissembled doll parts. Neighboring kids helped out with the display, Bernardi said.
Another new item is the haunted farm area, which includes scarecrows, carved pumpkins and a 12-foot animatronic skeleton.
"I try to keep it cheap so I splurge on the big items," Bernardi said. "There's really awesome people who help out."
More of the display is lit up this year to make it more visible at night, the couple said.
The display is visible from the street, and Bernardi is often out at night to let people into the gated yard for a closer look. But the display will really shine for Halloween on Sunday.
Bernardi and Smith take over a week to set up the display, and that includes help from their two children. The display is likely to grow in future years as long as it continues to delight neighbors and visitors on Halloween, they said.
"I describe it as a Halloween production, directed by Jessica," Smith said.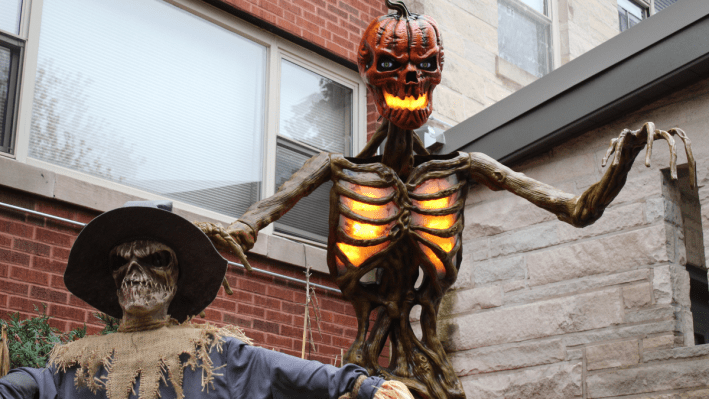 Listen to "It's All Good: A Block Club Chicago Podcast" here: