BRIDGEPORT — Bridgeport Bakery is closing again as it faces legal and financial problems — but its owner hopes to find a way to reopen. 
The bakery, 2907 S. Archer Ave., announced it will close Sunday. Owner Can Lao told Block Club he has no choice but to close the bakery as it faces a mounting legal battle. He has created a GoFundMe to raise money to keep the bakery open.
"Personally, I don't want to close the bakery," Lao said. "I just don't have the resources to keep it open now."
The Bakery and Confectionery Union and Industry International Pension Fund sued Bridgeport Bakery 2.0, longtime former owner Ron Pavelka and property owner Triple Star USA in November 2020.
According to the lawsuit, workers held a pension when Pavelka owned the bakery. When he sold the business to Lao, the business withdrew from the pension fund, but it was obligated to pay into the fund monthly over the next 20 years.
That didn't happen, according to the lawsuit. Now, Pavelka, Lao and the business are liable for the full pension fee of $432,149, the lawsuit alleges.
Lao declined to comment about the lawsuit. After months of negotiations and attorney fees, operating the bakery and defending against the lawsuit became too much to handle, he said.
"Right now, my attorney told me the suit is going to take a lot of time. I just can't handle a full bakery and litigation at the moment," Lao said.
The lawsuit has also placed significant financial strain on the business, said Lao, who was already struggling to keep the bakery open during the pandemic.
RELATED: Bridgeport Bakery Closing Again After A Nearly 50-Year Run And An Ownership Change
Several supporters on the bakery's Facebook page have already rallied to start a campaign to save the bakery.
"Can we crowdfund a 'Keep BB 2.0 alive' campaign? I'd pre-pay for some bacon buns," commenter Greg Eagel wrote.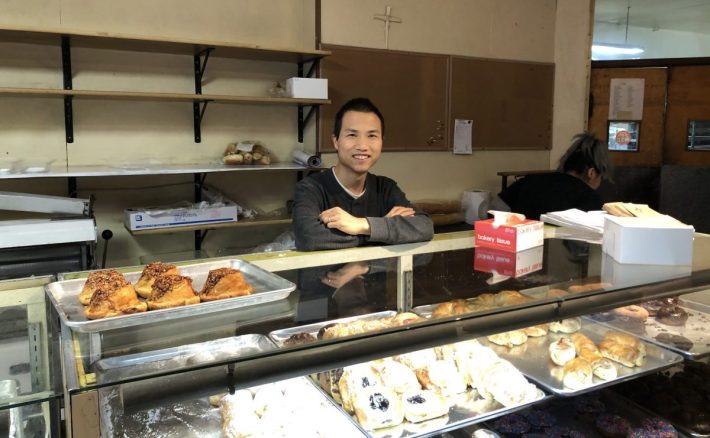 Former owner Pavelka closed Bridgeport Bakery in October 2019 due to medical issues and wanting to spend more time with his family. 
Shortly after that, Lao, a 39-year-old pharmacist and longtime Bridgeport resident, bought the building from Pavelka and opened Bridgeport Bakery 2.0 in February 2020. It sold many of the same classic baked goods, and Lao added a few Asian pastries to honor his heritage. 
Over the course of its two years, the business has donated pastries to food pantries, police and fire departments, as well as non-profits and community events, Lao said. He is also proud he kept the bakery open throughout the pandemic for the community. 
Lao said he can't promise that Bridgeport Bakery will open again, but he hopes for the best. 
"It's been a great pleasure to serve the community these past two years," he said.
Listen to "It's All Good: A Block Club Chicago Podcast" here: