UPTOWN — Joseph Brenneman Elementary in Uptown has a new playground to go with its new school administration.
The school at 4251 N. Clarendon Ave. unveiled on Thursday its playground, a fully accessible play area that was requested by the school's new administration this summer — and installed just weeks after school began, officials said.
The playground was one of the first requests Brenneman Principal Patrina Singleton and Assistant Principal Daniel Postlethwait made to Chicago Public Schools after coming to the school this summer. Their appointment comes after Brenneman's former principal was charged with wire fraud, with officials saying she stole $200,000 from the school though a fraudulent overtime pay scheme.
The previous playground was installed in the 1960s and was in disrepair, Postlethwait said.
"The first time we walked back here, it lit a fire in us," he said. "They need a place to be kids."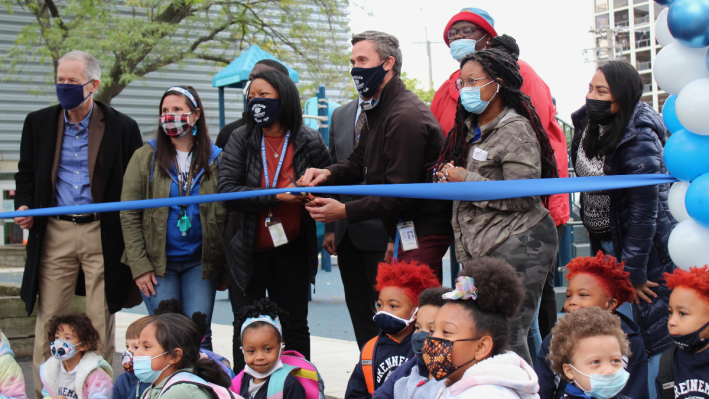 The school's administration made the request for a playground in July and enlisted Ald. James Cappleman (46th) and CPS District Chief Mauricio Segovia. CPS gave $550,000 to the project, and the playground was installed by the second week of school, administrators said.
"I remember thinking, 'They're dreaming an impossible dream,'" Cappleman said of the project's timeline. "They all rose up, and here we are."
The playground includes a fully accessible jungle gym, a synthetic padded surface and a "communication board."
The board has photos of objects and activities that nonverbal students can use to communicate with their classmates, Postlethwait said. Brenneman has a large special needs contingent and a diverse student population that speaks multiple languages, making the communication board helpful for student expression.
"That was a really exciting push for us to make that apart of the project," Postlethwait said.
Brenneman seventh-grader Samuel Badu said even though he will soon leave for high school, he is glad younger students will have a safe and accessible play ground at school.
"This playground makes me feel like a kid again," Badu said. "It really means a lot to us."
Listen to "It's All Good: A Block Club Chicago Podcast" here: