CHICAGO — A small, family-owned Portage Park costume shop is facing off against a national chain of pop-up Halloween stores — and it's getting a lot of love in the process.
Spirit Halloween put up a billboard across from Chicago Costume, 4727 W. Montrose Ave. In response, Andy Roswell, the Portage Park shop's self-proclaimed "unofficial floor manager," called out the chain in a tweet thread that's since gone viral. The thread lists unique finds at the store and urges people to support the local business instead of Spirit.
Rowell said the sign stopped him in his tracks when he first saw it. He thought, "This can't be real. It's too hilarious to be reality," he said. 
That feeling quickly wore off, and Rowell said the sign's placement felt pointed — and a little unfair. 
"It's literally within eyeshot of our customers the second they walk out the door. It can't not be planned," Rowell said. "We've always known they are competitors, but there's never been such a visual representation of their presence in front of our storefront."
Rowell said he had a feeling his tweet would garner attention because "It's so reflective of people's frustrations — a big corporation creeping into a modest ma-and-pa venture." 
Spirit Halloween, known for taking over vacant storefronts just before Halloween, has 1,400 stores across the United States, including 37 in Chicago. Chicago Costume has year-round stores in Portage Park and Lincoln Park.
But Chicago Costume appears to be winning the Twitter battle: Fans of the family-owned shop, previous costume renters and local notables — including Joliet native Nick Offerman and the Chicago Party Aunt — shared Roswell's tweet more than 4,300 times. 
Roswell wanted his tweets to respond with "positivity as opposed to vitriol" because "the products and the people [at Chicago Costume] are wholesome," he said.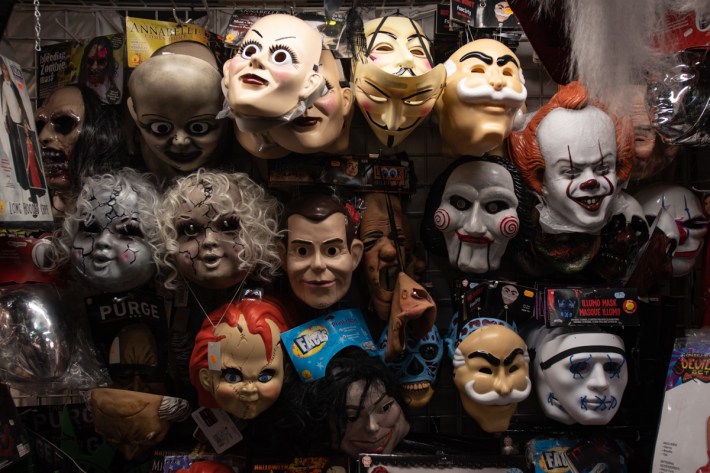 'I Really Need A Gorilla, But It Needs To Be Pink And Green'
For a long time, Chicago Costume was one of the only places Chicagoans could get their masquerading materials, said founder and owner Mary Hickey Panayotou. 
"We had lines out the door, and people would have to wait half an hour just to get into the store to buy black makeup or fishnets or a pair of handcuffs," Panayotou said. "After years of selling stuff, I knew what people wanted, and we opened up additional pop-up stores — as many as 10 or 12 — all around the city." 
Chicago Costume hasn't opened satellite stores since 2019, leaving the pop-up costume business to its competitors. They weren't worth the financial risk, Panayotou said.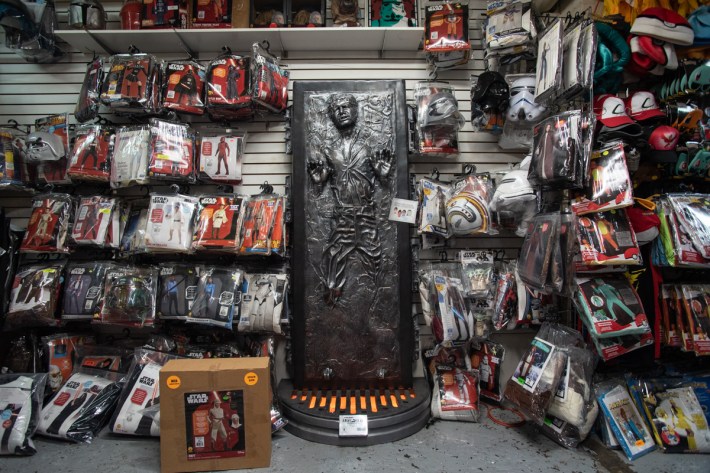 But the business has made changes in response to the pandemic, as it saw a huge surge in online orders.
The first floor of Chicago Costume's Portage Park location is dominated by a labyrinth of ghoulish masks, rainbow feather boas and wholesale costumes. But in the back, workers are filling orders that are shipped across the globe.
"It's crazy. There are four to five computer screens back there, all open with tabs of orders and shipping websites — Amazon, eBay, our own website — and we're shipping products as far as Germany, Alaska and Australia," Rowell said. "The shipping department is much more put together than it used to be, and that was in response to COVID. As a small business, you have to adapt or you're croaked."
Chicago Costume is Panayotou's life work. Founded in 1976, the operation has grown to include Panayotou's partner, son, daughter and friends, who keep the retail floor, second-floor rental department and mascot design team running smoothly.
Unrelenting in her work, Panayotou stitched the lining of a mascot costume as she explained how she began her career in the '70s working for New York Costume Company. It was one of three big costume companies in Chicago — "remnants leftover from burlesque and vaudeville and that type of theater that used costumes," she said. 
After studying costume design and technology at the Goodman Theater School while it was still part of the School of the Art Institute of Chicago, Panayotou made a living making costumes for storefront theater groups and the now-defunct Ivanhoe Theatre. 
"Once a show had run its course, there was no use for those costumes, and you hated to see them go to waste because you put a lot of time into them," Panayotou said. "So, I just collected them."
When Ivanhoe went bankrupt, Panayotou secured its costume inventory for her growing collection, quickly amassing "a couple of bedrooms full of shoes, coats, hats, and things that you needed for a show — top hats and tailcoats — that weren't easy to come by then." 
After receiving a call from a "very pushy sales lady for the Yellow Pages," Panayotou took out an ad. 
"I never exactly intended to be a business, but people started calling. And I realized if I don't have anything on my schedule and somebody says 'I really need a gorilla, but it needs to be pink and green' — they're never gonna find that, but I can make it," she said. "If you don't stop the train, it'll keep going."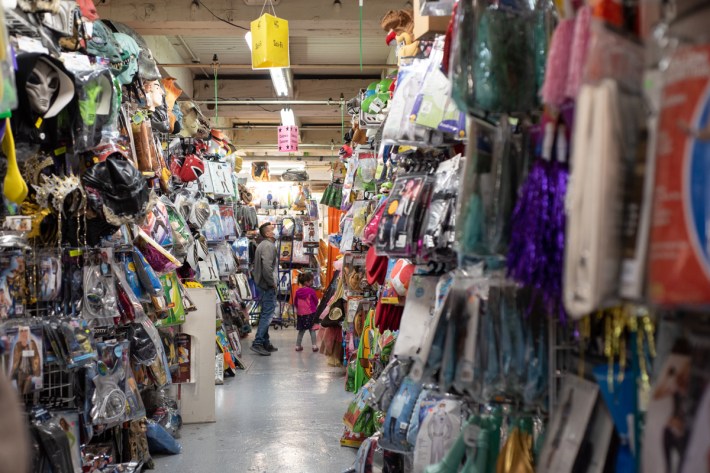 Listen to "It's All Good: A Block Club Chicago Podcast" here: