WICKER PARK — A family-owned Jewish deli is expected to open this December in Wicker Park, but the owners hope to raise $25,000 to cover unforeseen expenses in the meantime. 
Helfeld's Deli, 1750 W. North Ave., will offer Jewish deli staples, like pastrami sandwiches, matzo ball soup and knishes. 
The restaurant is owned by Mark Grutz and his daughter, Emily Helfeld, longtime residents of the Wicker Park area. 
The family planned to open the deli earlier this year, but they were delayed after their business license application was held up for months.  
When they finally heard back from the city, they were told additional work was needed to get their storefront up to code, they said. The space was previously home to a high-end sneaker store. 
"We applied, I want to say, mid-June for our license. It took them three and a half months to finally get back to us, telling us that since this was a retail spot before and we're turning it to food, we got to do a lot more in here," Grutz said. 
That includes extra plumbing work and installing a floor drain, an additional sink and new outlets. Grutz said the updates are expected to cost tens of thousands of dollars. 
"I'm 90 percent ready to go here," Grutz said. "It was a shock."
The deli owners hope to raise at least $25,000 via GoFundMe to make a dent in those expenses before they open in December.
"We are really appreciative of all the community's support that we've gotten so far," Helfeld said. "And it will just help us expedite everything, things we didn't factor in the budget." 
Helfeld's is Grutz's latest chapter in a lifetime of working in restaurants around the Chicago area. For years, he managed the Hollywood Grill just down the street at North and Ashland avenues, and he worked at Kaufman's deli in Skokie. 
"My whole life, he's been running restaurants. I know that he knows how to do it. And I think, 'Why not just do it for ourselves?'" Helfeld said. "It's exciting to have something in the community and to be part of a community. We wanted to do this for several years and finally just did it." 
But the deli's origins go back decades earlier, to Grutz's father, Jakub Grutz. 
Jakub Grutz was Jakub Helfeld — but he changed his name while living in what was then Poland during the Nazi occupation. 
"… He changed it to Grutz because Helfeld was a real Jewish name," Grutz said. But "even that didn't really help them because they got him when he was like, 15 years old."
Grutz said his father was imprisoned for several years at Janowska concentration camp before escaping and joining the Soviet Army. 
After stops in Siberia and Poland, Jakub Grutz came to Chicago in the '60s.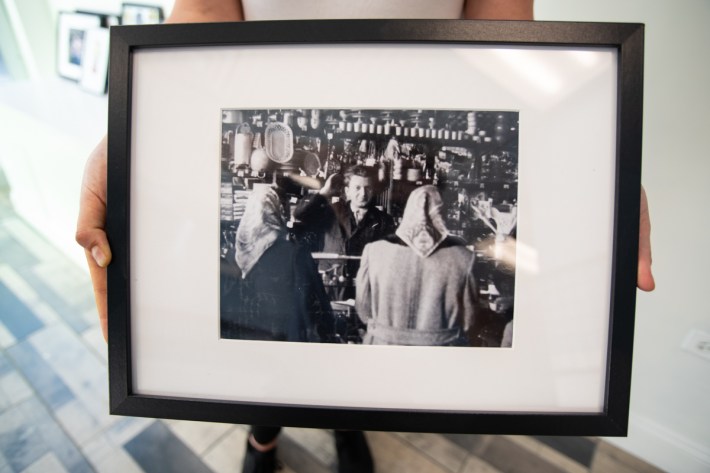 Jakub Grutz eventually became a partial owner of Mort's Deli on the North Side. That's where Mark Grutz got his start in the restaurant business as a teenager.
"He dragged me in because he wouldn't give me anymore money, says, 'Hey, come in. I'll you teach the business, and at least you'll have that no matter what else you do,'" Grutz said. 
While Grutz is bringing years of industry experience to the restaurant, he said the deli's true "secret weapon" is his wife, Sally.
"The stuff she makes, it's simple but you're like, 'Oh, my god.' So when she makes dinner, it's 'OK, we need that for the deli. We've gotta bring that for the deli,'" he said. 
Helfeld's will have a few tables and a counter when it opens, but Grutz expects most of the business to be to-go orders and deliveries.
"I like the phrase, 'Eat it and beat it,'" he said.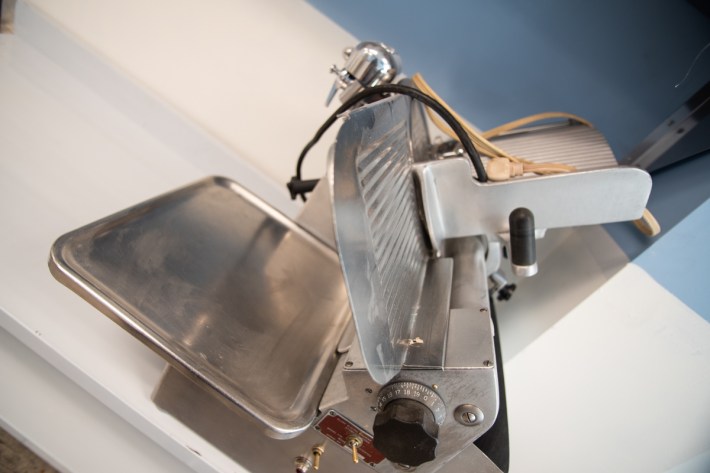 Even as the business is under construction, Helfeld said the community response has been robust, with people frequently stopping by to see when the deli will be open. 
"Everyone says you can't get a good bagel around here, and they're excited to have an authentic New York-style Jewish deli," Helfeld said. Helfeld's will source its bagels from New York Bagel and Bialy in Skokie.
And while the delays and additional expenses have been frustrating, Grutz and Helfeld remain determined to open as soon as possible.
"Even though you have to wait all this time, even though it's going be a lot more than I wanted to spend on this, at least we're at the point and we know exactly what needs to be done so we can cross the finish line," Grutz said. 
Listen to "It's All Good: A Block Club Chicago Podcast" here: