CHICAGO — Part of Mayor Lori Lightfoot's 2022 budget cleared a key vote Thursday and is poised for a full City Council vote next week.
In split votes, the Council's Finance Committee signed off the mayor's major revenue streams to support the $16.7 billion budget, which include a $76.5 million property tax increase and more than $600 million in borrowing. The committee also approved the slate of city fines and fees for the next year.
Lightfoot has touted her Chicago Recovery Plan as part of the overall budget proposal, which would combine funds from the city's $1.9 billion share of the federal American Rescue Plan with the $660 million borrowing to spend liberally on social programs favored by progressive alderpeople and community groups to help struggling Chicagoans and jump start the city's economy.
The three measures approved Thursday are likely to be voted on by the full City Council on October 27. On Friday, the Budget Committee is scheduled to vote on the spending portion of Lightfoot's budget plan. 
Property Taxes
The 2022 property tax levy includes a $22.9 million increase tied to the rise in inflation, $25 million to pay the first installment of a capital infrastructure bond approved last year and $28.6 million collected from new developments. 
Susie Park, the city's Budget Director, said the tax increase would amount to a $38 annual increase for the owner of a $250,000 home.
Ald. Brian Hopkins (2nd), who voted against the increase, told Block Club on Wednesday residents in his ward opposed the taxes tied to inflation. With Downtown property assessments rising at the same time as the City Council considers a property tax increase, Hopkins said his constituents feel "it's a perfect storm for them."
"They don't want their alderman to vote for anything that includes that," he said. "So I have to take that into consideration."
But Ald. Scott Waguespack (32nd), who serves as Finance Committee chairman, said the increase allows property owners to plan for "modest" changes to their bills instead of being asked to shoulder a much higher one-year property tax hike if City Council kicked the can down the road.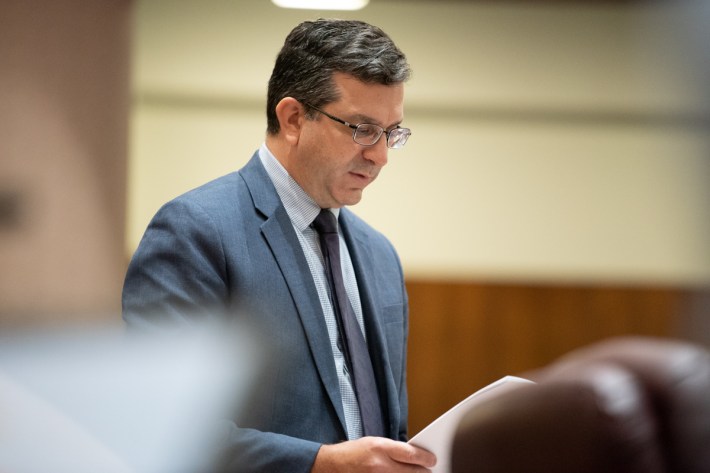 Social services
Several council members initially balked at voting on the $660 million borrowing plan and pressed for more details, saying they want to have greater input in what social services are provided in their wards.
"I really think we need to know what these projects are, because if they're half-baked, how do we know if they're even going to get done," said Ald. Susan Sadlowski Garza (10th). "I really think that you guys owe it to us to let us know what these projects are."
"I think there's some concern among my colleagues that they may have some priority projects in their wards being driven by their communities that may not fall onto the administration's priority list," said Ald. Brendan Reilly (42nd) said. "What assurances do local aldermen have that they'll get proper consideration?"
During a brief recess, alderpeople were able to view the breakdown in planned spending. That includes:
$157.4 million towards affordable housing, including $75 million to "create mixed-use, mutli-family housing developments in neighborhoods hardest hit by COVID-19."
$31 million towards "assistance to families," including $18 million to expand broadband internet access
$5 million to "assist survivors of gender-based violence."
$77.8 million in "environmental justice initiatives," including $46 million to expand the city's tree canopy by 15,000 annually for five years
$85 million to support homelessness prevention and support services
$101.3 million towards "climate investments" 
$136 million to community development, including $82 million to "reactivate vacant city-owned land…"
$50.6 million towards infrastructure and parks
$16 million to support small businesses
"The plan was crafted by a lot of community engagement, a lot of briefings and engagement with this body, as well as ultimately a broader strategy towards how the funds get applied towards the city of Chicago overall," said Jennie Huang Bennett, the city's chief financial officer. 
Fines and fees
The ordinance that sets city fines and fees will increase penalties against companies that contribute to pollution or other environmental hazards. Those include:
A $350 fine (an increase of $150) for construction companies that leave debris in the public way
Fines between $1,000 – $5,000 for operating especially loud machinery within 100 feet of the public way or adjacent property
Increasing the range of fines for violating the terms of an air-pollution permit, from $1,000 – $5,000, to $3,500 – $5,000.
Subscribe to Block Club Chicago, an independent, 501(c)(3), journalist-run newsroom. Every dime we make funds reporting from Chicago's neighborhoods.
Already subscribe? Click here to support Block Club with a tax-deductible donation.