WICKER PARK — In the last six months, Wicker Park resident Jenna Bauer had her condo burglarized and witnessed an armed robbery in front of a bar near her home.
Feeling increasingly unsafe, she attended a public safety walk organized by Ald. Brian Hopkins (2nd) and the Shakespeare Police District Tuesday evening.
About 40 people turned out, meeting at the corner of North Avenue and Honore Street and walking around the block with officers to learn about what is being done to curb crime in the area.
"The number one [goal] is to provide the residents with an actual outlet, for them to physically get engaged in this, even just the act of walking with police officers," Hopkins said. "People right now are scared, justifiably so, and they need a sense of doing something instead of sitting passively in their home feeling this pervasive fear."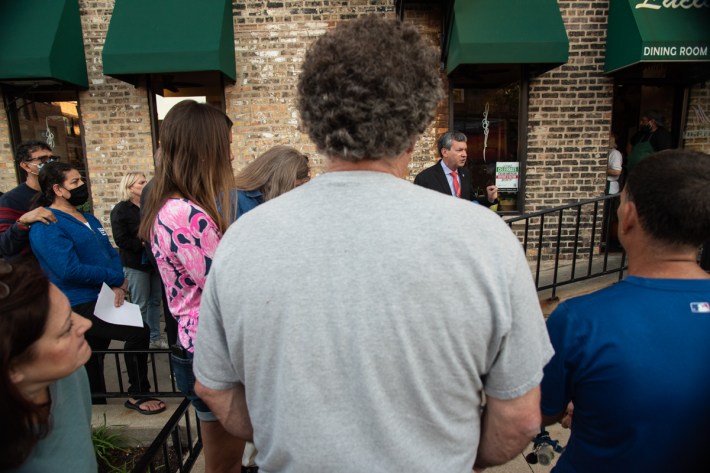 The walk comes after a series of high-profile shootings in Wicker Park and surrounding areas in recent weeks. 
A police officer was shot in Lincoln Park Monday afternoon at North and Sheffield avenues. The officer was released from the hospital later that night despite suffering a gunshot wound to his face.  
On Friday, a man was shot in the 2000 block of West North Avenue during an attempted robbery, according to police. 
And one person was killed and four wounded in a drive-by shooting Oct. 10 in the 1500 block of North Milwaukee Avenue. 
Carjackings have also spiked in the larger Wicker Park and Bucktown area over the past several months.
"We just wanted to come out, do a safety walk, show we're working together as a community," said Shakespeare District Sgt. Michael Edens. "We've been working with the alderman's office as far as any extra patrols. I know on a nightly basis we're doing a fixed roving post around North and Wood, patrols around the area that's highlighting the spots where most of our carjackings are taking place."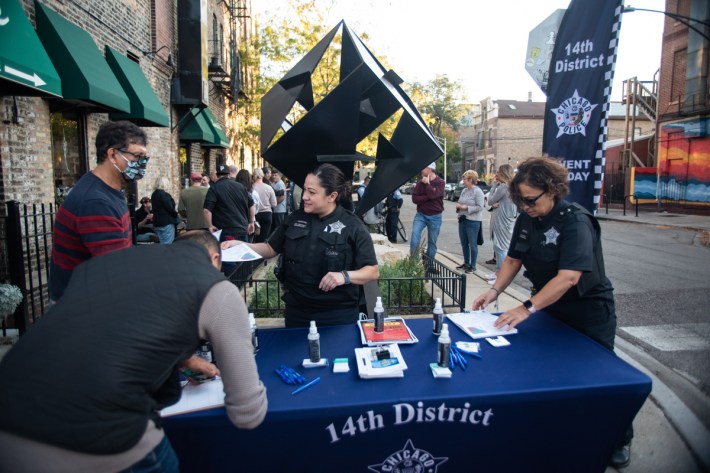 Edens said police have also added extra patrols along Wabansia Avenue in Bucktown, which saw a string of carjackings last month. 
But Hopkins said the district remains understaffed, in part because officers are often sent to other areas around the city. 
"In the 14th District, I believe we're short minimum 50, maybe more like 80 beat officers. It's hard to say, because this administration is not at all transparent with the beat census numbers," Hopkins said. "A lot of times officers that are assigned to a specific district show up for their watch, they're basically recorded as present in that district, but immediately after clocking in they're sent into one of the citywide details, and they don't show that in the numbers." 
Bauer said she doesn't feel like police are very visible in the area. 
"I'm glad to hear they're patrolling more," she said. "I have to say, I heard they were doing that and I've not seen one single police officer. I don't know if it just happens to be the places where I'm walking, but I'm out with [my dog] like four times a day."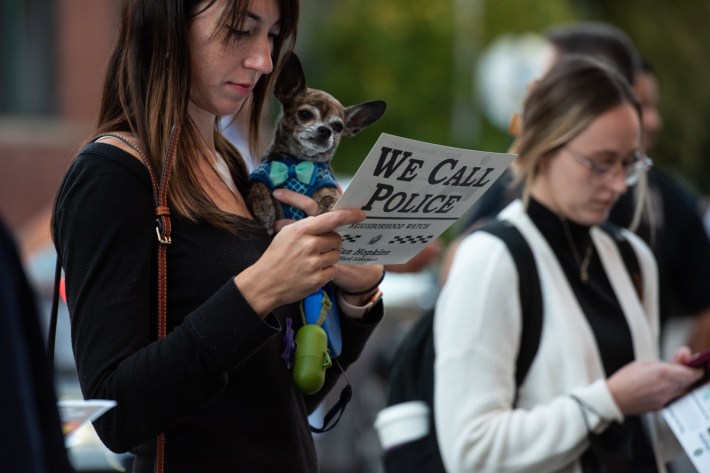 Jonathan Chaparro said he attended Tuesday's walk to meet neighbors and learn about best practices to stay safe. 
Chaparro recently bought a home in the neighborhood, but said the recent crimes nearby have given him "second thoughts" about moving to the area.
"Being a new homeowner, I was just startled by all of the activity that's happening. Literally wondering, 'did I make the right decision?'" he said. "I think part of it is getting some tips, but then I think part of it is building community with other people. And being aware of your surroundings. So on a small degree, I feel like I'm doing that [here]." 
Chaparro said on a larger level, he'd like to see city officials meet in the middle on policies surrounding policing and law enforcement.
"Making sure that we are protecting people, especially people of color, who often feel targeted by police officers, but also we need to make sure that police officers are equipped to do their jobs," he said. 
Chaparro met Erin Daugherty at the event, and they walked around the block together. 
"Especially living as a single female here, I feel like my life has really been disrupted by the recent spike in crime, and I was hoping for some new tips that I hadn't maybe already heard of," said Daugherty, who also lives in Wicker Park. 
Daugherty said she didn't really get much new information or advice from the safety walk, but credited the event as one step in the right direction. 
"I want immediate fixes, but I also want longterm systemic fixes too. All of these problems can't be solved in one quick walk around the neighborhood, but hopefully we can come together and start communicating better about it," she said.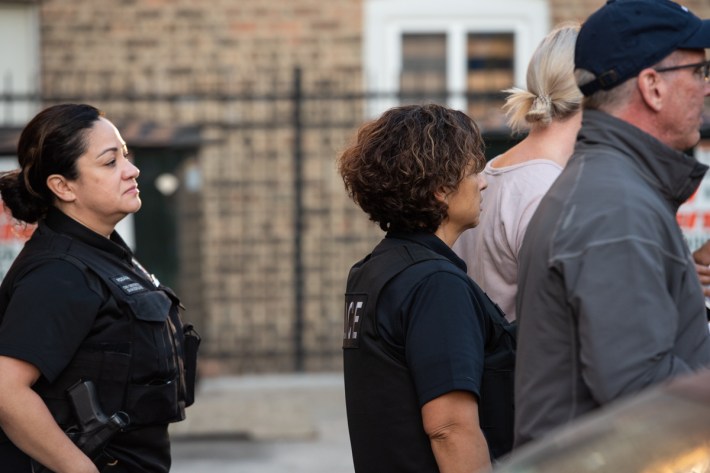 Subscribe to Block Club Chicago, an independent, 501(c)(3), journalist-run newsroom. Every dime we make funds reporting from Chicago's neighborhoods.
Already subscribe? Click here to support Block Club with a tax-deductible donation. 
Listen to "It's All Good: A Block Club Chicago Podcast" here: