PORTAGE PARK — A plan to build apartments and a large retail complex at the former Peoples Gas site near Six Corners was met with disappointment and heavy criticism by residents who attended the first public meeting on the project Wednesday.
Under revised plans for the development called Shops at Six Corners at 3955 N. Kilpatrick Ave., developers GW Properties added 74 apartments for a total of 110 units. That came after neighbors and community groups called on the developer to add more residential density to the project.
The development would include an Amazon Fresh grocery store, a Burlington clothing store and a Panera Bread restaurant with a drive-thru, as well as 10 to 14 local and national businesses with five retail buildings that could also house offices and restaurants.
The developer needs a zoning change to move forward with its plans. That zoning change will trigger the city's revised Affordable Housing Ordinance, which went into effect this month. It calls for large-scale developments that require a zoning change to have at least 20 percent of its on-site units designated as affordable.
Mitch Goltz, principal and co-founder of GW Properties, said his team would work with the city's Department of Planning and Development to make sure the project meets that criteria. Under the new formula, at least 22 units must be affordable. He did not disclose how many GW intends to make affordable.
The nearly 100,000-square-foot project will bring "much-needed retail and restaurants to the area that will help bring in more development and more people … from other parts of the city [and suburbs] that maybe shop elsewhere," Goltz said. "We want to bring them back to Six Corners."
Neighbors at the meeting, which was attended by more than 50 people at Schurz High School and at least 160 on Zoom, criticized the $80 million project for its more than 300 parking spaces, minimal public space, its national retailers and the height of the residential buildings, among other things.
The 74 new apartments would sit on top of Burlington, creating a 75-foot tall building in the development's southwest corner. The retail buildings along Irving Park Road remain single-story buildings with a second-floor design, and the building along Milwaukee Avenue would be four stories high and be solely residential with 36 apartments.
Irving Park resident Jesse Lapin, who lives behind the proposed Burlington building in one of the Milwaukee Avenue townhomes, criticized the project's large surface parking and the developer's lack of maximizing real estate.
"The percentage of surface parking that makes up this development is unacceptable," Lapin told the crowd to applause. "We have two beautiful developments under construction adjacent to this property. I ask that you follow their lead and commit to the standard of quality this community deserves and build a development with a neighborhood feel and not something you can find in any suburb or town across America."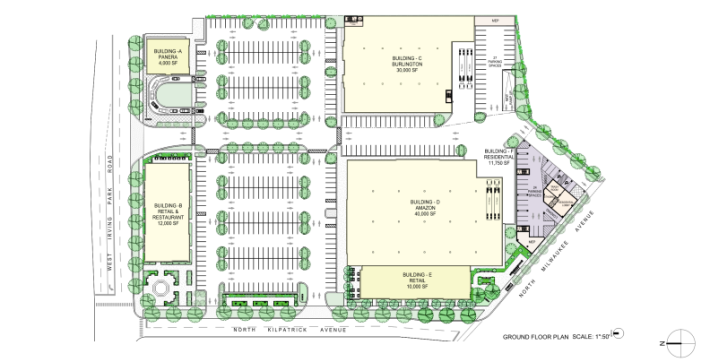 Lapin said he wants to see more integrated parking and less retail, similar to what developers are bringing to Sears and The Clarendale projects at Six Corners. He created a website to share his opposition of the plan, show examples of other developments in the works that would be a better fit and encourage the community to stand against the current proposal.
Theresa Dzoga-Borg, a longtime Belmont Cragin resident who frequents the Six Corners area and grew up in the neighborhood, told Block Club she dislikes the proposal because of its strip mall design and parking, which she said would bring more congestion to an already crowded area that lacks community space.
"It is absolutely suburban-style; it is not urban at all," Dzoga-Borg. "I don't see how this can fit into the neighborhood. … We don't [need] a drive-thru space next to community spaces where people are sitting and eating."
Dzoga-Borg said she often cycles or walks to the area because of traffic and would like to see the proposed development have bigger green spaces for a broader community feel, better pedestrian and bike-friendly designs and more local tenants.
Goltz said the team has local tenants interested in the retail spaces but would not disclose more information. He also said the development would have nine locations for bike parking and outdoor areas for dining and gathering.
But that was not enough for Dzoga-Borg. Other residents also voiced a desire for more public space not surrounded by cars and retail.
The city's Department of Planning and Development also criticized the project, saying in an August letter to the developer's attorney that the proposal should increase communal areas, residential components and decrease the parking spaces.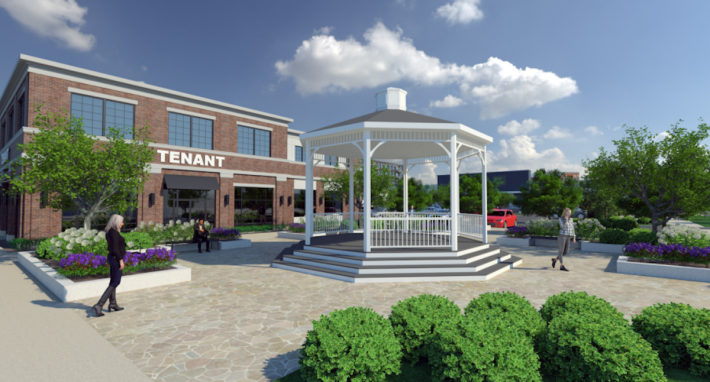 In 2013, the department created a Six Corners Economic Development Master Plan to help planning committees attract more business and retail to the area, plan for redevelopment and upgrade pedestrian safety, among other things.
While the proposed Peoples Gas development would bring retail and redevelopment to the area, some neighbors worry it's not in the best interest of the community. The city plan also calls for more residential dwellings and outdoor space to increase density and foot traffic.
Wednesday's community meeting was in partnership with the Old Irving Park Association, Six Corners Association and Portage Park Neighborhood Association. It was the first meeting open to the general public since plans for the property were posted online by GW Properties in May 2020.
Ald. Jim Gardiner (45th) was not a host and did not attend, which frustrated several residents who attended in person and virtually. Gardiner's office did not reply to requests on why he did not participate, but Nadig Newspapers reported the alderman said a few months ago he was not ready to support the proposal due to concerns expressed by several community groups.
Gardiner has dodged the media and members of the community since he's faced scrutiny over a series of misconduct allegations, including leaked texts that showed he tried to get revenge on residents who criticized him, called a constituent a "c–t" and tried to deny her city services and called a fellow alderman and a City Hall staffer a "b-tch," among other things.
Gardiner is reportedly being investigated by the FBI. Mayor Lori Lightfoot said he should be investigated by the city watchdog, and the city's Board of Ethics has said his actions should be investigated by the inspector general.
Only one person spoke in favor of the development. Matthew W. Beaudet, who lives near the proposed lot in Portage Park and grew up in the area, welcomed the option for more retail that he said would revitalize the shopping corridor. He said the parking issue could be fixed, but he doesn't want to see another vacant lot go unused.
"I know it's not perfect but nothing ever gets done if you want perfect," said Beaudet, who is also the city building department's commissioner. "We need development here. … The neighborhood was congested as long as I have been here. Irving Park is a major road. You don't move to Chicago to avoid congestion." 
Sara Barnes, zoning attorney for GW Properties, said that due to technical audio issues for those attending the meeting via Zoom, there will be another virtual meeting within the next month. The team plans to listen to more community feedback and meet with more neighborhood groups.
The developer, which has worked on similar large-scale retail developments in the suburbs with some of the same tenants as proposed at the Peoples Gas Site, is also behind plans to redevelop the 107-year-old Hollander Storage & Moving site in the heart of Logan Square.
Subscribe to Block Club Chicago, an independent, 501(c)(3), journalist-run newsroom. Every dime we make funds reporting from Chicago's neighborhoods.
Already subscribe? Click here to support Block Club with a tax-deductible donation. 
Listen to "It's All Good: A Block Club Chicago Podcast" here: