SOUTH CHICAGO — A series of developments aimed at revitalizing the South Chicago neighborhood gained millions of dollars in support from an international bank, business leaders and city officials announced Tuesday.
The We're Steel Here redevelopment plan, spearheaded by Claretian Associates and a host of neighborhood organizations, received a commitment of up to $20 million in funds and services from Fifth Third Bank.
Among other developments, the plan centered on 91st and 92nd streets includes:
S.A.C.R.E.D., a five-story building with 82 affordable apartments and a grocery store at 3211-3229 E. 92nd St. that's set to begin construction in late 2022.
The renovation of a vacant building at 3134 E. 92nd St. into a cafe and workforce development center.
A performing arts center operated by Pilgrim Baptist Church of South Chicago, 3235 E. 91st St.
A "River Gateway" park at 92nd Street and Buffalo Avenue, equipped with an all-ages play space, a picnic area, an outdoor stage and bike storage.
Streetscape improvements, including new sidewalks, accessible ramps, lighting and decorative crosswalks along 92nd Street and Commercial Avenue, with the installation of a "community identifier" where the streets intersect.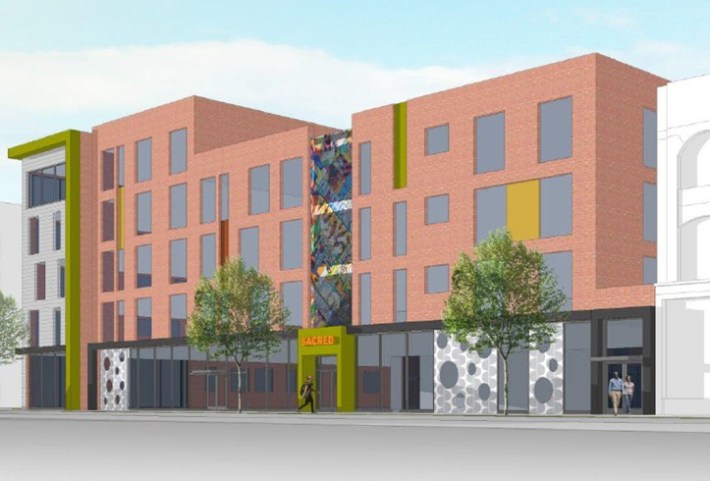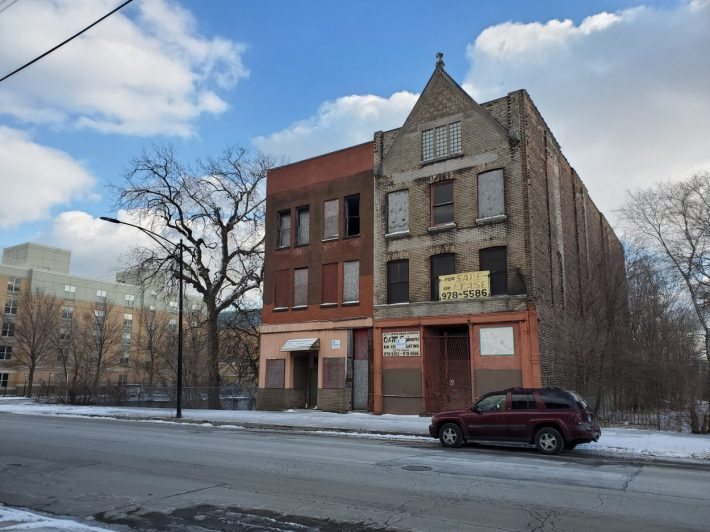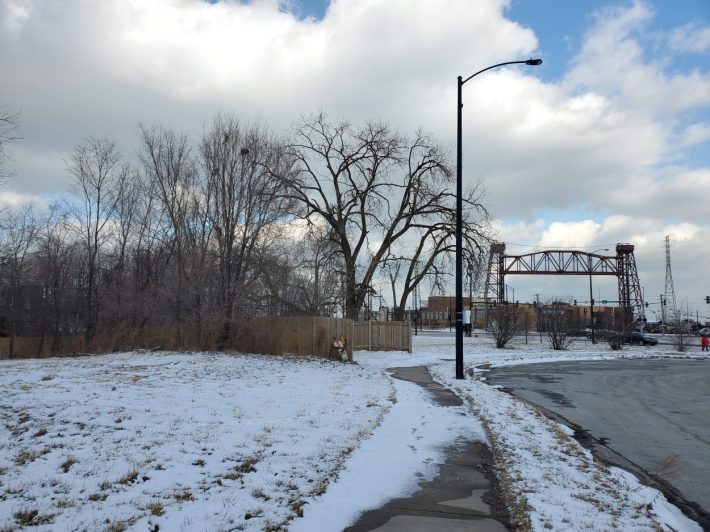 With Fifth Third's commitment, the $66 million plan is now just "a few million" dollars short of full funding, Angela Hurlock, Claretian Associates executive director, said at a news conference Tuesday.
The bank "believing in this project and wanting to move it forward is stupendous," Hurlock said.
We're Steel Here also includes the mostly completed Salud Center, a senior housing development and community center at the former South Chicago YMCA. All that remains is the renovation of the center's pool, which Fifth Third's commitment will support, Hurlock said.
The project also includes renovations to two multi-family homes at 9128 S. Burley Ave. and 9230 S. Brandon Ave. Claretian has considered entering the properties into a land trust to keep housing prices affordable, but it hasn't committed to that idea yet, Hurlock said.
"Our intention is that families that are here are able to benefit from this — as well as families that are coming, but definitely the families that have been here for generations," she said.
An exact breakdown of the funding and services Fifth Third will provide won't be available "for the next couple of months," said Robert McGhee, the bank's senior vice president for community and economic development.
Up to 10 percent of Fifth Third's commitment, which will be carried out over three years, will be reserved for philanthropic donations in the community, McGhee said.
"Up to $2 million will be pure philanthropy," McGhee said. The rest of the commitment "would come in the form of homeowners' loans, capital to start up businesses [and] community development loans for projects such as affordable housing units, and then the rest will come in the form of workforce development and education."
McGhee did not confirm how much money would go to loans and other homeownership efforts in the community.
Out of the $1.3 billion Fifth Third lent for home purchases 2012-2018, only 5.4 percent went to majority-Black neighborhoods like South Chicago, according to a WBEZ and City Bureau report last year.
The commitment to We're Steel Here comes as part of the Neighborhood Investment Program, managed by Fifth Third and national nonprofit Enterprise Community Partners.
South Chicago is one of nine majority-Black neighborhoods across America to receive program funds, including three in Ohio and one in Indianapolis. All have "seen a sustained period of disinvestment," according to a news release from the bank.
"This ward built the city of Chicago … and I feel like we're a phoenix, rising from the ashes," Ald. Susan Sadlowski Garza (10th) said.
Deputy Mayor Samir Mayekar was in attendance Tuesday, touting the We're Steel Here projects' potential to complement the Invest South/West development at 89th Street and Commercial Avenue.
Subscribe to Block Club Chicago, an independent, 501(c)(3), journalist-run newsroom. Every dime we make funds reporting from Chicago's neighborhoods.
Already subscribe? Click here to support Block Club with a tax-deductible donation. 
Listen to "It's All Good: A Block Club Chicago Podcast" here: