SOX PARK — It wasn't to be for the Chicago White Sox — not even with the help of a superfan and his magic cane.
The South Siders fell 10-1 to the Houston Astros Tuesday night, ending Chicago's playoff hopes with a 3-1 series loss. The Astros will play in the American League Championship Series for the fifth year running.
Rob Holt, who became known as "Cane Guy" this week for using his cane to cast spells and hexes during the Sox's victorious Game 3, wielded his magic stick to send an eerie omen to Astros star José Altuve: "You will never get on base."
Altuve promptly popped the ball up near the third baseline, giving the White Sox an easy out in an otherwise difficult afternoon. 
Besides that successful spell, Holt said his magic seemed to be "fleeting" as the Astros built an insurmountable lead and deflated the packed "black out" crowd at Guaranteed Rate Field. 
"Look at the score. I'm failing them miserably," Holt told Block Club at the top of the sixth inning. "Every time I try to give the power to the White Sox, they take a third strike or they hit into a double play. So I must be saying the wrong stuff."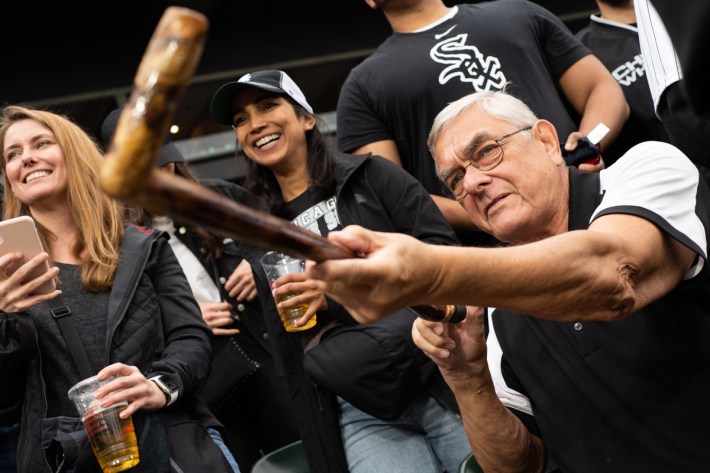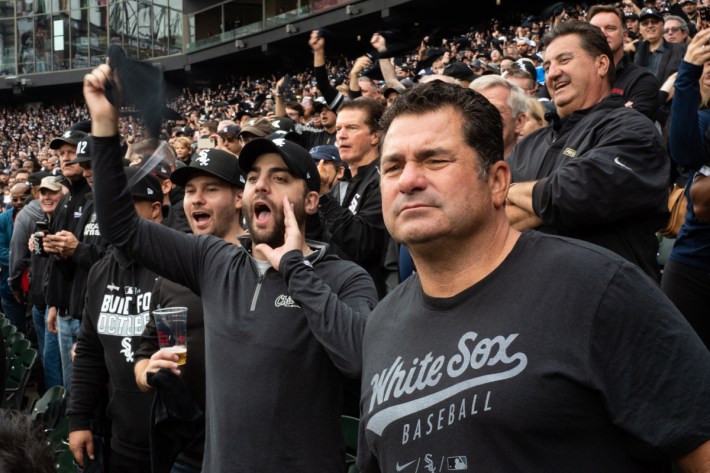 After becoming Chicago's newest viral sensation, Holt said it took him at least a half hour to reach the stadium gates as fans clamored to get selfies and maybe some good mojo.
"People were in line. Seriously. I probably did 150 selfies today, at least," Holt said. "If I had charged 10 bucks an autograph, I could have paid entirely for my grandson's college education."
Holt walked the field before the game, shook hands with another meme-able White Sox legend, former manager Ozzie Guillén, and got to announce the ceremonial "Play Ball!" The team upgraded his normal seats to give their lucky charm a better view of the action.
Holt said he has been loving his new life as a famous fan. He spent all day on the phone yesterday talking to reporters and reconnecting with old friends who saw him trending (Holt also squeezed in an MRI on that aching knee). 
"Guy that I worked with 15 years ago that I haven't seen, they're like, 'Oh, you got a new career,'" Holt said. "But I'm just happy coming down here to baseball games. And bringing my kids and my grandchildren." 
Fans around the stadium left disappointed, but still happy to be there and proud to support their team through the bitter end.
Roland Rodriguez said he's been a Sox fan "since birth" and flew to Houston just to attend the first two games of the series. He also went to last year's playoff series in Oakland — even with COVID restrictions, which meant he could only stand outside the stadium. 
Rodriguez's sister came from out of town to visit him this week. But while the Sox were playing, she'd have to wait. 
"I'm here today so I can't be with her. But it's the sacrifice for going to a game," Rodriguez said. "Sorry, family — but it's the White Sox."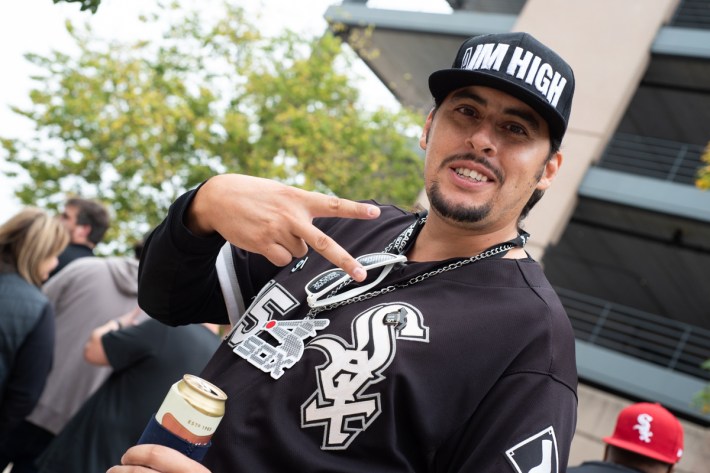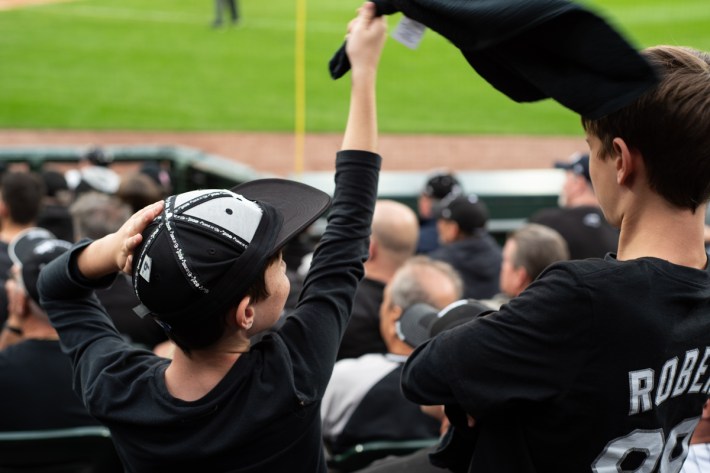 Another lifelong fan Steve Pierski scrounged together the money to get good seats in Section 120 — Holt's usual stomping grounds. Pierski wore a custom white-gold White Sox chain and replica championship ring that his wife, a jeweler, made for him. Their wedding featured a White Sox-themed ice sculpture. 
Pierski had surgery on his knee nine days ago and was advised to take it easy. But at the tailgate, he repurposed his crutches as holders for White Sox foam fingers. 
"You don't make it to the playoffs every year.  So when they make it, you got to represent," Pierski said. "Find a way to get here. Find a way to come, hell or high water."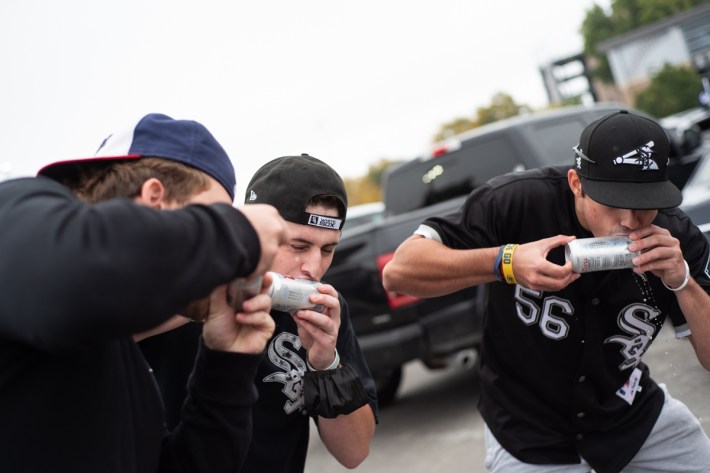 Carlos Salinas and his extended family came to the game each with a letter, which spelled out a message to Houston: "Cheaters." Salinas is disgusted by the Astros' prior cheating scandal, and wanted to find a way to get all his brothers, cousins and kids involved in the mission at hand. 
"This is my daughter's first game and I wanted her to experience being here," Salinas said, handing her a ticket stub and the letter 'E.' "And all I want is a level-playing field and for everyone to be fair. We love the Sox. We love Chicago. And we will be back next year." 
After the game, Holt used his cane for its original intentions, walking gingerly up the steps to a slew of pats on the back. Holt said the team is young, the future is bright, and the White Sox fans are the best in the world. 
But has the magic of the cane run out?
"Next year, I might bring the cane," Holt said. "It's all been kind of a hoot."
Check out more photos from Tuesday's game: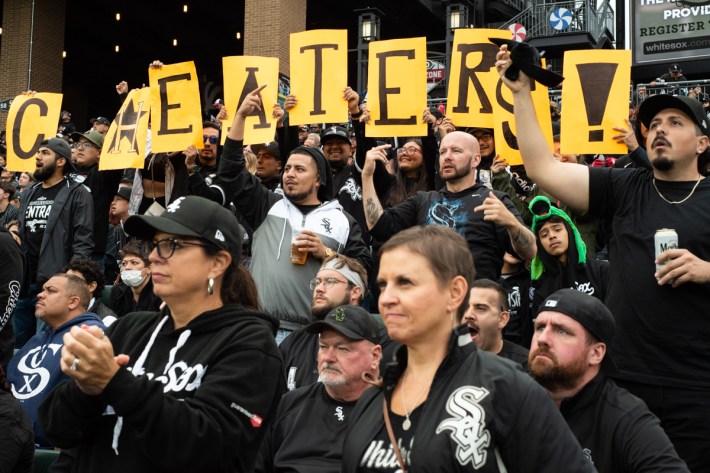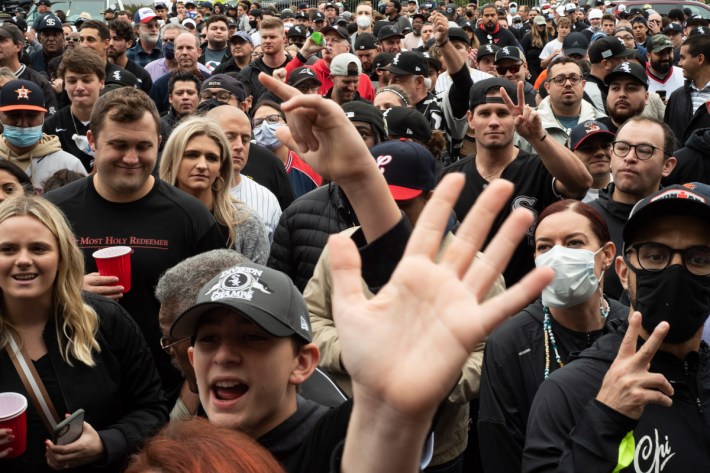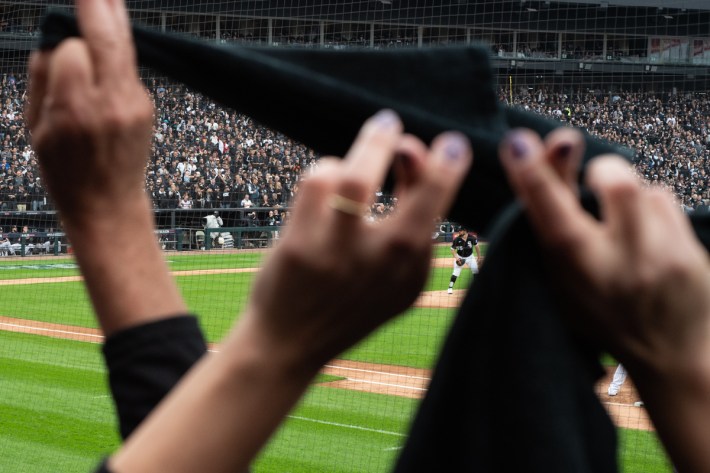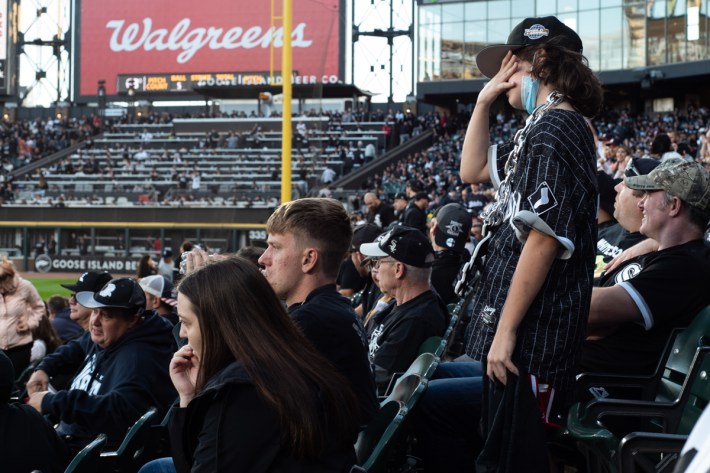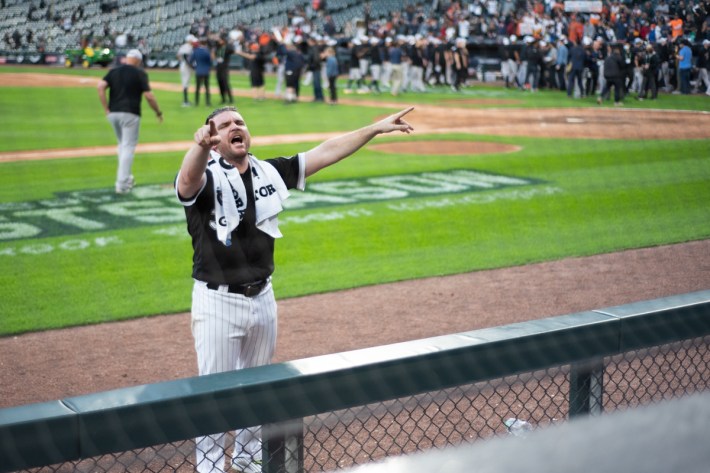 Subscribe to Block Club Chicago, an independent, 501(c)(3), journalist-run newsroom. Every dime we make funds reporting from Chicago's neighborhoods.
Already subscribe? Click here to support Block Club with a tax-deductible donation.