SOX PARK — The White Sox, with their backs against the wall, kept their season alive Sunday night — thrilling people across Chicago.
The Sox rallied to a 12-6 playoff win in front of more than 40,000 people — many of them on their feet for most of the game — at Guaranteed Rate Field. It's the team's first postseason win in Chicago since 2008, and it extended their fight in a best-of-five playoff series against the Houston Astros. 
The comeback was a fitting display from the South Side team, which has broken cultural barriers and captivated a diverse fan base.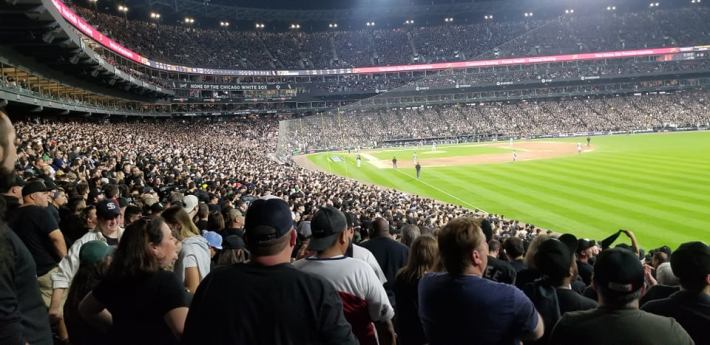 Here's a look at how fans celebrated across the city:
'You Don't Have To Be A Certain Mold To Play'
With the Sox down 5-1 in the third inning, catcher Yasmani Grandal ignited the rally with a two-run homerun. Brandon Stinson, a freshman at Kenwood Academy and starting catcher for the White Sox's Amateur City Elite youth baseball team, knows that homerun feeling well. He felt good about the Sox's chances after the big hit from his favorite player. 
"Yes sir, 5-3," Stinson said in a text. "We coming back." 
Stinson smashed a grand slam into the cornfield at the Field of Dreams in August, leading ACE — a predominantly Black team of young ball players from the South Side — to a win on national television. 
Stinson is growing up a Sox fan, and through ACE has gotten to interact with the White Sox up close. Frank Thomas told him he liked his swing. Stinson hopes to frame his home run ball — collected after weaving through corn stalks — and display it proudly next to the Field of Dreams ticket stub in his room. 
This year's White Sox team, which features a batting order of star Black and Latino players, has inspired Stinson and made him feel seen. 
"It shows that you don't have to be a certain mold to play and make it all the way," Stinson said. "You just got to put in the hard work. And if you do that, you get a chance.
"… Me and my boys came ready to play. And the White Sox, they just have that swagger to them. They have that 'it factor,' and then it is also real exciting. Chicago isn't a boring city; I can tell you that for sure." 
'Yelling At The TV With My Dad'
The third inning rally continued as Sox second baseman Leury García hit a three-run homerun to put his team up 6-5. On the mound, manager Tony La Russa turned to his bullpen. Joliet Community College pitcher Josh Fleming was pumped to watch his favorite player, reliever Michael Kopech, find his groove after giving up a run. 
"Currently yelling at the TV with my dad," Fleming said in a text. He was wearing his Kopech jersey, "of course," he said.
Fleming, a resident of the Chicago suburbs, got to meet Kopech on Childhood Cancer Awareness Day last month. The star pitcher at Joliet is recovering from leukemia while getting his baseball career back on track. Fleming led his league last year in innings pitched and ranked second in strikeouts.
At last month's game, Fleming told Kopech about the knuckle curve he's been working on between white blood count tests.  Kopech came back from the dugout with a signed jersey for Fleming, accompanied with a message: "Remain resilient keep fighting & inspiring!"
Fleming had to wear the jersey for Sunday's game. 
"The way Kopech made me feel, I'm just gonna use all that as motivation," Fleming said. "I want to be in his shoes, on the other side of the fence, where he was, for another kid that has cancer."
'The Sox Offer You Something To Cheer For'
Shermann Thomas, Chicago's TikTok historian, was nervous but hopeful. 
"I hate these high-run games," Thomas said in a text. "But we got no choice." 
Thomas became a White Sox fan in 1990, running into his room as a kid and ripping down his Cubs posters after a disappointing season. His dad told him he should've been a White Sox fan all along. 
"The more I became a White Sox fan, the more I watched the White Sox move as an organization, as a community partner — they're just the better Chicago team," Thomas said.
Earlier this month, Thomas was shocked when the White Sox responded to his tweet asking to shoot a TikTok at the field.
Thomas got the chance to tour White Sox facilities, receive a jersey with his name and make a TikTok from inside the stadium.
Thomas plans for the TikTok, detailing tidbits from White Sox history, to premiere soon. He's fascinated by the team's record of breaking barriers, from players leaving extra gloves and bats for members of the Negro League to the team employing the first Black man to clean professional uniforms. 
"The Sox have always historically felt like the working man's team, the under-appreciated team," Thomas said. "It doesn't matter your economic station; the Sox offer you something to cheer for."
'I Can Be In His Spot'
Shortstop Tim Anderson led the party in the dugout as the White Sox closed out the 12-6 win. Thomas counts Anderson as his favorite player, and so does DaMaurion Butler, a freshman at Kenwood and the starting shortstop for ACE at the Field of Dreams.
When asked if the Sox and Anderson could pull out the series, Butler texted back with a smiley face, "I hope so." 
Butler was manning shortstop for ACE at a recent tournament in Joliet when a ground ball popped up on a funky backspin and smashed his mouth. The collision knocked out one of his teeth, and he must now get four root canals.
Three days after the incident, Tim Anderson called. 
"He was like, 'Keep your head up because you're going to be back on the field soon. Hard work pays off,'" Butler said. "I was just blessed. I really couldn't say nothing but, 'Thank you,' really."
The next weekend, Butler surpassed the doctor's expectations and returned to the field — to the same position Anderson plays. The two have stayed in touch. 
"Tim just walks around with his head held high, like he knows he's the man," Butler said. "If I put in the hard work, I can be in his spot."
Subscribe to Block Club Chicago, an independent, 501(c)(3), journalist-run newsroom. Every dime we make funds reporting from Chicago's neighborhoods.
Already subscribe? Click here to support Block Club with a tax-deductible donation. 
Listen to "It's All Good: A Block Club Chicago Podcast" here: