HUMBOLDT PARK — Reunion, a femme-, queer- and people-of-color-centered event space, gallery and "project incubator," is closing next month, ending a nearly six-year run in Humboldt Park.
Founders Kristen Kaza and Elijah McKinnon have decided not to renew their lease at 2557 W. North Ave. and instead move on to other pursuits. To celebrate the Reunion community, Kaza and McKinnon are hosting one last exhibit, "The Sweetest Gift: A Farewell To Reunion Chicago." The show kicks off Nov. 11 with photos, art and ephemera from over the years.
"We're calling this a farewell and not a goodbye because we believe transitions are meant to be celebrated and we're really proud of what we've given and what the community has given back," Kaza said. "This is our way to honor that together and to set it into the sunset and feel really good about what this project has been able to accomplish and all of the people we've been able to impact."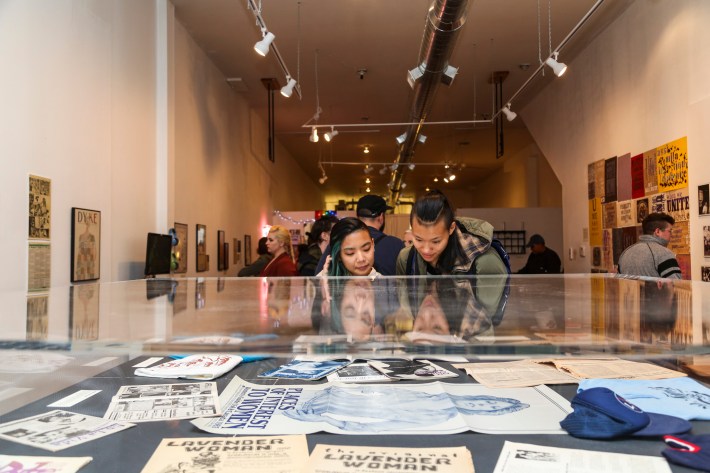 Kaza and McKinnon opened Reunion in 2016 to create a space for people in the LGBTQ+ community, people of all genders and people of color to explore their creative endeavors and collaborate through events, workshops and other gatherings.
Since then, Reunion has hosted hundreds of events ranging in style and subject matter, from Queer Comedy Night and Queer Care Day to informational talks with Chicago Women's Health and Chicago Abortion Fund and photography exhibits. Burgeoning businesses like horticulture company Bottle & Branch and McKinnon's Open Television, an intersectional film and TV platform, also called the multifunctional space home.
To keep the space open, Kaza and McKinnon raised more than $13,000 in an online fundraiser in 2019.
The pandemic dealt a major blow to Reunion and other community spaces. Kaza and McKinnon pivoted to virtual events early on in the pandemic, hosting Let's Do Lunch skill-sharing workshops centered on topics like at-home plant propagation and a three-day virtual Pride Parade 4 the Qulture with performances and conversations filmed at the space.
But this year, Reunion's virtual events have waned as Kaza and McKinnon have moved toward closing up shop. From day one, the two have run Reunion on a volunteer basis, funding the business mostly through sliding scale donations. That model has become unsustainable, McKinnon said.
"Kristen and I donated our time for six years. While that was beautiful and amazing, I would not recommend anyone else do that. I don't think that is equitable. I don't think that's what the communities I love and am a part of should do," they said.
While Reunion is on the brink of closing for good, McKinnon and Kaza aren't in mourning. The duo said the venue has "served its purpose" by creating a community of marginalized creatives and lifting up artists who otherwise may not have gotten a platform or a space to collaborate. It was never meant to be a permanent fixture, they said.
"This is not a tragic story. We're not being evicted. We did not suffer a huge financial loss. This is not a story that is rooted in trauma … or fear of not having a space," McKinnon said.
On the contrary, many artists and creatives who have called Reunion home have flourished since joining the community center, Kaza said. Along with Open Television and Bottle & Branch, Afro-feminist performance collective The Honey Pot has blossomed under Reunion's roof.
"Those relationships and projects continue to evolve beyond our doors. That was our mission, that it could be an incubator to launch other peoples' visions and dreams and ideas," she said.
The exhibit in November is a way to "reflect and honor all of the growth that transpired in the space" and inspire people to dream up new creative projects, Kaza said. In addition to opening and closing receptions, the exhibit, co-curated by AMFM, includes a couple of events honoring Reunion's "greatest hits." Queer Comedy Night hosted by Tribble is set for Nov. 12 and Queer Care Day hosted by The Blaq Agenda is scheduled for Nov. 14. Tickets are $25 for each night and can be bought online beginning Nov. 1.
Community members are encouraged to submit photos, videos and voice memos, which will be digitally displayed throughout the duration of the exhibit. Submissions are due by Oct. 22.
"Over the last two years, our communities have experienced so much loss, and I feel like like the sweetest gift is really a moment of crescendo where we're trying to evoke and remind people of all the beauty and wonder and moments of connections that have been brought into the space," McKinnon said.
McKinnon said the closure is an "invitation" for others to come up with new ways to build community around art and expression.
"It may not need to be a space, it can look a lot of different ways," they said.
Subscribe to Block Club Chicago, an independent, 501(c)(3), journalist-run newsroom. Every dime we make funds reporting from Chicago's neighborhoods.
Already subscribe? Click here to support Block Club with a tax-deductible donation. 
Listen to "It's All Good: A Block Club Chicago Podcast" here: