OLD TOWN — Lisa Johnson said the lack of security guards in her building can be "life-threatening."
When she had a recent medical emergency, no one was around to let paramedics inside; she had to go to the front door herself and receive treatment in the lobby, instead of her room. Other seniors worry that strangers can enter the buildings without being stopped.
Evergreen Towers I and II, 1333 and 1343 N. Cleveland Ave., used to have on-site security guards but they were removed when the pandemic first hit. Now, residents and other community supporters are pushing the Evergreen Tower owner to bring back security and other services, and improve overall upkeep of the apartments.
The buildings' owner, Cullen Davis of UPholdings, said the apartments are safe and well-maintained, and his company has invested significantly in security despite removing the on-site guards.
"This is not fair to these seniors," said Tanya Moore, a home care aide who's worked in the building for the past decade.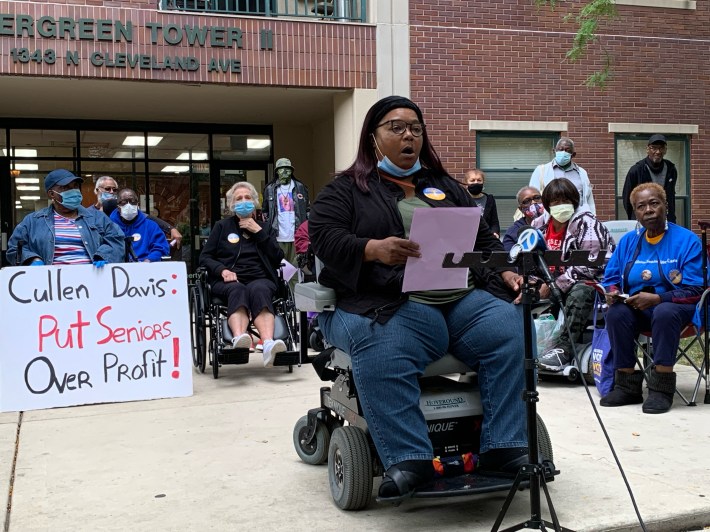 At a press conference Wednesday, residents demanded that Davis "put seniors over profit" by meeting their demands for the security guards, monthly extermination of all apartments, full-time service coordinators in each building, increased maintenance staffing to improve cleaning and repairs and fire safety drills.
"We deserve respect!" They chanted in unison.
State Rep. Lakesia Collins (9th), whose district includes the Evergreen Towers, slammed the owners, calling the conditions in their buildings "unacceptable."
"It's not OK to tell seniors that their voice is not heard or they don't need 24-hour security around the clock," Collins said. "The conditions of the buildings are unsafe. It's dangerous."
Every senior has a cord in their room and bathroom they can pull if they have an emergency. But without on-site security the feature is obsolete, Moore said.
"If they pull their cord and need somebody but there's no security around, who's going to come? There is nobody to come help them," Moore said.
The neighbors also said they worry about people sneaking into the buildings.
"A lot of times when we're coming into the building and we open the door with our keycard, we have strange individuals coming in behind us," said Harriett Holmes, who's lived in the Evergreen Towers since 2013. "We can't stop someone that wants to come in the building from coming in. We're coming in with walkers, wheelchairs and whatever."
Davis, co-owner of the UPholdings, which owns the two buildings, confirmed the company removed the on-site security personnel about 18 months ago because of rising property taxes and water bills. Instead, they have installed more security cameras throughout the property he said are consistently monitored.
"We then needed to find a more cost-effective methodology to provide security," Davis said. "So, we opted to invest heavily in cameras and cost-sharing across several projects. The cameras are web-based and can be monitored from any internet connection. They are monitored for more hours than we ever had desk attendants."
Tenants in the building also have access to a 24/7 phone line, Davis said. Residents have also been instructed to call 911 in case of any medical emergencies.
Davis said the building already is exterminated every month. A staffer known as a "senior concierge" helps the building comply with city regulations and does wellness checks on the residents twice a week.
"This is an independent senior living building which requires people to live independently," Davis said. "The building is secure and has a robust monitored security presence and scores highly on all of its physical inspections."
City records show the 1343 building passed its most recent annual inspection in September but the owner was previously cited over the summer for not properly maintaining its ventilation systems and balconies. The 1333 building passed its most recent inspection in May.
Jake Wittich is a Report for America corps member covering Lakeview, Lincoln Park and LGBTQ communities across the city for Block Club Chicago.
Subscribe to Block Club Chicago, an independent, 501(c)(3), journalist-run newsroom. Every dime we make funds reporting from Chicago's neighborhoods.
Already subscribe? Click here to support Block Club with a tax-deductible donation.