CHICAGO — Mayor Lori Lightfoot is using her recent public feud with State's Attorney Kim Foxx for fodder in a new campaign email.
The letter, signed by Lightfoot and sent out by her campaign Thursday, does not name Foxx, but it says the mayor "did not understand" the State's Attorney's Office's decision not to press charges against people involved in a shooting last week on the West Side.
"I and many others in our communities did not understand that decision, and the aldermen and I asked the State's Attorney's Office to reevaluate the case," Lightfoot wrote. "We took this action because we know that we cannot have a city where this kind of incident happens and no one is held accountable.
"We fear that these individuals may go on to harm others. Residents on that block and in other neighborhoods must be able to feel safe, and feel that the criminal justice system cares about victims and residents."
The letter says Lightfoot and Supt. David Brown will meet with the State's Attorney Office to discuss the case and "encourage better communication." Lightfoot wrote she is "committed to continuing to work together … to hold violent actors in our community accountable and keep our streets safe."
"As your mayor, I cannot and will not be silent when violence like this happens, and I will continue to push all elements of the criminal justice system to do their part to keep our residents safe and hold those committing gang and gun violence to account," Lightfoot wrote.
The letter is the latest stone thrown in the standoff between the two Democrats — and it comes as residents are desperate for solutions to skyrocketing gun violence.
The back-and-forth started earlier this week, when Lightfoot, unprompted and at an unrelated news conference, told reporters she and several aldermen had sent a letter to Foxx's office asking prosecutors to reconsider charges in the shooting. She said she was concerned the lack of charges would make the shooters feel like they won't be held accountable, sending "this city into chaos."
"We really urge the state's attorney herself to get personally involved, look at the evidence. And I believe that there are charges that can be brought at a minimum against the individuals who initiated the gunfire," Lightfoot said.
Foxx then held a rare news conference where she said Lightfoot's version of the story was not true, the mayor talking about the case publicly was "inappropriate" and "wrong," and police had agreed with prosecutors not pressing murder charges because there was not yet enough evidence.
Chief of Detectives Brendan Deenihan told alderpeople during a budget hearing this week the evidence was "convoluted" because the police camera didn't clearly show who was firing and the people arrested did not speak to investigators.
"Specifically for this case, you can't determine who is discharging a firearm on the street from those cars," Deenihan said. "Even the victims who were shot refused to talk to police, and [they invoked] their right to remain silent. And that's where it gets difficult for the detectives to present a case … ."
Foxx issued a statement after Thursday's campaign email calling on the mayor to avoid using the city's violence for political gain.
"Cook County State's Attorney Kim Foxx and her team appreciate the Mayor accepting the State's Attorney's request for a meeting and are looking forward to discussing the issues in Area 5 and violence in Chicago," the statement reads. "Our goal is to focus on the issues and not continue to try cases in the media and use the devastating violence in communities for political gain such as campaign emails."
At her press conference, Foxx also criticized Lightfoot for talking about the case publicly, saying it could damage efforts to bring to justice the people involved in the shooting if they are charged.
"We cannot play games," Foxx said. "We must operate as the professionals we are. And that means, as prosecutors, we don't engage on the facts and the evidence on the case in the media. And we would expect that our partners, especially those who served as prosecutors, would recognize that — and, more importantly, … tell the truth."
In Lightfoot and the alderpeople's letter to Foxx, they said Brown and Deenihan did not support the lack of charges in the case and at least want lesser charges.
Foxx, asked about that Tuesday, said the case was brought to her office for murder charges, but they're looking at everything.
The American Civil Liberties Union's Illinois branch also criticized Lightfoot's comments, saying Lightfoot and Brown "need to end the finger-pointing" over Chicago's violence.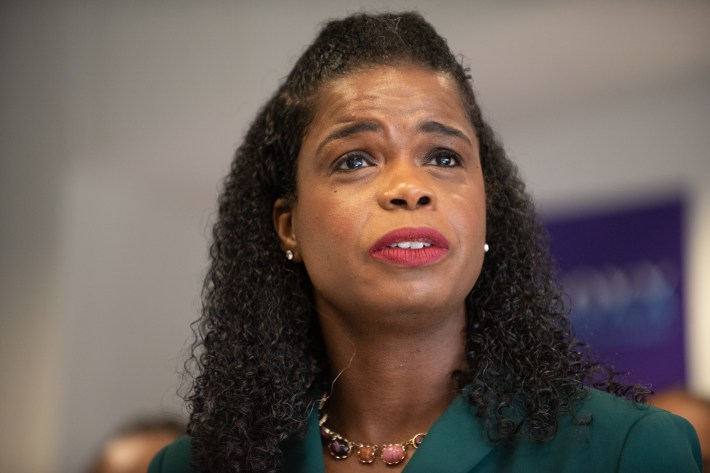 At the heart of the issue is Chicago's years-long struggles with gun violence. Scholars, violence prevention activists and other experts have long said disinvestment, trauma, systemic racism and other factors fuel violence in the city, and communities and residents need mental health help, support systems and investment to prevent more losses.
Lightfoot and Foxx — who have supported each other in the past, with Lightfoot endorsing Foxx's 2020 re-election bid — have expressed those same concerns at times.
But as violence surged in 2020 and 2021, the mayor and Brown have pointed fingers at the justice system, saying violent offenders are being released by lenient judges and it is contributing to gun crime.
But they have not provided evidence of those claims — and studies have shown they are not true. A report from Loyola University found just 3 percent of defendants let out on bond committed another offense during their pre-trial period.
At the same time, Foxx has come under heavy criticism for her office not charging people in various cases. The family of Chrys Carvajal, a National Guard soldier who was killed this summer, has called on her to file murder charges in the case; and Ald. Gilbert Villegas (36th) said Foxx's office "has to do their job" and file charges in the murder of 7-year-old Serenity Broughton.
The shooting behind Lightfoot and Foxx's back-and-forth happened Friday morning in the 1200 block of North Mason Avenue. Officers there saw four people get out of two cars and shoot into a home on the block; people inside the home then shot back, hitting one man, police said. The other gunmen took off in their cars.
The man was pronounced dead at a hospital. Two people from inside the home were also shot and were hospitalized.
One of the people who had been in a car and two people from the home were taken into custody, police said. A police camera also recorded the shooting.
No charges have been filed against those people or others.
Related
• Lightfoot Blames Kim Foxx's Office For Lack Of Charges In West Side Shooting — But Evidence Wasn't There, State's Attorney Says
• Lightfoot Lied About West Side Shooting Charges, Kim Foxx Says — And She's Tired Of Political Stunts
Subscribe to Block Club Chicago, an independent, 501(c)(3), journalist-run newsroom. Every dime we make funds reporting from Chicago's neighborhoods.
Already subscribe? Click here to support Block Club with a tax-deductible donation. 
Listen to "It's All Good: A Block Club Chicago Podcast" here: