ENGLEWOOD — A South Side man is determined to give the kids in his community a childhood like the one he knew growing up.
Larry Daniels, of Englewood, is the founder of Hoop Hard Or Get Off the Court, a community organization that, since 2015, has offered constructive outlets to Chicago kids, mainly through youth basketball leagues and softball tournaments.
Daniels launched a GoFundMe campaign for his dream of opening a community center with a basketball court. So far, it's raised $760 of $100,000.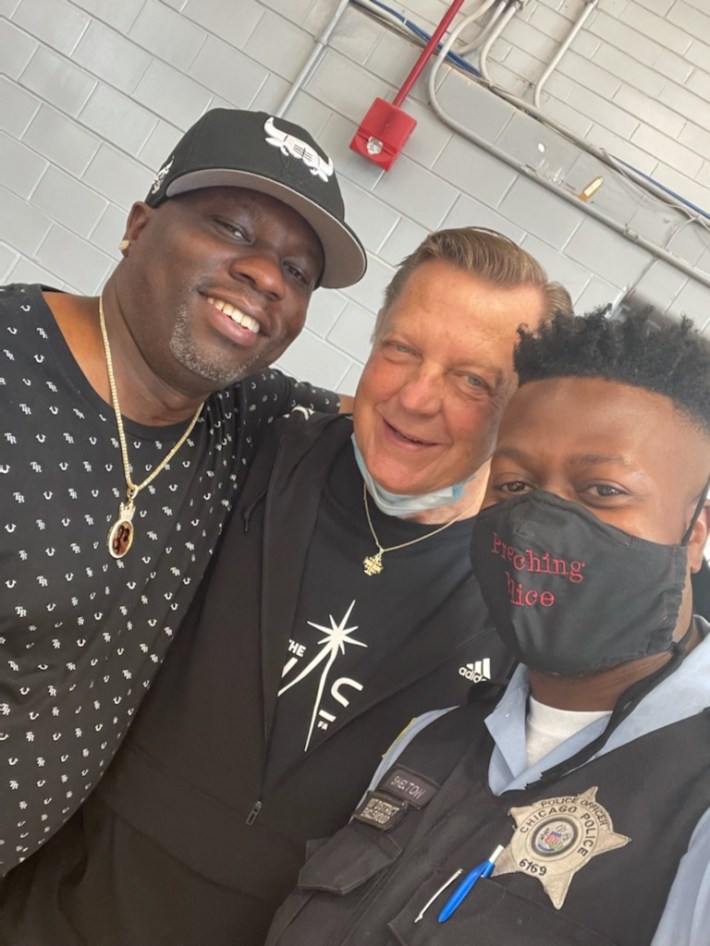 "I have a passion for sports," Daniels said. "And it's not just a passion for sports, but a passion for the kids and to keep them off the streets."
Daniels said he wants to keep kids doing something positive, "so they won't fall short to gun violence or to drugs or to doing negative things in life."
In addition to its sports-based programs and events, Hoop Hard provides mentoring to kids. Daniels, who was a salesman for 10 years for Jays Food, often partners with community leaders, including pastors Charles Moodie, Anthony Wright and Charles Brown and the Rev. Michael Pfleger of St. Sabina.
"In my experience, Larry's been very committed to young people, to try and engage them primarily through the vehicle of sports and also connect them with law enforcement, to bridge that broken gap," Pfleger said.
"I think he's committed himself to working with the police as well as working with the community. And, I think he's trying to bring not just resources, but also bring programs to help engage the young people, as well as build relationships between police and the young people."
Police officers are a fixture at Hoop Hard, making frequent appearances at events to talk to, play with and support kids.
Daniels met Pfleger about a year ago through Saint Sabina's Peace Maker program, the church's violence intervention effort. Pfleger said Daniels reached out to see how how they could support each other's work. Now, Daniels often works with St. Sabina for events.
"There's a real lack of opportunity for young people to be involved in the community," Pfleger said. "And so they need that structured activity and then whatever resources we can bring to them at these events."
Daniels said he has covered most of the costs for Hoop Hard Or Get Off the Court, though he's getting more help lately for events from DJs and other vendors.
"By the grace of God, it's been successful," said Daniels, who has built goodwill in the neighborhood.
Kelli Wright, the founder of Lion Heart, an organization that helps Chicagoans with lower income and those experiencing homelessness, got help from Daniels for a coat drive earlier this year.
Daniels now is a mentor to Wright's children. Wright said he inspired her family to open their own business, and Daniels uses them a vendor for some events. 
Daniels has midnight sports events to keep area kids in one place during late-night hours when many violent crimes occur, Wright said. Vendors let kids eat for free at some events.
"A lot of those kids either get dropped off or just show up, and they may not have money. So we don't want to turn any kid around and not feed them," Wright said.
Daniels' events are zero tolerance when it comes to fighting, he said.
"What I do for the kids — what they see me doing and how the kids respond to it — the parents love it," Daniels said. "CPD loves it. Parents love it. The pastors love it."
For Daniels, who grew up in a church-going family in Englewood, his faith is a guiding force. He wants to provide kids the same opportunities he's had.
"I tell a lot of kids, I was born with a silver spoon in my mouth and didn't want for anything," Daniels said. "But to see some of the kids [in my community] not have that same opportunity as I did — not being blessed as I was — I took it to heart. So it was always a passion." 
Daniels has been eyeing a vacant lot on West 63rd Street, currently a vacant lot, for his community center.
"It's time for me to take this to another level where it's just not for the kids in Englewood, but about the kids all over the city and suburbs," Daniels said. "I want to get a building and see it from the ground up, a facility where it'll have a basketball court, as well as classrooms, and other things which I would call a community center."
Kids and teens would be able to play sports and learn about computer science, cooking, the medical field, religion and other fields, Daniels said.
"I think what they need is opportunities for involvement and engagement," Pfleger said, later adding, "It lets them know that we care about them, and we're here to help them, and we let them know that we have a center here to help them get jobs and to help them get … mentoring.
"Basketball, in my mind, really becomes the hook to get the young people in and then say, 'How can we help you? How can we serve you? How can we be a support to you?'"
Daniels acknowledges his GoFundMe campaign has a long way to go.
"I'm not going to worry about it because I know God will make a way somehow, some way," Daniels said. "It might not happen right now. But with my faith, I know it'll happen. I know God sees what I'm doing with the kids. I'm not going to rush it. I'm just gonna wait on God's timing."
Subscribe to Block Club Chicago, an independent, 501(c)(3), journalist-run newsroom. Every dime we make funds reporting from Chicago's neighborhoods.
Already subscribe? Click here to support Block Club with a tax-deductible donation. 
Listen to "It's All Good: A Block Club Chicago Podcast" here: