LITTLE VILLAGE — New Life Centers of Chicagoland is opening a marketplace and food pantry, and now a mural will span the side of its building.
The nonprofit is a multi-resource organization that provides community members with groceries, mentoring, sports programs and other forms of neighborhood education, outreach and peacemaking. 
Currently, community members can come to New Life Centers' Little Village location Tuesdays and Fridays and get free groceries. But New Life Centers soon will be able to offer more: A former corner store directly across the street is being converted to a full-scale food distribution hub run by New Life Centers, complete with a colorful mural. It'll open at 2701 S. Lawndale Ave.
The front half of the buildings will be the distribution hub, where people can get free food, and the second floor will have New Life Centers officers where workers can connect residents with resources, said Matt DeMateo, executive director of New Life Centers of Chicagoland. DeMateo said that's likely to open in December or January.
The building, bought jointly by New Life Centers and other local groups, is an expansion of New Life Centers' food distribution effort, which often serves long lines of residents. 
In the past 18 months, New Life Center has fed more than 2 million people, DeMateo said. About 2,800 families come every Tuesday and Friday.
"We have groups and partners from across North Lawndale and Little Village that come through," Demateo said. "They do grocery delivery to those who are elderly or COVID-positive."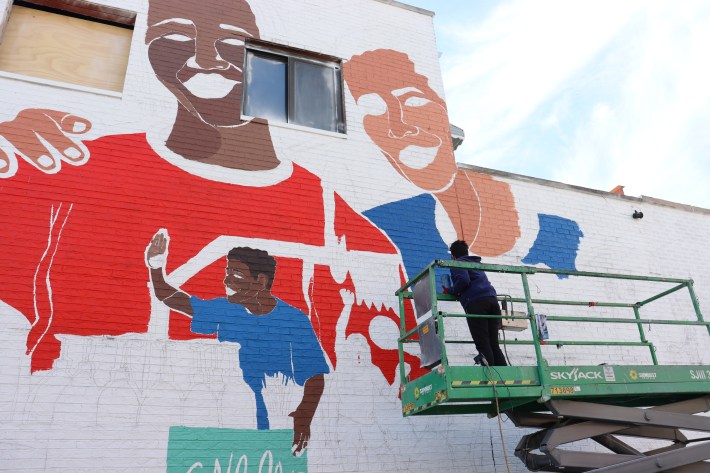 Another feature will be a large mural spanning one of the building's outside walls. The mural features bright colors and depicts themes of togetherness across racial divides, something DeMateo hopes will resonate with Lawndale's Black and Brown residents. 
"The mural that's being painted on the side is really a culmination of probably well over a year of work on a project since George Floyd was killed," DeMateo said. "There were tensions between Black and Brown [people] in Little Village, which is South Lawndale and North Lawndale.
"And it was the street outreach workers from New Life and other agencies across the city that really, during the tension post-George Floyd's death, came together and brokered peace between Black and Brown [people] in the area."
Chicago artist Sam Kirk, who lives in Little Village, is painting the mural with her team of artists. As part of New Life Centers' Stronger Together initiative, Kirk met with Black and Brown youth from the area, workshopping potential meanings, motifs and ideas for the mural. It was important to New Life Centers and Kirk to have youth input throughout the mural-making process. 
"I basically spoke with youth from both North and South Lawndale to learn from them, what their challenges were in the neighborhood, what they loved about the neighborhood, what they loved about each other's areas. Because even though we're right next to each other, it feels like we're pretty separate," Kirk said.
Youth gave feedback on Kirk's initial draft of the mural, and it's been updated to reflect their comments.
The painting began last week, with cool and windy weather delaying the process a bit. Now, with lines drawn and a mockup serving as a guide, Kirk and her team are making progress.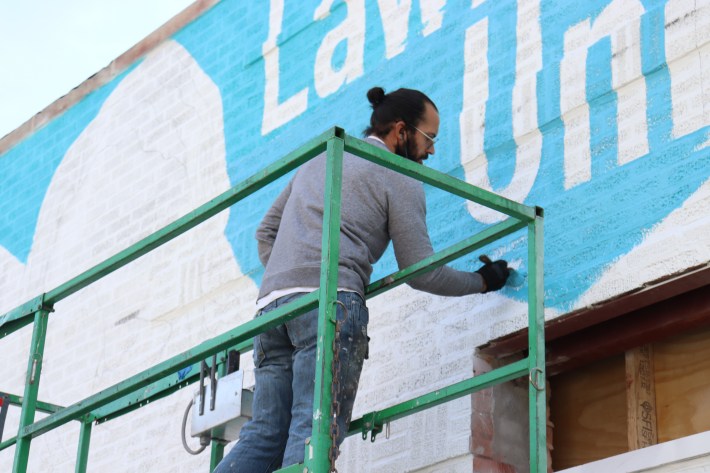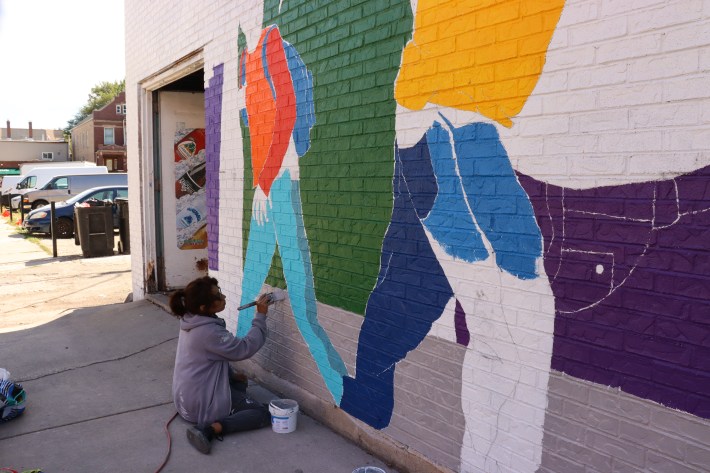 "We thought about how we can use the mural as a bridge, as a visual representation of a bridge," Kirk said. "So, there'll be a second mural that happens in North Lawndale too, probably early next year … . But both of the murals are meant to serve as the two ends of the bridge, visual reminders of what we're working towards, and also a be a big welcoming sign so that residents from both sides feel welcome to come to both parts of Lawndale."
For volunteer Nancy Everly, a graphic designer who began painting with Kirk this year, the mural also adds to the cultural legacy of the neighborhood. 
"It creates a really great ambiance, I think," Everly said. "It really brightens up the area and makes the space more inviting. I feel like it really changes like the landscape and the entire area in my opinion. I believe that wholeheartedly."
For DeMateo, the mural reflects a personal journey of moving forward together, especially during a pandemic that has had a harsh impact on West Side communities.
"Our theme for 2021 is healing together, and so we believe that the only way we can get through this is together," DeMateo said. "We believe that healing together is a key part of this next season. It's a key time of just reconnecting with each other after a very difficult season.
"So for us, we have to do it. Plus our staff are from the neighborhood. So for us, it's personal. It's more than just work. It's about how we heal our neighborhoods together."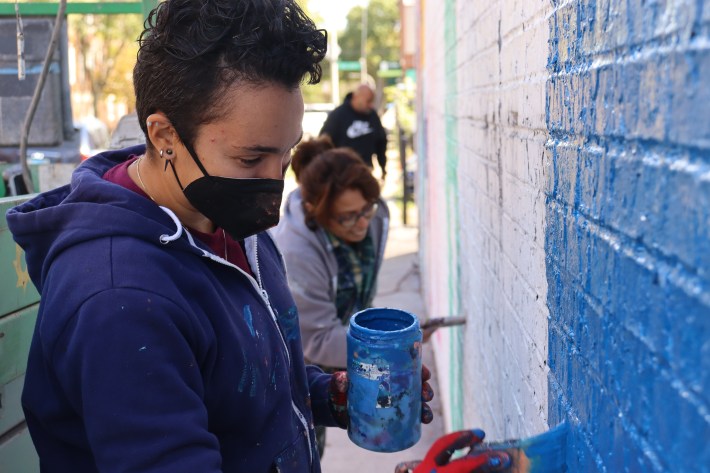 Subscribe to Block Club Chicago, an independent, 501(c)(3), journalist-run newsroom. Every dime we make funds reporting from Chicago's neighborhoods.
Already subscribe? Click here to support Block Club with a tax-deductible donation. 
Listen to "It's All Good: A Block Club Chicago Podcast" here: