BEVERLY — Kamaca Champion stands behind a knitting bar, chatting with three friends whose eyes remain glued to the quick, graceful movements of their fingers. 
Vivid, colorful patterns blend to become scarves children will wear this winter and fashionable shawls for the fall. When a woman walks in, mitten in tow, and asks if she can learn to sew a place for a thumb, Champion is exuberant. 
"That's what we're here for," she says.
As the owner of Miss Purl, 1824 W. 95th St., a yarn store that opened earlier this month in Beverly, Champion said this exchange is exactly what she wants. After 15 years of putting her dreams on the back burner, she was able to open a South Side yarn shop where everyone is welcome.
"I want to build community," Champion said. "I want to help build and sustain community through personal expression. I want to help people be whole and appreciate their assets. My mission is to create a South Side place where you can craft with every fiber of your being."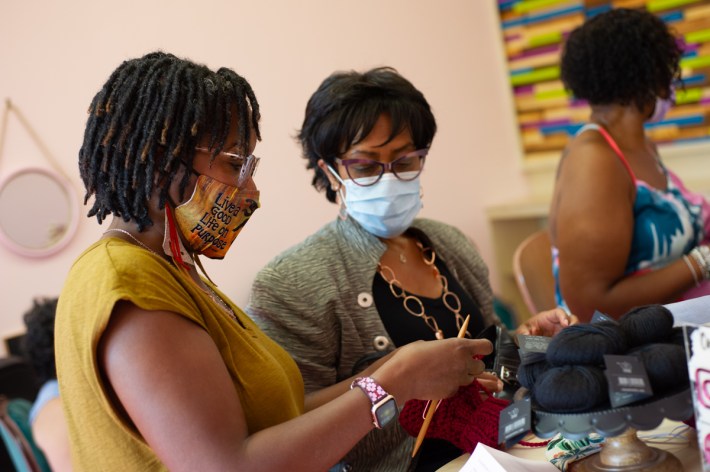 'The Heritage And Birthright Of People Of Color'
Champion comes from a crafty family. Her great-aunt "made quilts for every child that was born." Relatives often would gift each other handmade blankets and hats. Her aunt taught her how to make latch hook rugs and embroideries in the halls of her home — four blocks away from where Miss Purl's is now open. 
"Crafting has become very en vogue, but it is a part of the heritage and birthright of people of color," Champion said. "Those are the things that people of color did in the community. It wasn't just a frivolous activity; it was also a way to express love." 
To that end, Champion's mother and aunt used their skills to make her a Cabbage Patch doll she desperately wanted as a child, she said. 
"It was $40, and $40 was a lot of money. So, she made one for me. Eventually, my class got together and bought me one, but my first one was one my mother and my aunt wanted to make for me," she said.
Champion developed a passion for knitting on a business trip in California with her husband in 2004. "Stitch 'n Bitch: The Knitter's Handbook," which popularized and encouraged knitting as a relaxing pastime, was big at the time, and groups on the West Coast would gather to knit together, she said. 
"I was looking for something to do while he was working and stumbled upon a knitting class in Santa Monica," Champion said. "It gave me something to do, and I was able to relax. Being able to spend time making something was soothing."
Knitting quickly became a favorite hobby, Champion said. She learned to make scarves for friends and family. As her friends became mothers, she made baby clothes and booties, she said. 
Champion wanted to continue her hobby when she came back to Chicago, but finding a yarn store or a place to knit on the South Side was near impossible. She stumbled upon Nina Chicago in Noble Square to improve her skills.
"In the process of doing that, I began to think it would be nice to have a yarn store near my house. It would be even nicer if I could do it," Champion said.  
In 2006, Champion enrolled in a six-week course to learn how to develop a business plan, but she didn't have the $75,000 in start-up money to make her store a reality. She felt devastated every time she walked into a yarn store.
"I would come home and cry and tell my husband that this could be a good business," Champion said. "I couldn't put my finger on all of the reasons why it was important to have, but I just felt in my bones that it would be. So I kept that business plan, and I kept knitting."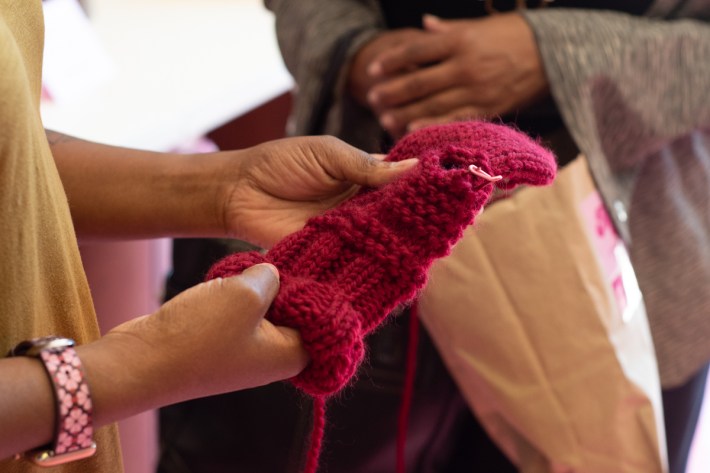 'A Place … Not Just To Buy Yarn, But To Stay Like They're Home'
Years passed before Champion dusted off her business plan; she'd spent 15 years raising five children. With one kid heading to college and the youngest eligible for preschool, she finally had the time for a part-time job and to start saving to make her yarn store happen. 
When a storefront opened up in Beverly, she enlisted the help of TnS Studios, a Black woman-owned design company that helps business owners bring their visions to life. But the total to renovate the space was $25,000, Champion said. Another amount she didn't have.
"I went back home defeated again," she said. "It's so hard in Beverly. In this community, places don't come up. There are very few commercial strips in this community. The opportunity was gone, and I didn't know when it was going to come back."
Champion used the months spent indoors in the early part of the pandemic to save even more. Finally, on Mother's Day weekend this year, she caught a break.
"My husband and I were driving down 95th Street, and I saw a rent sign in the window of this building," Champion said. "I jumped out of the car, took down the number, called and talked to" the owner of the building.
This time, Champion had enough to open her dream business. Enlisting help from friends, family and fellow yarn store owners, Champion turned "a dump" into the yarn store she'd always envisioned in 15 weeks, she said. The store opened Sept. 3.
"Every community needs not just necessities, but amenities, as well," Champion said. "This was not just about creating a store; this was about creating community resilience and a place for people to have an opportunity to express themselves. Life is too short, and everybody deserves to be affirmed."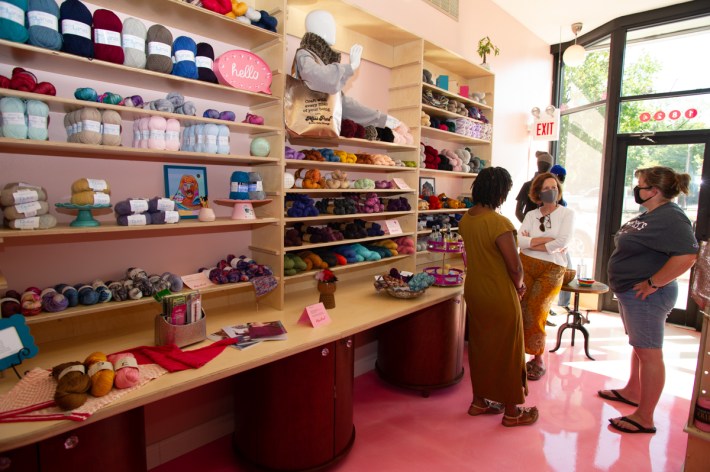 Today, bright batches of yarn line the walls of the store. Customers can sit at a knitting bar and ask questions about techniques and yarns for sale. Classes, parties and social events are on the way, Champion said.
The name of the store was chosen from the purl, or the backside of the fabric. The "Miss" is for the grandmothers, mothers, aunts and loved ones that came before Champion and provided a place for community, she said.
"Growing up as a young Black girl in Lawndale, we had people on our block that you could go to after school for love and food," Champion said. "It was always 'Miss Somebody.' People would come to her and get help and support. That's what I really want this place to be: a place where people can come, not just to buy yarn, but to stay like they're home."
Subscribe to Block Club Chicago, an independent, 501(c)(3), journalist-run newsroom. Every dime we make funds reporting from Chicago's neighborhoods.
Already subscribe? Click here to support Block Club with a tax-deductible donation. 
Listen to "It's All Good: A Block Club Chicago Podcast" here: