BUCKTOWN — Officials are pledging additional police resources to Bucktown and Wicker Park in the hopes of preventing carjackings.
Ald. Brian Hopkins' (2nd) office said eight carjackings were reported Sept. 13-20 in the area. In response, leaders from the 14th Police District said they're working to expand their visibility in the neighborhood with increased patrols, daily seat belt checks and more.
"We understand that you are frustrated," Commander Elizabeth Collazo said at a community meeting Tuesday in Churchill Park. "We want to make sure that everyone here not only feels supported in this community, but you are protected and feel protected by us."
But residents are split on what path forward to take. One resident, who said he has been profiled by police as a Black man, said adding more officers won't help with the issue — but others said they want more cops on the streets.
Police declined to specify how many officers are on patrol at any given time in the 14th District. 
For Bucktown resident Carrie Hogan, that response was frustrating. 
"I think they avoided the hard questions," she said after the meeting. "We understand why they can't give us statistics and specifics, but the hard questions are like, 'How many cops do we have? Is it true that there are nights where we have no patrol officers?' I think that's not fair to taxpayers. I'm entitled to know that."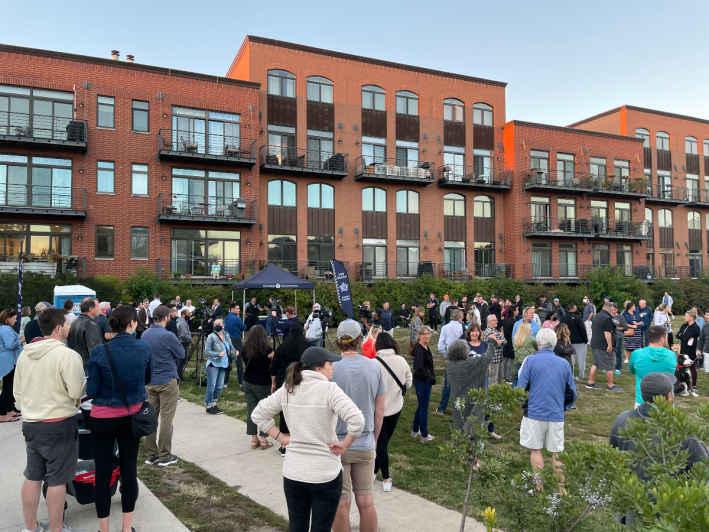 Hogan said she was comforted by the strong turnout from neighbors at Tuesday's meeting. But she didn't feel the same way about "being told the same stuff again" from local officials. Ultimately, she wants to see more cops on the street. 
"I think it's really simple. These people are coming into our neighborhood and committing these crimes because they know they can … so the only thing you can do is patrol more so they have a fear of coming into your neighborhood," she said.
Wicker Park resident Kenneth Pettigrew said he was disappointed by the "punitive" tone of the meeting's conversation. Pettigrew, who is Black, said he has been profiled and stopped by police while walking down Milwaukee Avenue.
"When you say, 'If you see something, say something' … the result is stopping me," he said. "Is that the right advice to give, and what are we doing to go in the right direction that represents safety and the best interests of everyone in the community, not the demographic that was overwhelmingly represented here?
"Not that they shouldn't be safe, but the thing is, it shouldn't come at someone else's expense." 
West Town resident Sam Royko said the carjackings became personal when his girlfriend was carjacked in January. The incident inspired him to start the Greater West Town Community Coalition, with which he's drafting a public safety plan to present to police and officials. 
"This has kind of become a divisive topic, where [the solution] is either tougher policing or it's only community services, and we think [it] needs to be a mix. We've tried to pull people to the middle … trying to see if we can compromise," he said. 
Police and aldermen reminded neighbors about best practices to decrease the likelihood of being carjacked, like not sitting in your car or garage longer than you need to.
Officials also encouraged residents to call 911 if they see a "suspicious person" on their block or alley. 
But Rokyo said the constant messaging to "be aware of your surroundings" is no longer that effective. 
"Awareness is no longer a solution to the issue. And I think people want to victim blame and say, 'Hey, these people weren't aware, and that's why it happened to them. And it couldn't happen to me,'" he said. "But it's become such a rampant issue here that it can happen at like, 1 o'clock in the afternoon on a Saturday, and you're on a busy intersection."
Alds. Scott Waguespack (32nd), Daniel La Spata (1st) also spoke at the meeting.
Waguespack laid part of the blame for the "brazen" carjackings on Cook County's criminal justice system.
"Part of the problem we're seeing is that some of them aren't getting charged in the way that we want them to be, some of them are being let go and walking and committing the same crime at a later time, or similar crimes," he said. "The other thing is making sure that our judges are holding them accountable, too. … A lot of times they're being slapped on the wrist and let go. That has to change."
Cook County State's Attorney Kim Foxx's office has previously pushed back on this narrative, citing a lack of evidence and saying they can only prosecute people if police arrest them first.
"Finger-pointing instead of talking honestly about the violence plaguing our city doesn't help bring solutions that make our communities safer," Foxx said in a tweet over the summer.
The 14th Police District officials said they've begun reaching out to carjacking victims to connect them with mental health service agencies, like NAMI Chicago. 
"We've been making sure a lot of those victims are getting the help they need, after the fact," said Sgt. Mike Edens. "Someone running up to you and putting a gun to your head and demanding your belongings is a traumatic experience, and that's one of the things we want to make sure that we focus on, is that they are getting the help that they need." 
Subscribe to Block Club Chicago, an independent, 501(c)(3), journalist-run newsroom. Every dime we make funds reporting from Chicago's neighborhoods.
Already subscribe? Click here to support Block Club with a tax-deductible donation. 
Listen to "It's All Good: A Block Club Chicago Podcast" here: