ENGLEWOOD — Alberta Brooks points a finger painted with ruby nail polish to a wall in her Englewood home, smiling. 
Scattered across the walls is a time capsule of photos: Late siblings memorialized as children in black and white, loved ones laughing and dancing, more than one frame of soon-to-be President Barack Obama. 
"I lived through all of that," she said.
Brooks — known through Englewood as "Mama Brooks" or "Granny" — celebrated her 100th birthday last month alongside friends and family. Ald. Stephanie Coleman (16th) presented her with a sealed certificate to mark the occasion.
Born in the South, Brooks became a young mom, worked as a maid in the North, made artillery during World War II, and spent almost three decades working multiple jobs in Chicago to realize a lifelong goal: to buy her own home. Later, she'd meet Obama, then an Illinois senator — "a very nice man" — and canvass her community to encourage people to elect the country's first Black president.
Brooks has no designs on slowing down, saying she's lived 100 years and there's "even more to go."
"I went through some hard times, and I had good times, but I can put my right hand up and say God has really been good to me," Brooks said. "He let me see 100, and I believe he'll let me see 101. He's doing what he can do now for me."
'I'm Going To Have The Same Thing One Day'
Brooks was born in 1921 in Marked Tree, Arkansas. Her father, a sharecropper, worked in cotton fields. Her mother "did a lot of housework with white families," she said. 
But when Brooks reminisces about her life, she starts when she was a teenager in Gary, Indiana, in 1940.
"My older sister was living in Gary, and she came down to visit us" in the South, Brooks said. "I got married when I was 17, and I had a baby, but I left my son down South with my mother. My older sister brought me back to Gary with her. I was 19."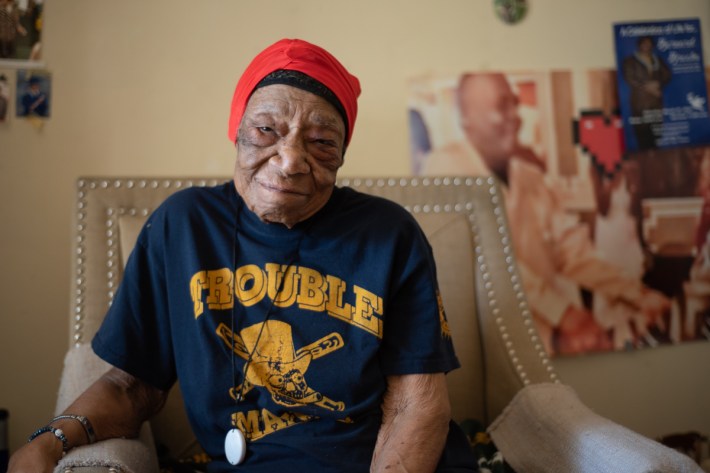 Brooks did housework for white families at a time of overt racism and segregation.
"This one white family used to plant money in a shoebox to see if I would steal it," Brooks said. "I told my mother, 'They put that money in that box to see if I will steal it, so I ought to take that box and take every penny.' My mother said, 'Alberta, don't do that. That's what they want you to do.'"
When "The Help" was released in 2011, Brooks recounted to the Tribune her experiences working as a maid in the North — like how, for the first time in her life, she had to use the back door to enter a white person's house.
"I scrubbed their toilets, but they were off limits to me, except for the one in the basement," she said in 2011. "I was welcome to make myself a sandwich, but I had to eat it in the kitchen. If I got thirsty, they offered me a drink of water, but never from the glasses in the cupboard. I had a plastic glass designated just for me.
"To be successful at this job, it meant putting on my white uniform and hairnet and becoming invisible."
Despite the anger Brooks felt, she said she had to continue the housework; there were no other jobs. Brooks said she would repeat a mantra to herself: "What y'all have, I'm going to have the same thing one day."
Then World War II started. Brooks quit doing housework and got a job at the Kingsbury Ordinance Plant in La Porte, Indiana, making 20-millimeter bullets and bombs. She would do that 1942-1945.
"Back in World War II, everyone was always scared of the enemy," Brooks said. "The plant was about 2 miles from where we could park. So we had to leave our cars and, for me, my dress, change our clothes and walk to the army plant. That's where I learned how to make shells to go in the guns." 
Brooks said she was at work when she found out the United States and its allies had won.
"The news came in where we were at the plant, and they said, 'Shut the machines down, the war is over,'" she said.
With her three-year job erased in minutes, Brooks packed her bags and decided she'd try life in a new city: Chicago.
Windy City Dreams
Settling in her new home, Brooks spent time doing housework for two families, made candy at Bunte Brothers Candy Company, assisted nurses at the now-closed Columbus Hospital, served drinks at lounges and helped young women at the Eleanor Club.  
The varied jobs were linked only by a common goal: to own her own home. She wanted a place her family could always come back to, she said.
"I started working two to three different jobs to get my house," Brooks said. "That was my dream."
Almost 30 years after Brooks came to the city, she made that dream a reality in 1971. Without the help of a man — she never remarried — family or friends, Brooks purchased the land for her now-Englewood home on Bishop Street. She moved in, in late 1972.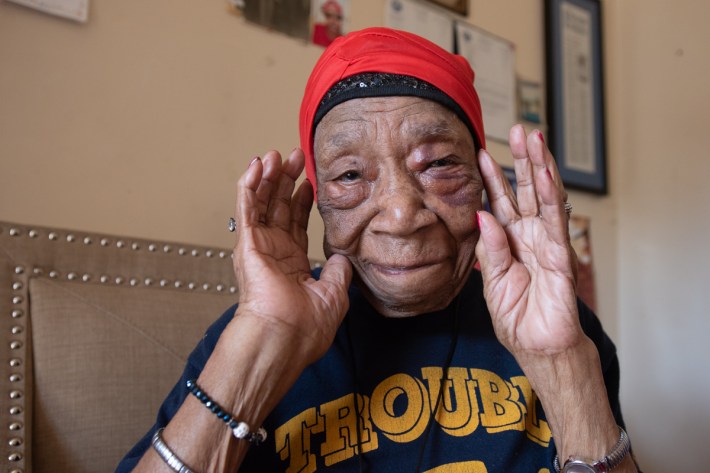 The longtime neighbors "wouldn't have anything to do with her" when Brooks was new to the area, and she kept to herself for a while. But she wanted to have something and she finally did. No one was going to take that away from her, she said.
"My greatest accomplishment is that, although I did it the hard way, I did everything for myself by myself, and I'm that same person now," Brooks said. "Everything you see in my house, I put it in here. I didn't ask anyone to help me. I worked and got something on my own. That's just the way I am."
These days, you can usually find Brooks sweeping around the yard. Her fiery personality hasn't waned, even as a bad knee prevents her from doing as much as she wishes she could. Still, when others need her, she does what she can, she said.
"I've been involved with so many organizations, and I do different things around here, so I got to know a lot of people," she said. "Most of them call me 'Granny,' and some call me 'Mama Brooks.' They look out for me and make sure no one bothers me."
Brooks' mother, sisters and two of her 10 children have passed on. She said she wishes they could have seen where she is now: 100 and thriving. 
"I'm thankful that I made 100. I'm still here, and I hope that I can still do things and live to see 101," she said.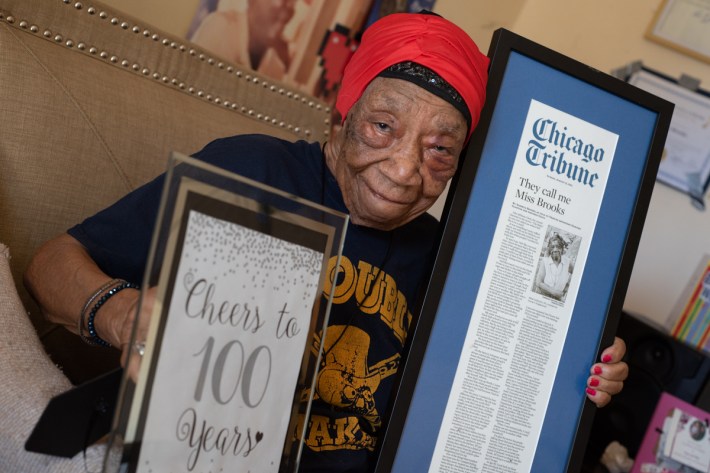 Subscribe to Block Club Chicago, an independent, 501(c)(3), journalist-run newsroom. Every dime we make funds reporting from Chicago's neighborhoods.
Already subscribe? Click here to support Block Club with a tax-deductible donation. 
Listen to "It's All Good: A Block Club Chicago Podcast" here: