LOGAN SQUARE — When Christian Mejía's parents settled in Logan Square in the late '80s, the neighborhood was a welcoming landing place.
Mejía's mother, then an undocumented immigrant from Mexico, volunteered for a local school and a theater. The family got their birthday cakes at Pierre's Bakery and shopped at the Discount Megamall and the pet shop Animal Kingdom.
But those businesses, along with many others catering to the Latinx community, have vanished over the past few decades as Logan Square gentrifies. Mejía watched his Latinx neighbors move away for cheaper rents while the neighborhood's white population exploded, ushering in shops and bars catering to white millennials.
In an effort to "understand why [his] neighborhood was disappearing," Mejía created and directed an anthology web series called "Born & Raised," which follows a group of fictional characters grappling with gentrification in Logan Square.
The three-episode series, filmed in Logan Square, debuts Nov. 10 on Open Television, the culmination of four years of planning, fundraising and filming. A monthly subscription to OTV costs $4.99.
Mejía and his partner, Jacqueline Lyon, who co-wrote the series, held a screening at the Comfort Station earlier this month. A second screening is planned for 3-5 p.m. Oct. 9 at the National Museum of Mexican Art, 1852 W. 19th St. Those who wish to attend should RSVP on Facebook.
"People know that properties are being sold for so much money, property values are rising, the parks are getting a facelift, maybe the schools are getting more property tax dollars. I think people see those changes and associate that with the positive, but our question is: At what cost?" Lyon said. "Why do these investments come when certain people live in the neighborhood? That is a conversation we're trying to have with people."
Mejía is a Columbia College Chicago graduate who works as a gaffer on film productions in Chicago. He conceived of "Born & Raised" in 2017 as a way to "process some of the changes happening in the neighborhood," he said.
"I was particularly struck by a news article that came out that mentioned that 20,000 Latinx residents had been displaced over the past 20 years, and [I was] just having a really hard time trying to wrap my head around that number and really feeling like there needed to be a project out there that came from this perspective, because I wasn't really seeing it at the time," Mejía said.
Mejía's passion project took off in 2019 when he won a Chicago Filmmakers Grant for $18,000. From there, he and Lyon, a professor of Chicano/Latinx studies, won more grants and assembled a cast and crew. The plan was to begin filming in spring 2020 — but the pandemic hit. Mejía and Lyon ended up filming most of the series a few months later, in late summer, with an all-volunteer cast and crew.
"People said, 'Don't pay me. Put that money back in the project because my experience was so meaningful,'" Lyon said.
The finished product is centered on "diverse expressions of Latinidad," Lyon said, with all of the characters coming from different economic and social backgrounds.
In one episode, a recently elected alderwoman and her zoning attorney partner debate a zoning change sought for a luxury housing development. In another, two best friends — one who stayed in Logan Square and the another who started a new life elsewhere — reconvene and talk about how gentrification is impacting their lives.
"One thing I've heard from folks who have watched it: While this is a series on the gentrification of a neighborhood, it's really much more than that. It's a series about these residents and how they're much more than the gentrification of their neighborhoods. They have their own storylines, full lives," Mejía said.
Lyon said it was important to them the series wasn't driven by nostalgia.
"This is not a recovery project. This is not about preserving something that's lost. This is about looking at real people and how they're navigating and struggling against gentrification," she said.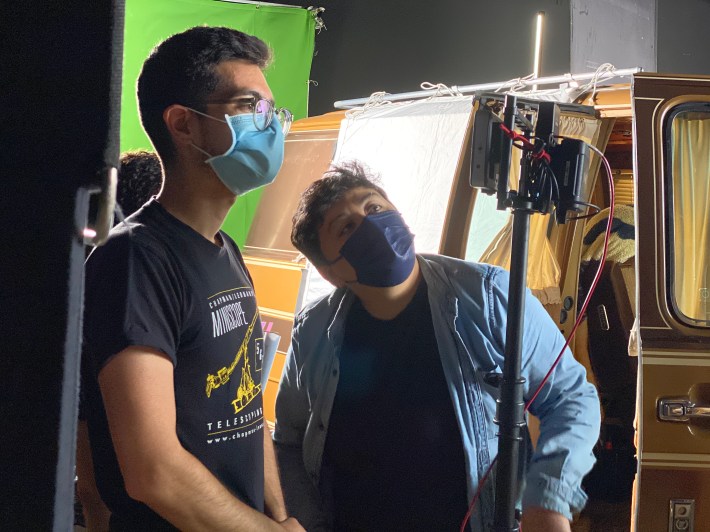 In Mejía's case, he said his family is among the "lucky" ones because they were able to stay in the area; Logan Square Neighborhood Association helped them buy a house in nearby Avondale in the late '90s, Mejía said. But thousands of Latinx families have been forced out of the neighborhood in recent years as housing costs have skyrocketed.
Today, massive luxury apartment complexes have taken over the sites where the Megamall and Pierre's Bakery once stood.
"I went down to Pilsen the other day and felt like I was being surrounded by this largely Mexican community. I felt nostalgic because I felt like I had that at one point, but now it is no longer," Mejía said. "It's hard to talk about the comfort you feel when you're surrounded by a community that looks like you."
Lyon has a personal connection to the film, too. Her family lived in an apartment in Uptown for a decade, but they were forced to move when they could no longer afford the rent, a symptom of gentrification. They resettled in Albany Park, a move Lyon described as jarring.
"I thought [Albany Park] was a suburb. Uptown had a Downtown feel: It had big buildings; it was dense. I moved to Albany Park and I was like, 'Whoa. This is a very different feeling,' and it was a culture shock for me," Lyon said. "Albany Park is a great neighborhood, but to have to leave my home and everyone I had known … the shock of that was painful."
With "Born & Raised," Mejía and Lyon said they hope to put a nuanced spotlight on the impact and the causes of gentrification, which has ripple effects in communities across Chicago.
"There's something particularly painful about living somewhere for so long and then having to leave the place and then returning to see it sold for some inflated price and feeling like you never really had a chance to be a part of that sort of wealth building," Mejía said.
"Trying to capture that pain and disappointment visually on film is super tricky and difficult. That's the territory we wanted to explore in this series."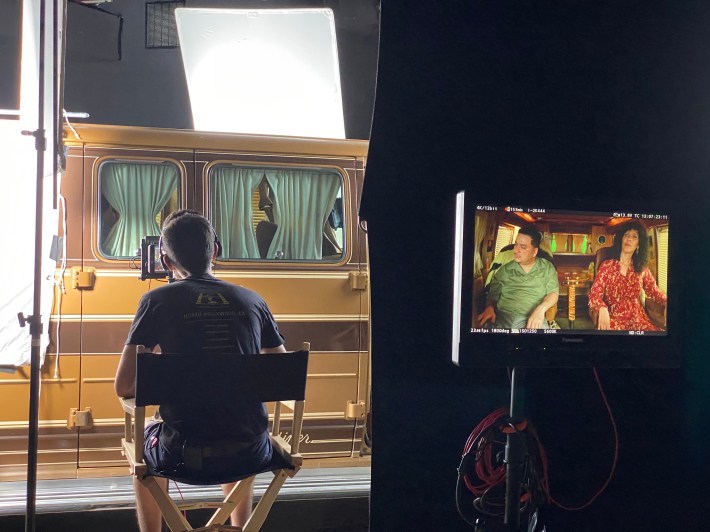 Subscribe to Block Club Chicago, an independent, 501(c)(3), journalist-run newsroom. Every dime we make funds reporting from Chicago's neighborhoods.
Already subscribe? Click here to support Block Club with a tax-deductible donation. 
Listen to "It's All Good: A Block Club Chicago Podcast" here: