WEST HUMBOLDT PARK — Residents of a West Humboldt Park homeless encampment are scrambling after the city did a sweep of the tent city and threw out their belongings Thursday.
The city cleanup started about 9 a.m. Crews went through the encampment on Chicago Avenue just east of Kedzie Avenue, where about 30 people experiencing homelessness live, and discarded items in the public way.
The city has conducted such cleanups for years, drawing scorn from people experiencing homelessness and their advocates.
Several residents lost their belongings. If it wasn't in a tent, the city threw it away, resident Angel Roman said.
Roman, who has lived in the encampment for about a month and a half, lost new clothing, a grill and food, including boxes of cereal and noodles. He said he was sleeping when crews arrived.
Roman said a man who lives next to him lost everything because he doesn't own a tent and sleeps on a mattress with his belongings around him. The man was at work when the sweep occurred, Roman said.
"Just 'cause we're here don't mean we're not human," Roman said. "At least give us the decency enough to grab our stuff before you start just throwing it away."
Alejandra Flores Rebolla, deputy press secretary for Mayor Lori Lightfoot's office, said there was a sign up for seven days warning people a cleanup would be conducted. She denied that crews tossed personal possessions — even though multiple residents said they did.
"No personal belongings were thrown out in the cleaning and clients were not displaced," Flores Rebolla said in a statement. "DFSS Homeless Outreach staff worked with residents on site to identify items they wanted removed during the cleaning. The only items removed were furniture and bulky items not considered personal possessions."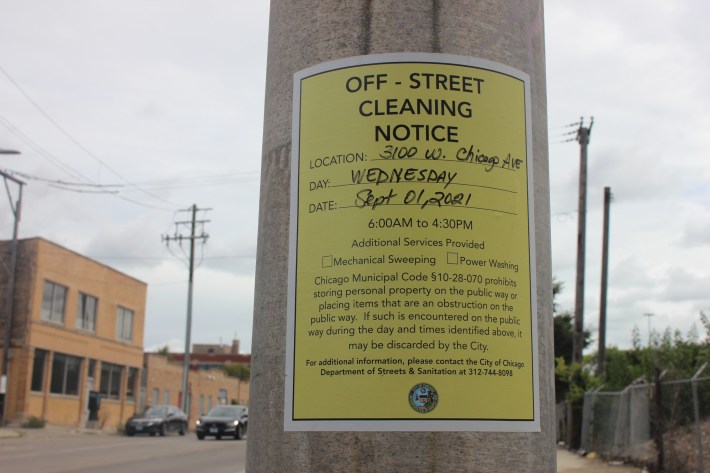 Heriberto Munoz, a resident of about six months, described the sweep as "dehumanizing." Munoz said crews "came in real quiet," blocked off the viaduct with trucks and threw residents' belongings into a garbage truck. The only notification residents received was a notice with "small print" affixed to a pole near the viaduct, he said.
Munoz lost clothing, shoes and personal photos. Others lost furniture, he said.
"They crushed sofas, tables, the little furniture we had … to keep our stuff on, to maintain some kind of civility. They took everything," he said.
A city notice for a Sept. 1 cleanup was posted near the viaduct Thursday. City officials have defended the sweeps as routine cleanups of public spaces meant to keep residents safe.
But residents of the West Humboldt Park encampment said the sweeps have the exact opposite effect.
Munoz said more emphasis needs to be put on programs or classes for people to move from the streets into an apartment. Without a program to help people transition into permanent housing, they will end up back on the streets, he said.
"That is the major problem is the transition," he said. "A lot of people who are down here have apartments and don't know how to transition into them and haven't gone."
Deleana Appleton, another resident of the encampment, didn't lose any of her belongings in this sweep, but only because she knew to store everything in her tent at the time of the cleanup. In past sweeps, the city has thrown out her clothes and cosmetics, as well as printed copies of her daughter's and mother's obituaries, Appleton said.
Generally, the sweeps are "terrible," Appleton said. "It's sad … it's kinda like a tragedy."
Appleton fell on hard times after her father left, and she moved to the encampment about five months ago. She said she's on The Night Ministry's list for permanent housing, but her name hasn't been called yet.
Living underneath the viaduct is "horrible," a bad situation made much worse when someone throws out your belongings, Appleton said. She said she lacks basic necessities like hygiene products.
"I never thought I'd be in a place like this," she said through tears.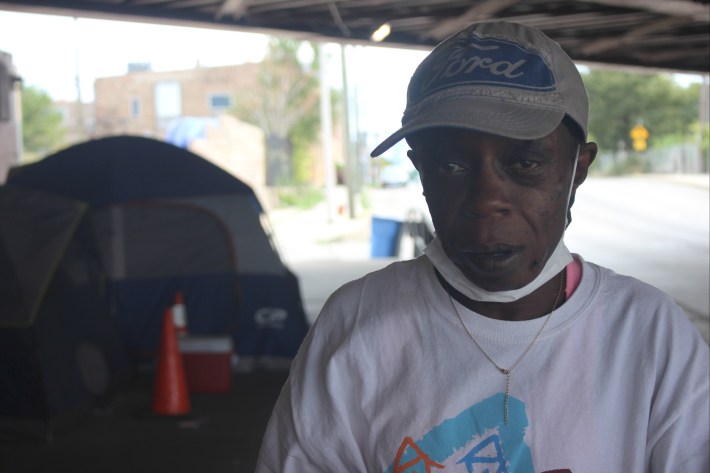 Subscribe to Block Club Chicago, an independent, 501(c)(3), journalist-run newsroom. Every dime we make funds reporting from Chicago's neighborhoods.
Already subscribe? Click here to support Block Club with a tax-deductible donation. 
Listen to "It's All Good: A Block Club Chicago Podcast" here: