CHICAGO — As shootings traumatize neighborhoods and families, Chicago's Race Against Gun Violence is returning this year with a virtual event to support grassroots organizations making their communities safer.
The race, normally held at Grant Park, allows participants to run or walk various distances up to 8 kilometers starting Saturday. Through October, people can run or walk wherever they're most comfortable — sidewalks, walking paths, treadmills — to complete their race and support the cause.
People who register by Sunday will receive a race packet in the mail with a race bib, shirt and medal. Race times can be logged throughout October.
The Race Against Gun Violence pop up and livestream will kick off the monthlong event 8:30-11 a.m. Saturday. All proceeds from the race go to more than 60 partner organizations, such as Kids Off The Block and SHE Chicago, which the groups can use for any of their violence prevention and community building work.
"This is a real godsend for many because one, to organize an event, like peer to peer fundraising, is really out of reach for most of them," said Mary Stonor Saunders, executive director of nonprofit Strides for Peace, which is organizing the event.
Kids Off The Block, a nonprofit that provides youth in Roseland with personal growth, empowerment and positive alternatives to community violence, has participated in Race Against Gun Violence nearly every year since 2014. Founder Diane Latiker said the funding the group has received from the races has made it possible to organize summer youth baseball leagues, give out school supplies and meals and launch other programs.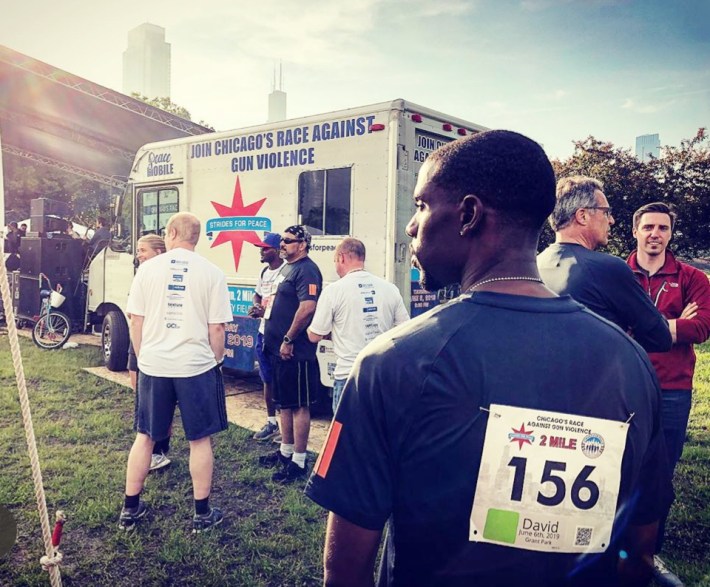 "Gun violence is in the news every day," Latiker said. "Multiple people shot. Mass shootings, children shot. [This support] is needed now more than ever, and to have the support like Strides gives is crucial."
For Latiker, giving Roseland youth hope has often been one of her biggest challenges. Events like the annual race helps the group change that.
"When a community is open and it's welcoming to the children in this community, to the teens, to the young adult … it means everything," Latiker said. "Another thing is a community knowing it has support from within. Strides has helped us to be visible, to be accessible in our own community." 
Stonor Saunders has led Strides for Peace since 2017, taking over for founder and board chair Maggie Baczkowski. Baczkowski, an "athletically minded woman," started the organization in 2014 to honor 16-year-old Julian High School student Blair Holt, who was killed in 2007.
"What she wanted to do with the race was create a platform for community organizations to use it as a fundraiser or however they wanted," Stonor Saunders said. "And then to connect those community organizations to the business community or the athletic community."
Stonor Saunders started working in gun violence prevention after her friend, Charles Carpenter, was shot to death in 2007. She hopes Chicagoans upset by the violence follow the lead of Race Against Gun Violence and do what they can to make Chicago safer. 
"Beneath the really, really disturbing and upsetting news, you will find so much light and beauty and love of the people who show up every day in their community to make it a safer place and to actually save and change lives," Stonor Saunders said. "And the privilege of being able to witness or be part of or support or help that is so life affirming. It really is the fuel that we need to really do something about gun violence and create a world that is so much more equitable."'
Strides for Peace is hoping to raise at least $150,000 for its partner organizations. Virtual race options include a 8K, 5K and 2-mile walk packet for $35 plus $7.99 shipping and handling. There's also a Tots for Peace sprint packet for $15 plus $7.99 shipping and handling plus a free fundraising option.
Donations are also being accepted.
Instead of the Grant Park race, there will be Peace Mobile, where race participants can take selfies. Race staff and partner organizations will livestream the event and other activities will be happening around the city, including a Choose Hope phone drive and peace talks. 
Race participants are also encouraged to take videos on why they're racing and take part in social media hashtags celebrating the event. U.S. Rep. Robin Kelly, who is participating in the race for the first time this year and has a history of working in violence prevention, made a video explaining why she's running.
"I run because I do not want to see one more child, teenager, friend or neighbor lost to gun violence," she said. "I run because enough is enough."
Subscribe to Block Club Chicago, an independent, 501(c)(3), journalist-run newsroom. Every dime we make funds reporting from Chicago's neighborhoods.
Already subscribe? Click here to support Block Club with a tax-deductible donation. 
Listen to "It's All Good: A Block Club Chicago Podcast" here: