IRVING PARK — A massive proposal for apartments and townhomes at the old DePaul College Prep campus is so unpopular the area's former alderman has assumed a front-seat role to oppose it.
Developer Lexington Homes wants to build a six-story apartment building and 88 townhomes between four and five stories high at 3633 N. California Ave. The proposal would add 357 homes along the North Branch of the Chicago River. The townhomes would cost $599,000-$800,000, and rents would be $1,399-$2,900 for the apartments, according to the plans. 
Lexington needs a zoning change to build.
But neighbors said the scale is way too big for the area, and Ald. Rossana Rodriguez-Sanchez (33rd) said the developer needs to go back to the drawing board. At a community meeting Wednesday, former Ald. Dick Mell passed out yard signs to neighbors that said, "Preserve Green Space & Public Access to the Chicago River. Say no to rezone."
Neighbors can give feedback to the 33rd Ward office here. As of Wednesday, more than 300 people sent comments, and more than half opposed the proposal, Rodriguez-Sanchez said.
"I just want to reassure you all that if you don't want this development in this community, this development is not going to happen," Rodriguez-Sanchez said at the meeting, organized by California Park Neighborhood Association.
RELATED: Townhomes And Apartments Planned At Former DePaul College Prep Campus Face Pushback From Neighbors, Alderman
More than 100 neighbors attended the standing-room-only meeting.
Mell, an association member who represented the ward in City Council for 38 years, told Block Club he appreciates how odd it may seem for him and Rodriguez-Sanchez to agree on something. But he and other neighbors worry approving the large project could set a precedent in the neighborhood.
"We want her to be with us, and I think she is," Mell said. "And I think getting community feedback to stop this project would go a long way to help her getting reelected."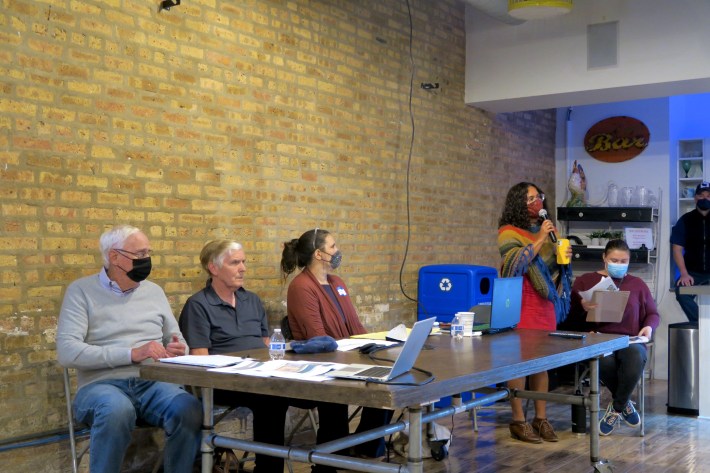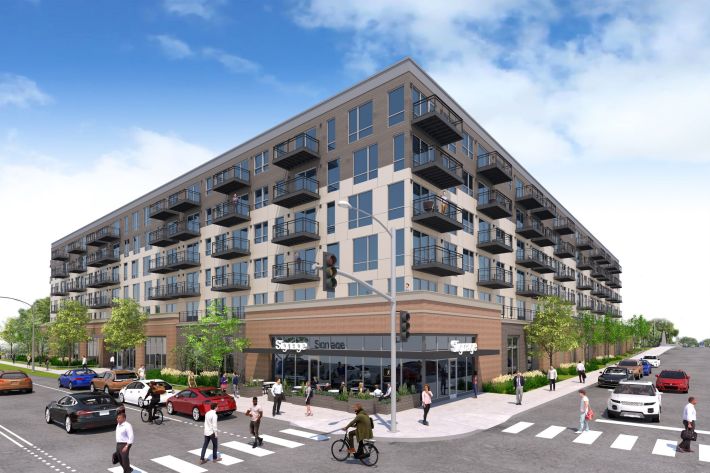 Lexington Vice President Nate Wynsma said his firm is revising designs for the apartment complex after getting pushback from the city's Department of Planning and Development. He said developers will scale back the size "pretty significantly" and change the setbacks and lower the building's height on the California Avenue side.
Updated renderings won't be available for public review for at least two to three weeks, Wynsma said. 
Still, neighbors said the proposal is too "bulky" and "monolithic."
"'Monolithic' is a word, but it's tough to not look at any building Downtown that's of size and not say it's monolithic," Wynsma said.
The audience responded by saying Irving Park is not Downtown. 
"This is Downtown to me. I live in the suburbs," Wynsma said. 
Neighbors loudly booed Wynsma.
"This is not Downtown. This is not the West Loop. This is where we live," said neighbor Eileen Hughes. "You're going to go home to the suburbs … and you are radically changing the character of our neighborhood with this development. You have to understand where we are coming from."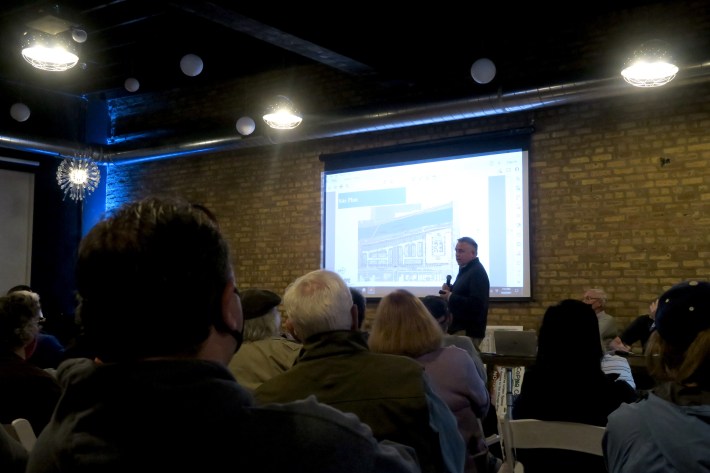 Now that the developer is changing the plans, it can't start the city's approval process before new affordable housing rules kick in. The revised project will likely include 52 affordable apartments, Wynsma said.
Under the current plans, the apartment building would have 215 parking spaces and the townhomes would have 176 parking spaces. The developer said it will add 50 bicycle parking spaces.
The plan would also feature 2,500 square feet of retail space on the ground floor of the apartment building at Addison and California. The developer also wants to build a "landscaped 30-foot-wide river setback" for a continuous riverside trail that would be open to the public.
Riverview Bridge — the longest pedestrian riverfront bridge in the city — opened in 2019 along the river near the former DePaul College Prep campus. The bridge is part of the 312 RiverRun path that connects Belmont to Montrose avenues along the Chicago River.
Rodriguez-Sanchez's office will host a community meeting focused on Lexington's proposal Oct. 12.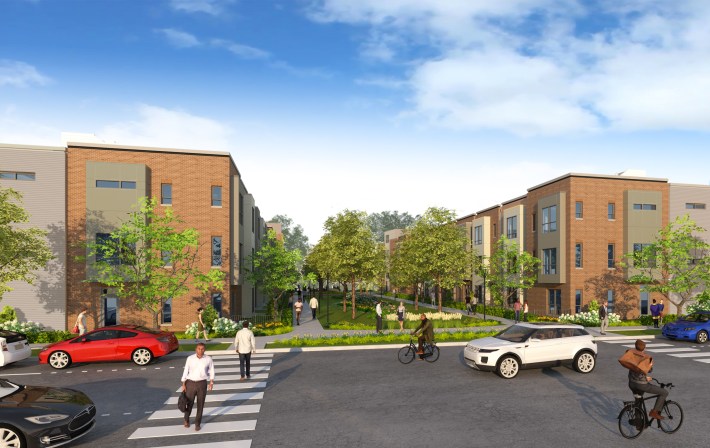 Subscribe to Block Club Chicago, an independent, 501(c)(3), journalist-run newsroom. Every dime we make funds reporting from Chicago's neighborhoods.
Already subscribe? Click here to support Block Club with a tax-deductible donation. 
Listen to "It's All Good: A Block Club Chicago Podcast" here: